Albert Adrià's brilliant tapas bar Tickets, in Barcelona, offers exciting and innovative tapas.
With the help of his brother Ferran, from mythical restaurant elBulli, and the Iglesias brothers, Juan Carlos, Borja and Pedro, owners of the Rías de Galicia Group, Albert has quickly created one of the hottest venues in the Spanish city. Tickets offers a delightful menu, featuring still some of elBulli's great successes.
Albert might not have quite the international fame that his older brother does but he's already a very big deal in Spain. He worked with Ferran at el Bulli for 23 years where he was responsible for creating some of the restaurant's most famous dishes. While Ferran led the kitchen, he took more of a back office role and was heavily involved in the development side of things.
After el Bulli closed he set his sights on Barcelona where, with backing from his brother, he opened modern tapas bar Tickets, which quickly gained a Michelin star.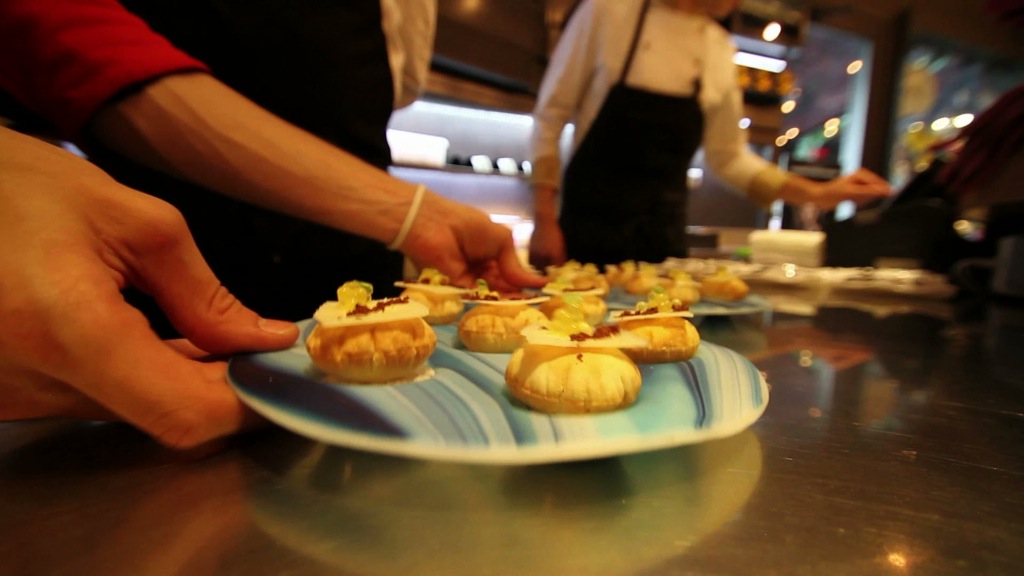 He has since launched his take on an old school tapas bar in the form of Bodega 1900, Pakta that serves Nikkei cuisine which blends Japanese and Peruvian influences, and two-part Mexican restaurant Hoja Santa / Nino Viejo.
The latter two of these three restaurants have also gained Michelin stars, while the chef — who for a long time specialised in pastry at el Bulli — was crowned the world's best pastry chef at the World's 50 Best awards in 2015.
Tickets is the fun version of the famous and currently closed El Bulli Restaurant. It's decor is inspired by its neighbourhood's theatrical past and resembles a kind of happy circus with different spaces where chefs prepare the dishes or drinks that are served. Albert Adrià surely knows how to create vibrant concepts and with Tickets he achieved to serve the most inspiring tapas in a relaxed atmosphere. Some of our picks from the menu are the razor clams in escabeche, saffron pearls and soy sauce shards or the bonito with mint majado and pickled cucumber.
Re-create one of Albert Adrià's sumptuous recipes:
Pork ribs in Salmorejo sauce, prepared by Albert for Ibérica Restaurants, a UK restaurant chain which specialises in authentic Spanish food, headed by Executive Chef Nacho Manzano.
INGREDIENTS
For the ribs:
150g of Salmorejo sauce (previous
elaboration)
1000g of pork rib
25g of sweet pimenton
500g pork butter
500g sunflower oil
35g extra virgin olive oil
5g fine salt
Black pepper
Serves 4
What is salmorejo canario?
Salmorejo canario is a traditional sauce from the Canary Islands, mainly made of pimentón, garlic, olive oil and vinegar. Although it's typically served with rabbit, this sauce goes also very well with pork or chicken.
For the Salmorejo sauce:
2 dry bay leaves
9g cumin grains
12g fresh oregano
15g fresh thyme
225g fresh & peeled garlic
120g white wine vinegar
METHOD
1. Grind all the ingredients in a mortar to achieve a uniform paste and set aside
2. Cut any spare cartilage or edges with blood off the rack of ribs using a knife
3. Cut the portions off the rack: leave 3 bones together when cutting the broad part and 4 or 5 when cutting the thinner one
4. Season each portion on both sides, then fry on a pan with 30gr of oil on a high heat until golden brown on both sides. Set aside
5. Coat the ribs with the sweet pimenton and then with the Salmorejo sauce
6. Melt the pork butter over a medium heat, mixing with the sunflower oil. Then, coat the ribs with the mix
7. Cover the ribs with oven paper and place in an over tray. Ribs need to be covered at all times while cooking to retain the juices of the butter
8. Cook in the oven for 3 hours and a half at 130ºC
9. To check if the meat is cooked, it must easily fall off the bone
10. Remove the fat with a laddle and set it aside for 10 minutes
11. Separate the bone from the meat, being careful not to break the meat, and cut it into portions of about 120gr
12. Filter the fat which was set aside on step 10, keeping only the Salmorejo sauce, which will be used as sauce for the ribs
13. Heat the Salmorejo sauce up, season to taste with water and salt if necesary and set aside.
TO SERVE
1. Pre-heat the oven to around 220ºC and heat the ribs on both sides for 2 minutes
2. Cover the ribs with the hot Salmorejo sauce and serve
3. Serve the hot Salmorejo sauce on top
www.ticketsbar.es
Avinguda Paral-lel 164, Barcelona, Spain
00 34 932 924 250