Exceptional wines from Spain delivered to your door.
Club Tierra Ibérica makes it easy to discover and enjoy Spains most inspiring wines through expert curation, storytelling, perfect provenance—and our satisfaction guarantee.
We have an office in Madrid and every year we travell thousands of miles and visit all corners of Spain to meet producers and taste their wines. Our personal connections unlock access to the most exclusive wines, small allocations and good deals, from rare vintages to popular best sellers and everything between.
Club Tierra Ibérica will be our meeting and marketplace for wine lovers and producers. As a member, you not only get the absolute best wine offers, but also special offers from partner hotels, restaurants, golf clubs along with recipes and ideas from our favourite chefs and places around the entire Iberian Peninsula. We are confident in saying that it will be an extraordinary wine club.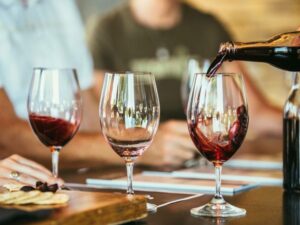 Our discovery club subscription
True to its name, our discovery subscription is a journey through the world of Spanish wine, four bottles at a time. Every second month, we select wines based on a chosen theme and explain how each bottle fits that theme—it's wine education and enjoyment in equal measure!
The Discovery club is for the curious connoisseur and the adventurous novice alike. Whether it's an in-depth examination of a particular region, grape variety, or concept, each four-bottle shipment is its own unique adventure—and each shipment comes with an expertly prepared info packet describing the theme and the wines in rich detail plus a little gourmet snack surprise.
When you subscribe to the discovery club you also get monthly discount coupons to our daily offers and the wine shop.
How do I become a member?
Simple, subscribe to our Tierra Ibérica newsletter.
What is my commitment?
Membership is totally free, you can cancel your membership at any time by clicking on the link at the bottom of your newsletter.
Inspiring links:
Read our article on the best value wines in spain
Rioja travellers guide
Ribera del Duero travellers guide
Priorat travellers guide
Order/Payment/Shipping:
New membership box will be offered monthly.
Order confirmation and payment take place the first week of the month.
The wines are then shipped the second week of the month from our warehouse in Spain, the exact delivery date depends on where you live.
You will be notified by e-mail five days before order/payment of your upcoming delivery. Please reply to the email you receive if you need to make any changes to your delivery or membership.
If you sign up for a membership after the monthly billing cycle, you will receive your first shipment the following month.
Weather:
Preserving the quality of your wine during shipping is a responsibility we take very seriously at Scandeat. During times of extreme temperatures (heat and/or cold), your shipment will be paused. When extreme temperatures have passed, we release the shipments. You will be notified by email if your club order has been paused due to extreme temperatures.
Delivery:
Because we ship alcoholic beverages, someone 21 years of age or older must be present at the time of delivery to receive your shipment. You will receive the tracking information for your member shipment via email once the wine has been shipped.
A membership can be changed at any time by emailing us at member@scandeat.com.
If you are canceling your membership early, it would be greatly appreciated if you could provide a reason why you are canceling so that we can continue to improve our service.