Uncontested masters of herring, Scandinavians have always had a great love for this little oily fish, which is evident in their many different types of herring products, dishes and increasingly adventurous creations.
How about a herring taco with avocado and egg? Herring tapas with ghurkin and blueberries? Or a spicy creamy coconut & chili herring? Delicious, versatile and healthy, the humble herring reigns supreme in the nordic countries. And they are happy to share their little treasure with you. Herring is a relatively small, oily fish that is found worldwide in fresh and salt water and eaten pickled, raw, broiled, grilled, steamed, and fried. A fresh herring has soft flaky meat and a delicate flavour that is similar to a sardine. When pickled, the taste ranges from slightly sweet and oniony to sweet and sour. Smoked herring keeps more of its original fish flavour and the sour or fermented herring is an acquired taste with its pungent smell (and definitely not for the faint-hearted). Herring is even served with fish roe as sashimi called Nishin.
The most common way to serve herring in Scandinavia is pickled. Pickled herring, or inlagd sill, traditionally go really well with cream cheese, sour cream, onions, and grainy breads and have been a staple on Sweden's renowned Smörgåsbord as well as festive buffets in all nordic countries.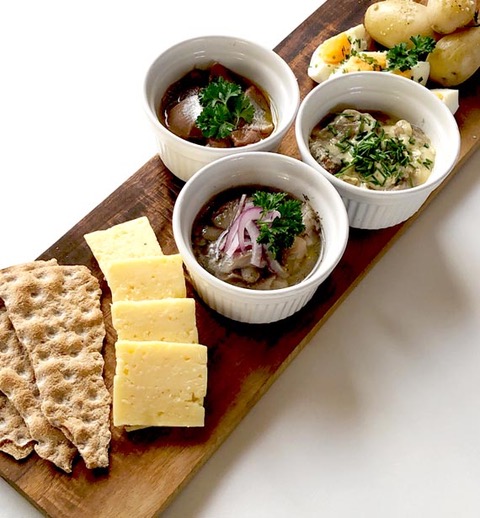 S.O.S is often served as a starter in traditional Swedish restaurants and stands for smör, ost, and sill — butter, cheese, and herring, eaten on crisp-bread and washed down with a shot of schnapps.
We have a variety of herring products: Traditional Swedish mustard herring, crayfish marinated herring, 'dream' herring marinated with vegetables and herbs such as red and white onion, carrot, leek, bay leaf and elderflower and Branteviks herring with onion, dill and spices.
These herring products are the perfect delicacy for an open sandwich at home or work, at a picnic or the beach, by yourself or shared with friends.