Coppet Castle is a château, built in the 14th century, in the Swiss municipality of Coppet of the Canton of Vaud, and is a Swiss heritage site of national significance.
According to an ancient document the construction of the Château de Coppet goes back to the times of Pierre de Savoie who died in 1268, before its completion. Work was then completed under his successors, the Villars.
After 1300, the expression 'castellum' or fortified castle appears in documents of the time.  The chateau with its tower dominated the houses which were grouped along the lake.

A derivation from the river of Versoix, the Greny, fed the moats around the castle and turned the wheel of a mill in the park. After the Villars, Humbert d' Allamand, then Othon de Grandson, the poet knight, lived in Coppet.
During the fights between the Vaudois and the Bernese, the latter ones partially burnt down the chateau. After its reconstruction it became the property of the Lords of Viry, the Constable of Lesdiguières, and then of the powerful prince family, the de Dohnas. They were the governors of the Principality of Orange in France.  (The presence of the Hotel d'Orange in Coppet is a souvenir from those days). The philosopher Pierre Bayle was the tutor of de Dohna's children.
It was the de Dohnas, and then their successors, the Hogguers, who gave the château, between 1680 and 1730, its current look. After them, in 1767, Gaspard de Smeth, put up his coat of arms on the front of the chateau (de Smeth = forgeron).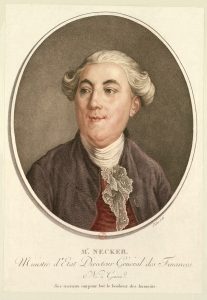 The fame of the Chateau of Coppet starts in 1784, the year of its purchase by Jacques Necker. Jacques Necker, born in Geneva, made an exceptional career in Paris, where Louis XVI, King of France, chose him to be his Finance Minister.
Since these days, the chateau has remained in the hands of Necker's descendents. The first generation was his famous daughter, Mme de Staël, followed by her eldest son, Auguste, who died young. After his death the chateau went over to his widow and since 1878 the chateau is in the hands of the Haussonville family. The current owner represents the 8thgeneration since Necker and the 10th generation since 1784.
Coppet is still the only privately owned property in the Leman region, which has conserved all of its furniture, pieces of art, paintings and family souvenirs. It is not a museum but a family possession open to the public. It allows us to forget, for one hour, our times and revive the atmosphere of the 18th and 19th century.
Allée du Château  1296 Coppet (Geneva), Switzerland
00 41 22 776 10 28