The Amalfi Coast in Southern Italy is one of the country's most beautiful and scenic coastlines, having been listed as a UNESCO World Heritage Site as a cultural landscape, with pastel-coloured villages on sprawling hillside terraces, luscious gardens and grand views.
There is just one 40km long road – the Strada Statale 163 – that takes you down the coast from the town of Vietri sul Mare in the east to Positano in the west, passing through in total thirteen municipalities, all of them worth a visit and many an absolute must.
This is an amazing road to travel down and take your time doing so, stopping at lovely hotels in picturesque locations with wide views, eating outstanding Italian food in the many typical regional restaurants on the way, stopping to buy some handmade ceramics from Vietri, enjoying the local Limoncello in a beach bar, dancing the night away under the stars.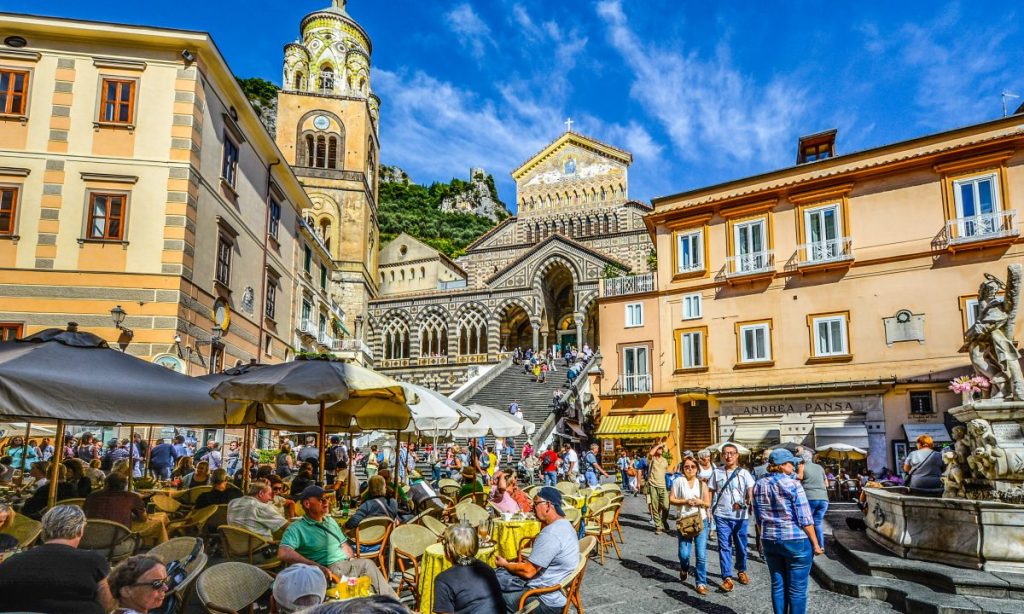 The Amalfi Coast attracts many tourists, who flock here by the thousands every year. For a guaranteed more quiet visit avoid the busy seasonal months; try to go here during September/October or May and you will have a memorable time.
We hand you a road map with tips and ideas of where to stop, what to see, to do and buy, if you want to travel down this magical road!
Arrive at Vietri sul Mare and blow your budget with a stay at 5 star Hotel Raito  where you can revive yourself after your journey in the splendid outdoor pool with mega views or enjoy an outdoor massage. Good value and lovely too is 4 star Hotel Bristol, so charming with its iconic Vietri ceramics displayed throughout the hotel whether as tabletops or vases and spaceous rooms with truly panoramic views from their balconies.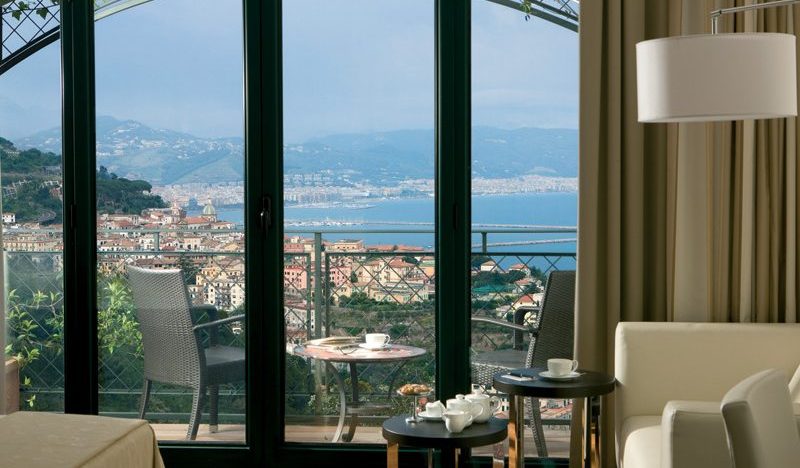 Have dinner at  Ristorante 34 da Lucia, a local favourite that boasts a nice laid-back terrace, friendly service and tasty Italian soups and seafood at reasonable prices.
Or enjoy a brilliant gastronomic seafood experience in the charming environment of Nato Crudo, with stone arches, blue-lit aquariums, wooden barrels originally filled with plants and an open kitchen to watch the goodies being created with perfectly fresh ingredients and finally presented with artistic flair.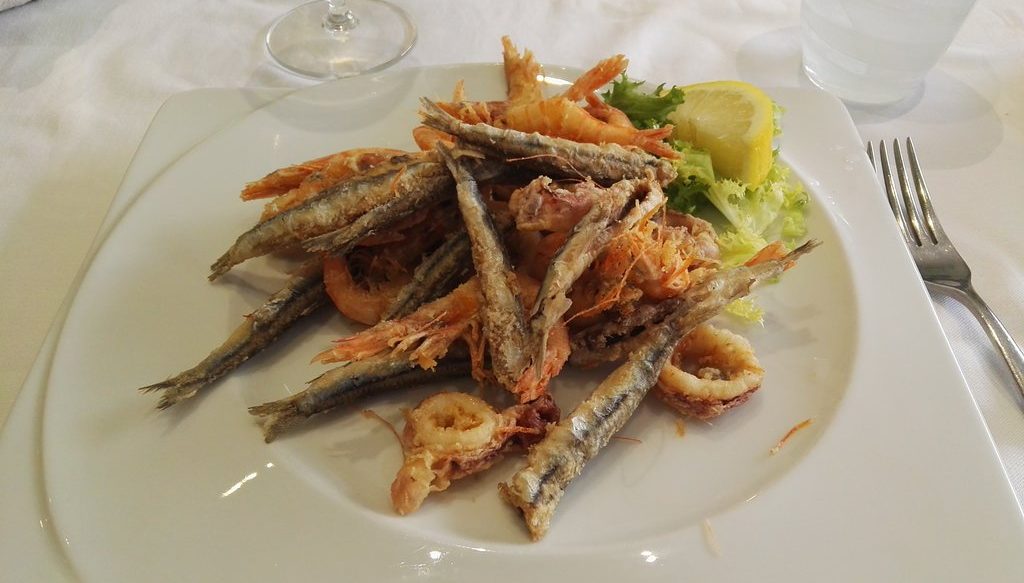 The next morning before setting of on that sweeping coastal road don't leave Vietri without some of its famous ceramics. Sol'Art Ceramiche is a special shop with just that little bit more than the others – describes itself as not just a shop, but a museum cum art gallery.
When you hit the  Strada Statale 163 you will be enchanted by the towering cliffs and sparkling bays, which can be admired from many viewpoints, Capo d'Orso in particularly – until you get to Ravello, a truly romantic and beautiful small and relatively quiet town perched on steep, terraced slopes.
Ravello is home to an 11th-century cathedral and two famous villas; the stunning Villa Cimbrone, which overlooks the Bay of Salerno and Villa Rufolo. Both villas were built in the 13th century and have hosted many prominent guests from popes to kings, and renowned composers such as Richard Wagner. Visit Villa Cimbrone (now a hotel) and take a stroll here among its idyllic gardens on the long central path which ends with the 'Infinity Terrace', that offers the most stunning views.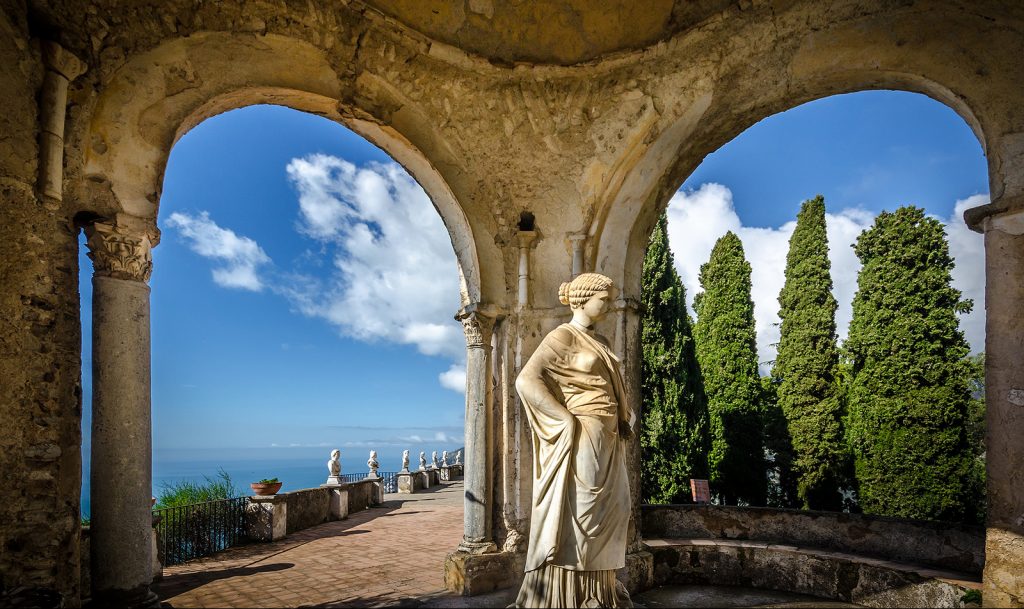 From here continue on just a short stretch to Amalfi, the Amalfi coast's main town. Surrounded by dramatic cliffs and coastal scenery, the town of Amalfi was once the capital of the maritime republic known as the Duchy of Amalfi, governing Mediterranean sea trade during the 12th-century. In the early 20th century Amalfi was a popular haunt for aristocrats and the upper-class. Steeped in history, Amalfi offers many landmark places to visit, such as the cathedral of Sant'Andrea that overlooks the Piazza Duomo, the heart of Amalfi.
After this cultural effort you should take a break with a refreshing limoncello liqueur, the area's signature drink made from lemons grown in terraced gardens along the entire coast between February and October. Head to Antichi Sapori d'Amalfi, located on the Piazza Duomo where father and son team offer some of the best limoncello in town.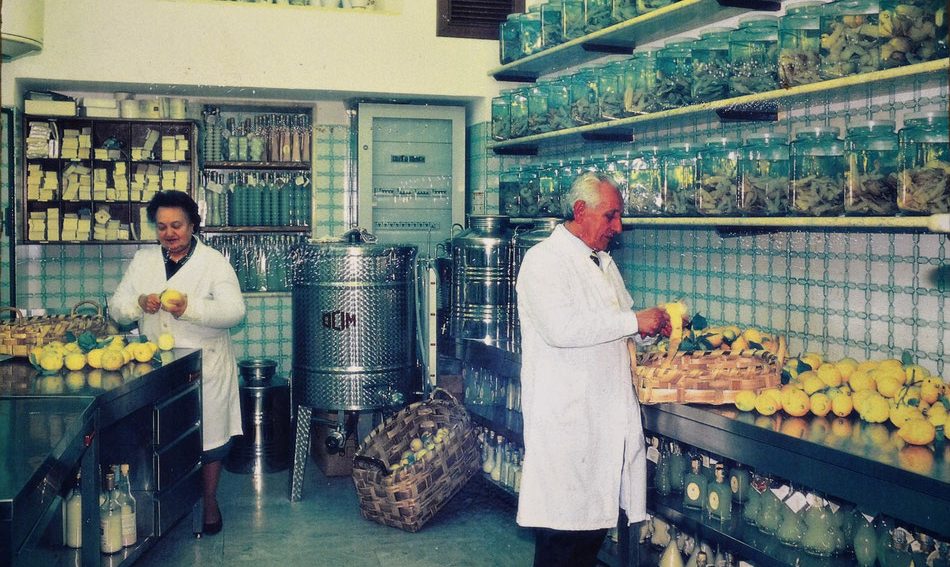 Continue now towards Positano, the most majestically placed village on the Amalfi Coast, along the  increasingly spectacular corniche road which passes Grotta dello Smeraldo, a marine cave of bright emerald water that you can visit by boat, access by elevator, or rock-cut steps. We suggest you book in to the most amazing hotel Le Sirenuse.
This is a true paradise with a terrace offering yet the most wonderful views of the Amalfi coastal waters. For refined cuisine stay here and enjoy a brilliant gastronomic dinner or for something more informal head to town and visit hyper-cool 'beach-shack' restaurant Da Adolfo, located on tiny Laurito Beach. Da Adolfo serves super-fresh food such as marinated anchovies, mozzarella di bufala baked on lemon leaves, and grilled catch of the day dressed with oil, balsamic vinegar and mint in a super relaxed atmosphere and with friendly service.
To complete your trip of the Amalfi Coast, a day-tour of Capri is a must. Capri is an island just of the coast of the town of Sorrento from where you can take a ferry. This is a resort for true hedonists and packed with classy boutiques, lively restaurants and bars.
Have lunch here at Da Paolino Lemon Trees where you eat under a cascade of lemon trees in a joyful ambiance. The food is great! You begin with a full antipasto buffet and on the menu are dishes like Caprese or burrata and tomato salad, lemon-smoked salmon, fantastic pastas, simple but delicious like veal ravioli or seafood linguine. Da Paolino is famous and a favourite with many celebrities; a must-visit for a one of a kind experience.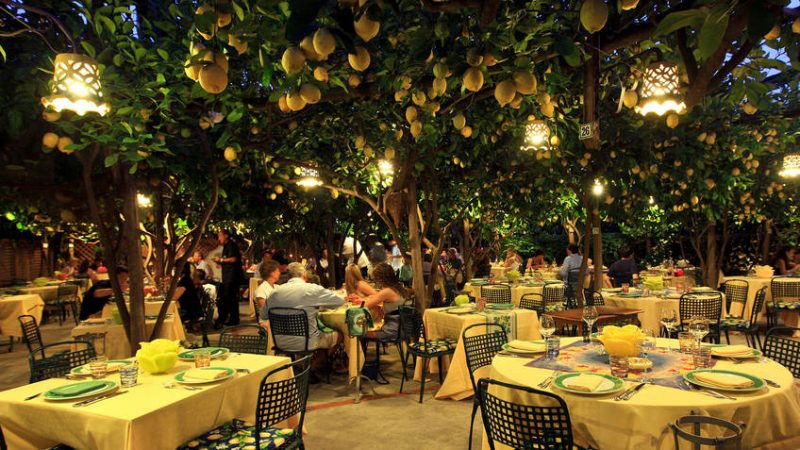 To round of your trip spend the later part of your evening at Taverna Anema e Core, another celebrity hangout, but this time without the looks. No grand entrance to this small-ish tavern which has a wood-beam ceiling and ordinary bistro seating, however this is the place to have the night of your life and a true Capri experience. Expect live music from the owner Guido, himself rather famous as well, and dancing on tabletops!