Serve something wild this winter: Delicious with a very mild gamey taste, this rich and rustic reindeer pavé recipe is just perfect for the winter season and on any festive occasion. The wild smoked salmon tartare is served as a fresh, light and chic starter or as an aperitif in small glasses. Together this wild combo will wow your guests!
Reindeer Pavé Recipe
Reindeer is similar to venison but contains even less fat and has a subtly richer taste. It is popular in Scandinavia with many chefs for its distinctive flavour and tender texture. It's high in protein, mineral-rich and free from any additives. Due to the meat's lean qualities it is best cooked fast and can be served pink.
Pairing reindeer with a natural, seasonal match of fresh, local vegetables offers a perfect combination and the addition of a creamy wholegrain mustard and mushroom sauce gives it an exciting, flavoursome and festive twist. This scrumptious, fragrant, rich, and flavourful dish will give your guests something truly unique and memorable.
Our reindeer Pavé dish recipe features beans wrapped in bacon or Serrano ham, which are visually appealing and add a bit of fat to the lean meat. The earthy mushrooms combined with wholegrain mustard provide a sumptuous sauce that enhances the reindeer's natural flavour and marries it with sautéed vegetables such as leak or braised curly cabbage. To round of your plate this reindeer dish can be served with any type of potato, be it mash, homemade fries or festive croquettes.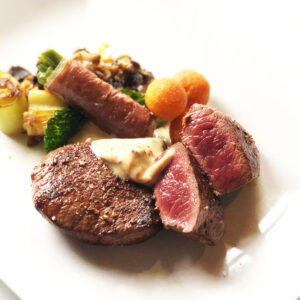 Reindeer Pavé
Reindeer recipe with seasonal vegetables and potato croquettes
Ingredients
Ingredients for the pavés
520

g

Reindeer topside

400

g

Potato croquettes

200

g

green beans

1

medium leek

4

savoy cabbage leaves

4

long bacon or Serrano rashers

100

g

seasonal mushrooms

100

g

butter

1

tbsp

oil

salt & pepper
Ingredients for the mustard sauce
juices from searing the meat

2

tbsp

butter

2

tbsp

finely minced shallot

2

tbsp

flour

1/2

cup

dry white wine

1

cup

chicken stock

2

tbsp

wholegrain mustard

1/4

cup

cream

1

tbsp

lemon juice
Instructions
Take the meat out of the fridge and let it stand to reach room temperature. Heat the potato croquettes in the oven whilst preparing the vegetables. Chop the leak in 2 to 3 cm cubes. Fry the leak cubes with shredded cabbage leaves. Steam or cook the green beans whilst frying the bacon. The bacon, once crispy, is wrapped around the beans for individual portions. Fry the forest mushrooms.

Fry the meat quickly on high heat in oil on all sides until it has a nice golden brown colour all around. Turn down the heat and add butter. Frequently baste the meat with the butter while frying it for approximately 8 minutes. Season with salt and pepper and allow to stand for a minimum of 10 minutes before serving.

After removing meat from pan, turn heat to medium-high and add butter. After butter melts and foam subsides, add shallots and cook until softened and lightly browned. Add flour and and cook, stirring constantly, until golden brown. Whisking constantly, pour in wine and cook until thickened. Add in chicken stock and mustard, and whisk until combined. Bring to a boil, reduce heat and cook until thickened enough to coat back of spoon. Stir in heavy cream and lemon juice, and heat until warmed through. Season to taste with salt and pepper. Remove sauce from heat and use immediately.
Notes
Delicious nordic and natural food for a home kitchen adventure 
Wild Smoked Salmon Tartare Recipe
Caught in the Bothnian Bay in the northern part of the Baltic Sea, this wild salmon is known as 'Baltic blonde' because of its very pale pink colour that it gets from a steady natural diet of small light-coloured fish and which is its hallmark of quality with its unique taste and fondant texture. Because it was allowed  to develop its taste and texture in a natural environment, the salmon is lean and full of flavour as well as highly nutritious.
We have taken the classic salmon tartare with capers, lemon, chives and shallots to a totally different level by using the exquisite and incomparable cold smoked wild salmon. Fresh and delicious, this is your perfect starter or aperitif and can be prepared well in advance.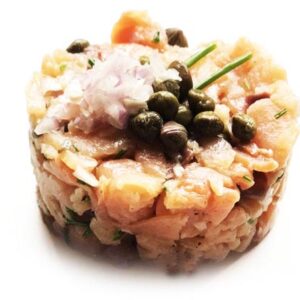 Salmon Tartare
Wild salmon tartare with capers, chives and shallots
Ingredients
Ingredients for the tartare
150

g

wild salmon, finely diced

1

tbsp

capers

1

tsp

olive oil

1

tsp

chopped chives 

1

tsp

chopped shallots 

1

tsp

lemon juice

1/2

tsp

white pepper

1

tsp

salt
Instructions
Mix salmon in medium bowl with olive oil, lemon juice, chopped chives, white pepper and salt.

Refrigerate for at least an hour.

When ready to serve, use a ring mold to form the individual tartares. Top each one with the chopped shallots and capers, add a side of toasted rustic bread.