Ribera del Duero is one of Spain's most successful and enduring wine-producing regions with its viticulture history dating back to Roman times.
Ribera del Duero is a Spanish Denominación de Origen (or DO; classification of Spain's main wine regions) located on the extensive, elevated northern plateau of the Iberian Peninsula which follows the Duero river for some 100km with more than 270 wineries on its north and south-sides, including small family bodegas going back many generations, alongside state-of-the-art, corporate-owned wineries
This is one of 11 quality wine regions, including Rueda and Toro, within the autonomous community Castile and León, and is characterised by mostly flat and gently undulating rocky terrain, formed during the Miocene period, consisting of layers of silty or clayey sand alternating with layers of limestone, marl and chalk.
Central to Ribera del Duero is the town of Aranda de Duero, but the DO's most famous vineyards lie more further down the river near Peñafiel and Roa de Duero.

There is evidence that viticulture in Ribera del Duero dates back to Roman times; in 1972 a 66-meter mosaic tile floor depicting Bacchus, the god of wine, was found during the grape harvest, confirming that wine has been grown in this region for over 2000 years.
With a continental and Mediterranean climate of extremes; long and dry summers and hard winters, combined with moderate rainfall, and great differences in day and night temperatures, the grapes have optimal conditions for ripening and ultimately providing wines of exemplary depth and balance.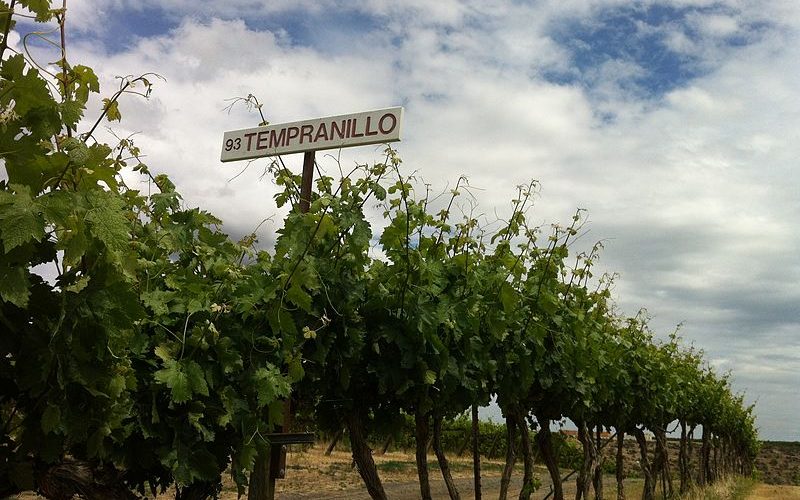 Wine-growing in Ribera del Duero has thus been a long success-story. Many vines here are over 50 years and even 100 years old and the region's wineries generally focus on a select harvest of high quality fruit, which gives a low yield of superior wines. To promote their wines and improve the vineyards and wine quality, local wine-growers created the Denominación de Origen of Ribera del Duero in 1982.
Since then, the implementation of rigorous regulations have made Ribera del Duero wine-making processes synonymous with quality. The DO Ribera del Duero includes the four municipalities: Burgos, Segovia, Soria, Vallodolid and all their wines are subjected controls and must pass a rating process by the Regulatory Council.
Wines produced in the Ribera del Duero DO are derived almost exclusively from red grapes; mainly the Tempranillo variety which is locally known at Tinto Fino or Tinto del País, most often complemented with Bordeaux varietals Cabernet Sauvignon, Malbec and Merlot or Garnacha.
A notable exeption is the Tinto Pesquera; a very fine 100% Tinto Fino. This wine is by Grupo Pesquera which covers 4 bodegas, including Condado de Haza, and is named after the town of Pesquera which is particularly noted for its quality wines.

Also in the region is the world-renowned Vega Sicilia, the most famous of all Ribera del Duero wineries with eminent customers such as Prince Charles. Another remarkable bodega is Dominio de Pingus with its flagship Pingus considered a 'cult' wine.
The very young red wines are either not stored in wood or aged no more than 12 months in the barrels. Crianza wines must age two years with 12 months in oak. Reserva wines are aged at least 3 years with a minimum of 12 months in oak. The Gran Reserva labelled wines must spend 5 years aging prior to release, two being in oak.
The combination of the region's climate, soil and winemakers' dedication results in wines that are powerful and elegant, with many now ranked among the finest in the world.