Bodegas Hermanos Sastre was established in 1992 as a small winery with their first 23 hectares of vineyards. Since then, they have gone on to produce quality wines with a unique character born from the land of La Horra and its old vineyards, which offers the taste and pleasure found in each vintage: richness, density, sweetness, elegance, race, purity and freshness.
Viña Sastre's philosophy is to make a limited production of wines with unlimited care and passion whilst following traditional winemaking processes. "That is why we are respectful of the land, maintaining a traditional crop, without the addition of mineral fertilizers, herbicides or insecticides. A way of doing things that determines the personality and quality of our wines."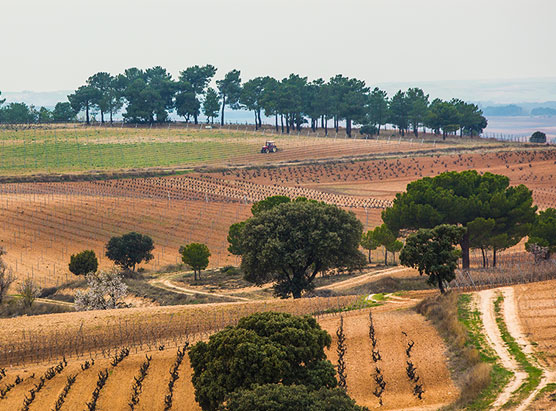 When the vinification is finished they are stabilized by means of lower temperature in a natural way; They are simply taken to storage outside, where the temperatures of December and January in La Horra reach up to 15º below zero. In this way, the wines remain clean in a natural way and without any aggressive physical or chemical method that alters their quality.
Afterwards, the aging takes place in the barrel sheds, until it is time for bottling. Sastre's wines are classic Ribera del Duero style: big, powerful with lots of fruit, with a freshness from their naturally high acidity, sophistication and complexity, and a long lingering aftertaste.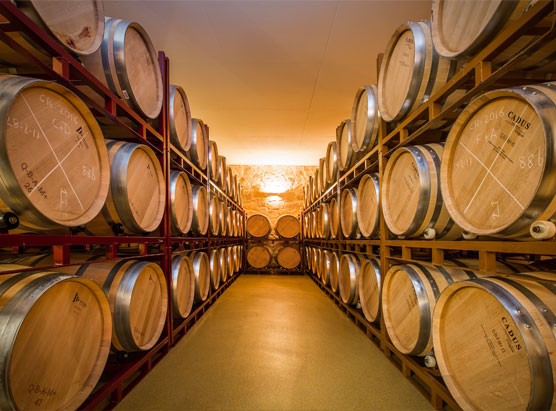 THE WINES
Pueblo: 45 Hectares of vineyards in the heart of the DO Ribera del Duero, protected by a thick mass of pine forests. Wines of cultivation and traditional elaboration.
Flavus white wine from Jaén grapes
Ribera del Duero does not have much of a tradition for white wines, so the initial concept was to make something simple and humble. Instead, they discovered through the cellaring and consistent tasting of verticals of Flavus over the years that the wine is capable of improving in bottle for a decade or more, leaving tasters stunned by the unique, complex flavours which develop.
Rosado rosé from Tinta del País grapes
The cultivation and harvest of Viña Sastre Rosado are carried out in an artisanal way, without adding any artificial substance. An intense rosé with a lot of personality that is on its way to becoming a classic.
Roble red wine from Tinta del País grapes
A limited production made with unlimited care, Viña Sastre's Roble is the youngest wine from Bodegas, a red wine with power and complexity in which varietal aromas predominate with slightly roasted tips as a result of its ageing. Well integrated, pleasant and easy to drink.
Crianza red wine from Tinta del País grapes
"The 2014 Viña Sastre Crianza felt like a textbook Crianza from Ribera del Duero, pure Tempranillo fermented with natural yeasts and matured in oak barrel for 14 months. There is a nice balance between oak and fruit in the nose and in the palate, where the tannins are fine-grained and the wine showed good freshness with focused flavors. The oak felt better integrated than in past vintages." Robert Parker's Wine Advocate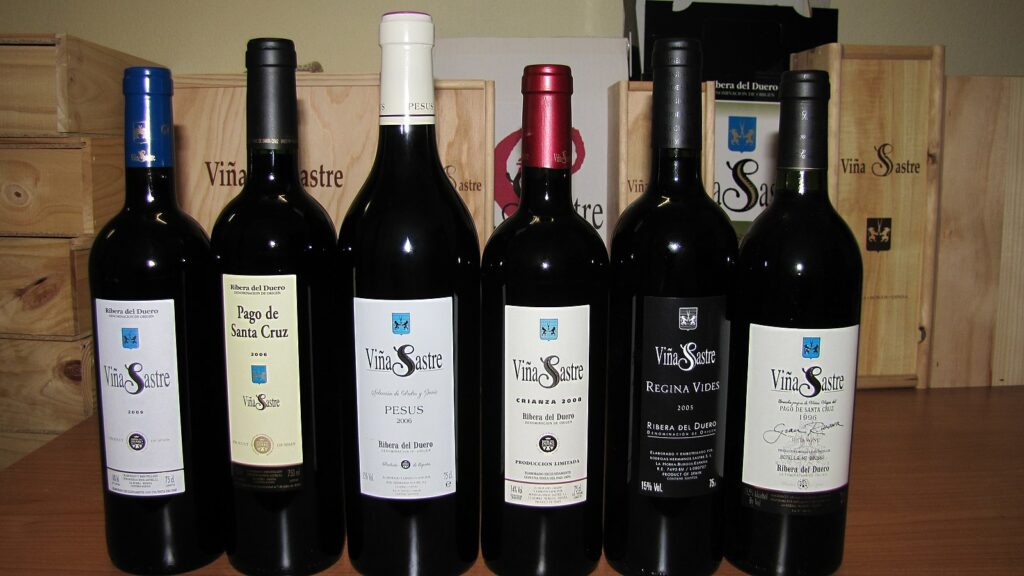 Wines from Viña Sastre's plots, each one of them with different peculiarities, with a combination of climate, soil and ages that allow special, unique wines…
Pago de Santa Cruz from Tinta del País grapes
A wine with a structure that defines its roots, marking and denoting all the qualities of Pago de Santa Cruz. Enveloping, silky and aromatic. A spectacular Pago wine with consistently high ratings from Robert Parker and Guía Peñín.
Pago de Santa Cruz Gran Reserva from Tinta del País grapes
A dark, brooding and exquisite wine with strong long lasting flavours. "Colour: Cherry;Aroma: complex, expressive, spicy, mineral, black fruit, stone fruit;Flavour: elegant, full-bodied, long, great length." Guía Peñín
Regina Vides from Tinta del País grapes
An intensely flavourful wine, powerful and superbly balanced, outstanding in both development and finesse, with firm yet velvety tannins and a long lingering flavour, the Regina Vides is a truly top class Ribero del Duero.
Bodegas Viña Sastre
Calle San Pedro, s/n
09311 La Horra (Burgos) Spain
Tel: +34 947 54 21 08
Email: sastre@vinasastre.com