Kalix Löjrom's full-rounded flavour, with its mild taste of smooth fish oil and salt, adds to its unique character.
Kalix Löjrom, or vendace roe, the eggs of the small salmonid fish species, gained the European protected designation of origin (PDO) status in 2010. The protected designation of origin (PDO) guarantees that all parts of the production, processing and preparation process take place in the specific region.
The golden orange colour specific to Kalix Löjrom PDO eggs distinguishes them from the eggs extracted from freshwater whitefish, which are yellow. Their full-rounded flavour, combined with a sweet taste of mellow fish oil and salt, makes this unique Swedish delicacy so special.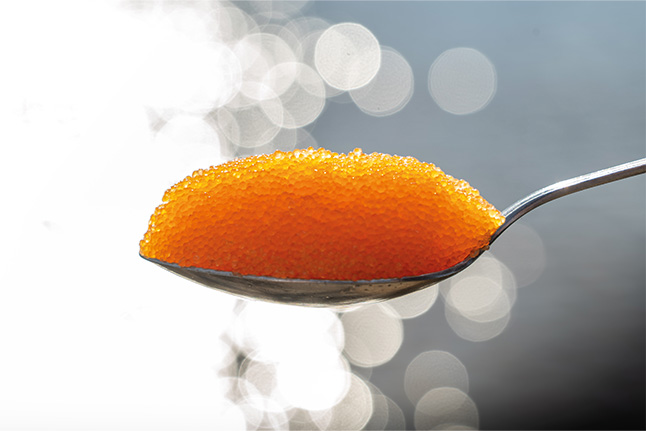 Kalix Löjrom is produced from vendace roe. Both its distinctive flavour and unique pigmentation have been found to be directly linked to the special feed of vendace. The cold and clean water in this particular part of the Gulf of Bothnia, where the fish spawn and stay during the catch period, is undoubtedly a determining factor too. With no less than eight large rivers and numerous smaller streams and watercourses flowing into this part of the Gulf of Bothnia, the water is of drinking quality.
Kalix is a locality in Norrbotten County. The roe harvest normally starts late September and continues until the vendace are ready for spawning around late October. Around three million pounds of the fish are taken every year, separated by hand according to sex. After Kalix Löjrom is extracted from the fish, a process carried out by hand on the day it is caught, 4 % salt is added to the roe. The entire preparation process of Kalix Löjrom consists of several stages: preliminary rinsing, whisking, sieving, drying, salting and thorough cleaning. The traditional production method of Kalix Löjrom PDO also accounts for its unrivalled reputation. Handling the roe is part of the local knowledge and requires many years' experience.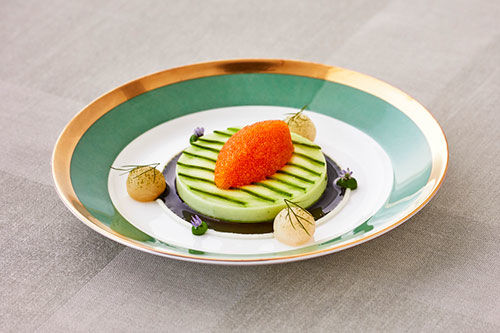 Kalix Löjrom is often served at important events such as royal dinners and the Nobel prize banquets. Michelin star restaurant Aquavit in London and New York also serves this nordic caviar on its menu.
The most common way Löjrom is served in Sweden is with creme fraiche, diced red onion & chives, a slice of lemon, a dill sprig and either toasted bread or blini. You will also often find löjrom as a garnish (on Toast Skagen with prawns for example) or in sauces.
Kalix Löjrom
Swedish bleak roe with traditional garnish
Ingredients
100

g

Kalix Löjrom

1

dl

sour cream

1

red onion

1

bunch

chives

black pepper

1

lemon
Instructions
Finely chop the red onion and chives.

Use a large tablespoon to make egg shapes of the Löjrom and cream. Serve both with the garnish of red onion and chives.

Squeeze a little lemon over the onion so it is not too strong.
Nobel Prize Banquets www.nobelprize.org
Aquavit London www.aquavitrestaurants.com Aquavit London Menu /Aquavit New York Menu
*The fishing for harvest of Kalix Löjrom is done with the utmost care for the marine environment.