The 21st of June is 'World Tapas Day'; a celebration of arguably Spain's most popular invention, that small and tasty appetiser, the tapa. 
This Spanish custom has become a worldwide phenomenon, from top chefs adding their gastronomic takes on tapas, to tapas bars opening in major cities in many countries from America to China. Tapas are originally an aperitivo, eaten between main meals with a glass of wine or beer, but nowadays they are so varied and delicious that they can easily substitute a lunch or dinner or both!
They can be cold or hot, and many establishments have house specialities. In some places you have to order them and in others they are served free with a drink. Spanish celebrity chef and author Ines Ortega explains the concept of tapas: "Once upon a time in Spain, a small, free tapa was served with drinks in bars, often a piece of sliced cold meat, such as cured ham or chorizo, or a piece of cheese. According to culinary legend, these tapas were used to cover wine glasses to keep the aroma in and to keep the flies and insects out (the word tapa originally meant 'cover'). Nothing goes better with a glass of wine or a cold beer."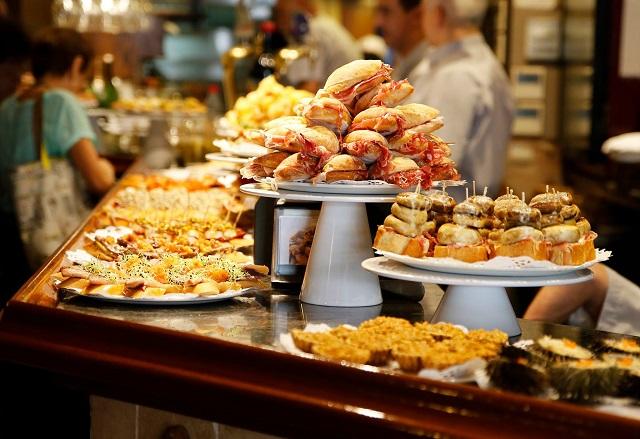 Tapas have also evolved through Spanish history by incorporating new ingredients and influences and go back a long way although no one is sure when and where they originated. Some say the tapas tradition began when king Alfonso X of Castile recovered from an illness by drinking wine with small dishes between meals. After regaining his health, the king ordered that taverns would not be allowed to serve wine to customers unless it was accompanied by this small snack.
Today tapas vary from the simple slice of Iberico ham and olives to more complex combinations such as Bacalao, salted cod loin sliced very thinly, usually served with bread and tomatoes; Gambas, prawns sauteed in peppercorn sauce, with garlic or chopped chili peppers; Mejillones rellenos, spicy stuffed mussels. Add to this generous amounts of extra virgin olive oil and a good Spanish red wine…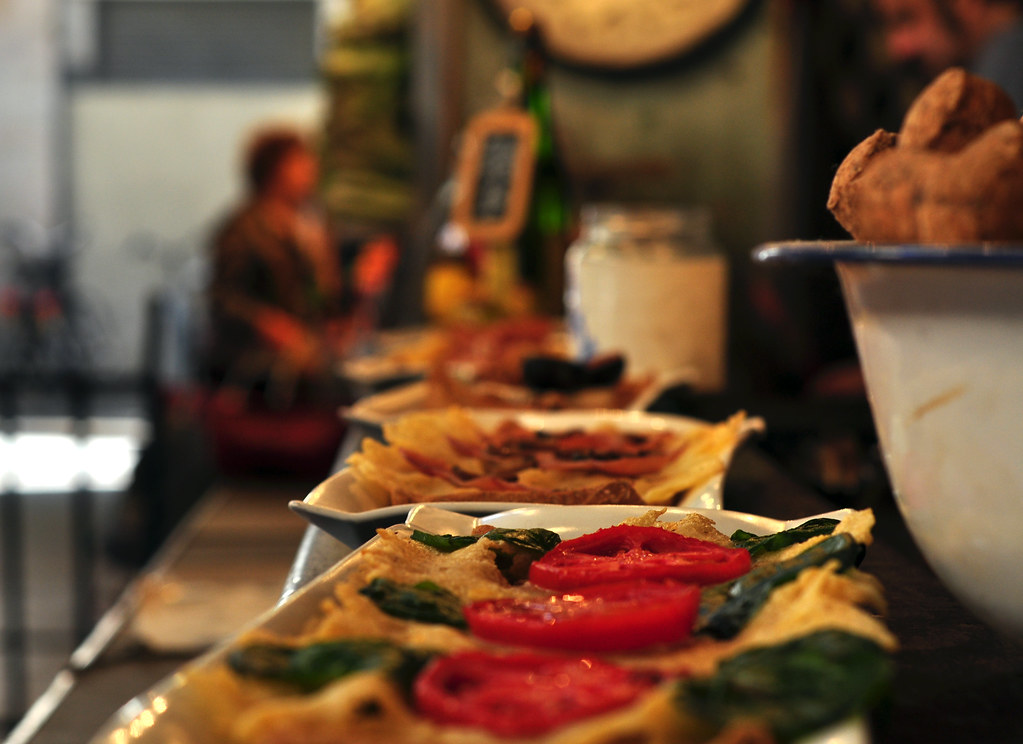 Iberian ham is a major part of tapas and one of the most popular Spanish products; many visitors to Spain cannot resist taking some home with them. This is a type of cured ham of the highest quality, made from black acorn-fed Iberian pigs. The most desired type of Iberian ham, is the Jamón Ibérico de Bellota, a gastronomic delicacy that can easily be described as the finest ham in the world with an intense nutty flavour and melt-in-your-mouth texture. Extra virgin olive oil is the essence of the Mediterranean diet and a healthy condiment that perfectly accompanies any dish. Spanish wines are increasingly garnering international fame.
This Mediterranean diet, with tapas, Iberian ham, tortilla, olive oil, and wine, is healthy and symbolic of a lifestyle of eating together, respecting the land, and traditional harvesting and fishing.
In a traditional tapas bar, you eat the tapas standing at the bar with everyone else and one of the best things about this is the social aspect; the joy you get from sharing good food with friends and perhaps new friends you meet at the bar, thus getting a real taste of the 'flavour and lifestyle of Spain'.
Spain is a country on the forefront of the most innovative and best creations of food. With top chef Ferràn Adria and restaurant El Celler de Can Roca' by the Roca brothers, recognised as the best in the world, this country knows how to celebrate all things food.
So try the flavour of Spain this June 16 as it is coming to a place near you: World Tapa Day is celebrated simultaneously in many cities around the world and presents a complete programme; tastings, show cooking, activities in local markets, and more. But the easiest way to enjoy the best of Spain all year 'round is with Gastro Cargo, a fantastic delivery service of Spain's best gastronomic products and wines.