Aquavit London is a Michelin-star, contemporary and classy brasserie-style restaurant located in St James's Market, London, that serves seasonal nordic cuisine.
The first and original Aquavit restaurant is located in New York, is headed by chef Emma Bengtsson, and boasts 2 Michelin stars. Opened in 1987 Aquavit's design was originally based on Stockholm restaurant, Operakällaren, whose owner, Swedish chef and restaurateur Tore Wretman, was one of Aquavit's original partners. Ethiopian Swedish chef and restaurateur Marcus Samuelsson, currently owner and head chef of the very successful Red Rooster in Harlem, joined in 1995 and garnered Aquavit greater culinary recognition.
London-based Aquavit was opened a mere four years ago, but it is rapidly catching up to it's sibling's fame across the pond with a Michelin star awarded already in its first year.
The restaurant experience ranges from healthy and delicious breakfast and mid-morning fika (traditional Swedish coffee and cake break, meant to have daily with friends, family or colleagues) to lunch, afternoon tea, and dinner, with the option of  enjoying aquavit cocktails at the stunning bar late into the evening.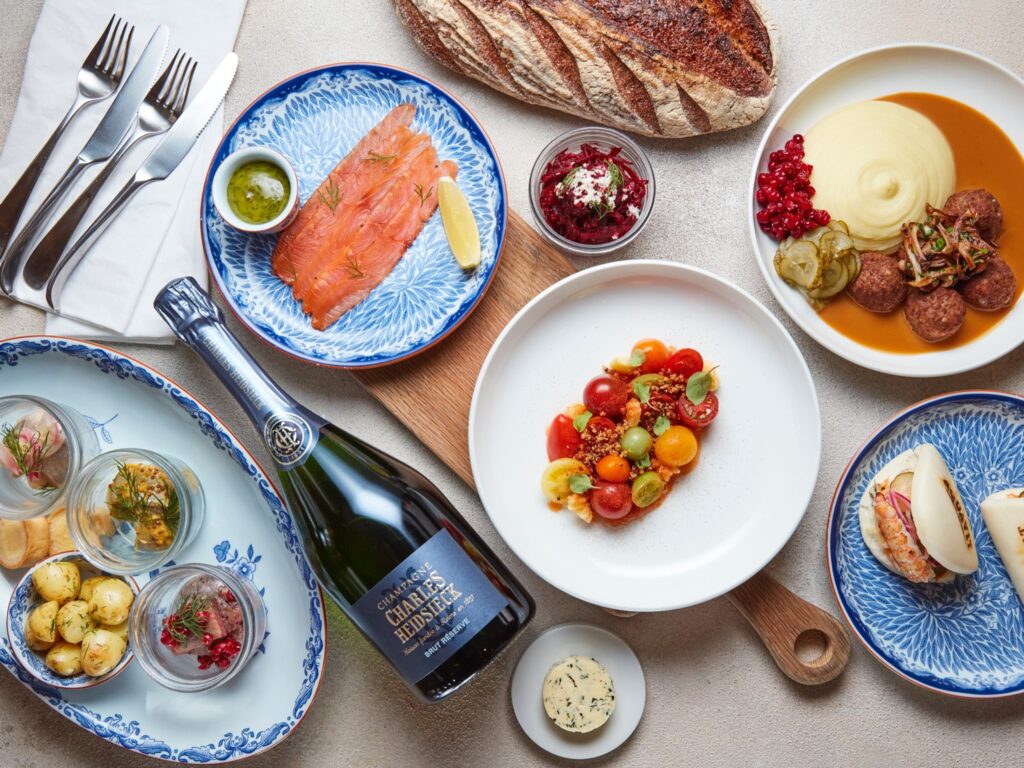 On the menu: 
From the classic Smörgasbord
Toast Skagen, a classic dish created by Tore Wretman, a creamy mix of shrimp and dill on a piece of toast accompanied by a slice of lemon and topped with Kalix Löjrom, Sweden's delectable caviar.
Herring, with mustard, dill and lingonberry.
Gravlax, Swedish marinated salmon with mustard and dill sauce.
From the Mains
Apart from such great meals as Icelandic Cod and Roast Duck, Aquavit serves two unmistakable Swedish dinner traditions; the Beef Rydberg, beef with caramelised onion, onion puree, confit egg yolk, and horseradish cream, and of course the Swedish Meatballs with lingonberry, pickled cucumber and potato mash.
For dessert
The luscious Kladdkaka chocolate cake.
Arctic Birds Nest, almost too pretty to eat, with the goat-cheese parfait white-chocolate eggs with sea buckthorn 'yolks', chocolate and honey twigs, crumbed brownies and freeze-dried raspberries.
At the bar
Polarized, Aquavit, gin, Cointreau, vodka, citrus, ginger ale – refreshing like a summer breeze … at the north pole.
www.aquavitrestaurants.com
St James' Market
1 Carlton Street
London SW1Y 4QQ
Tel: +44 (0)20 7024 9848