WELCOME TO MADRID
The capital city of Europe's most passionate country is a feast of music, food and culture, full of energy and colour, welcoming and captivating.
Spain has evolved into one of the most gastronomically important countries in the world, and Madrid has its own fair share of excellent restaurants as well as outstanding tapas bars, not too mention great food markets.
You will be swept up in the liveliness of Madrid whether visiting the markets – try the Mercado de San Miguel; a feast for the eyes and senses – tasting all kinds of tapas in a local bar, or simply sit on a terrace and watch the people go by sipping a local wine.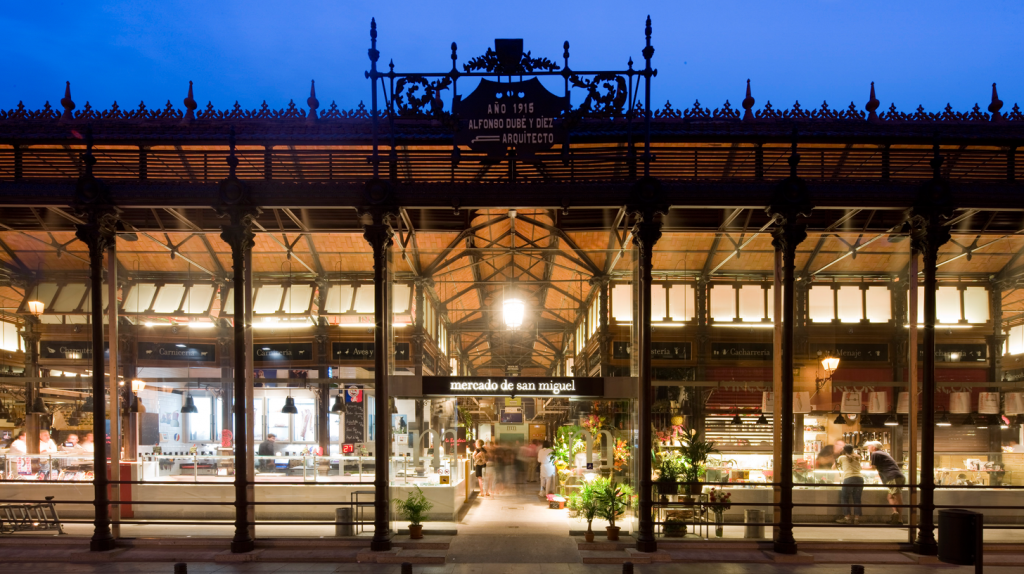 BONV RECOMMENDS
WHERE TO EAT
Frequented by celebrities, El Lando is the most prestigious restaurant in the Las Vistillas area. It is run by Lucio Blázquez, owner of the famous Casa Lucio as well, with which it shares the outstanding preparation of eggs and omelettes, as well as their most emblematic dish: the fried eggs with ham on a bed of potatoes (huevos rotos sobre patatas).
Opened in 1839 by its founder, Frenchman Emilio Huguenin Lhardy, Casa Lhardy is considered one of the earliest and oldest restaurants in Madrid. The former store (lower part) is a restaurant with several rooms. It's famous broth has been served from silver samovars since 1885 and now Casa Lhardy has a classy tapas bar, deli and takeaway service on the ground floor and a culinary restaurant on the first floor.
Casa Lucio is a restaurant located in a narrow historic street in Madrid decorated in 19th-century Castilian style by its owner Lucio Blázquez.  Dozens of cured hams hang from beams above the bar. Among the clientele is a stable of well-known public figures including royalty. On the menu classic Castilian food, like Jabugo ham with broad beans, shrimp in garlic sauce, several types of roasted lamb, and a thick steak served sizzling hot on a heated platter.
DiverXO offers sublime Spanish-Asian fusion cuisine from young genius chef David Muñoz who has perfected his oriental kitchen techniques at Nobu and Hakkasan in London and has successfully applied them to revisit Spanish classics, garnering himself an amazing three Michelin stars in the process. Ordering is made simple with meals served from a set seven, eight or nine-course menu that varies only by the number of starters.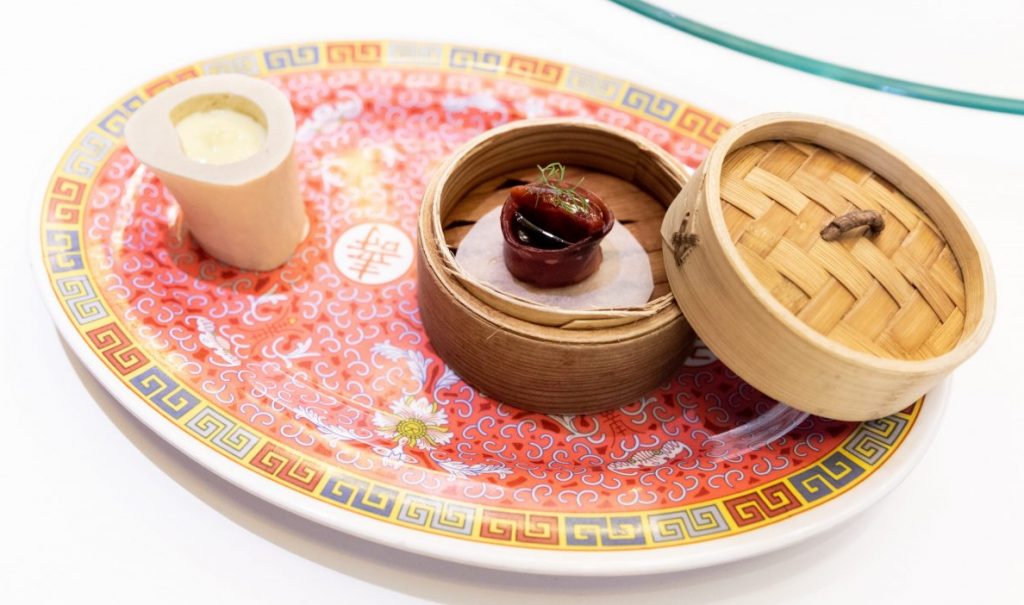 Listed by Guinness World Records as the world's oldest restaurant, and on the Forbes list of as one of 10 of the world's classic restaurants, Botin has been turning out impeccably roasted meats from its original Castilian-style cast iron wood-burning oven since 1725 – nearly three centuries. Guests have ranged from Hemingway to the painter Goya to countless European royalty, and it remains very popular with visitors, locals and especially Spanish politicians.
El Paraguas is one of the finest haute cuisine Asturian restaurants in the city, with chef Sandro Silva serving up the classics such as fabada, an Asturian white bean stew, colmenillas, wild mushrooms filled with foie, pixin, monkfish, rodoballo, turbot with clams. Visited by Madrid's elite, but no snobbery here, expect a warm welcome from the friendly staff.
Opened in 2009 and now one of the most fashionable gastrobars La Gabinoteca is one of Madrid's more recent stars. The interior combining rough wood, grey treated concrete and mismatched furniture is hip and funky. On the stylish menu the more traditional tortillita de camarones, ensaladilla ruse, squid boccadillo, but also fondue of creamy sheep's cheese and potato, egg and truffle; delicious!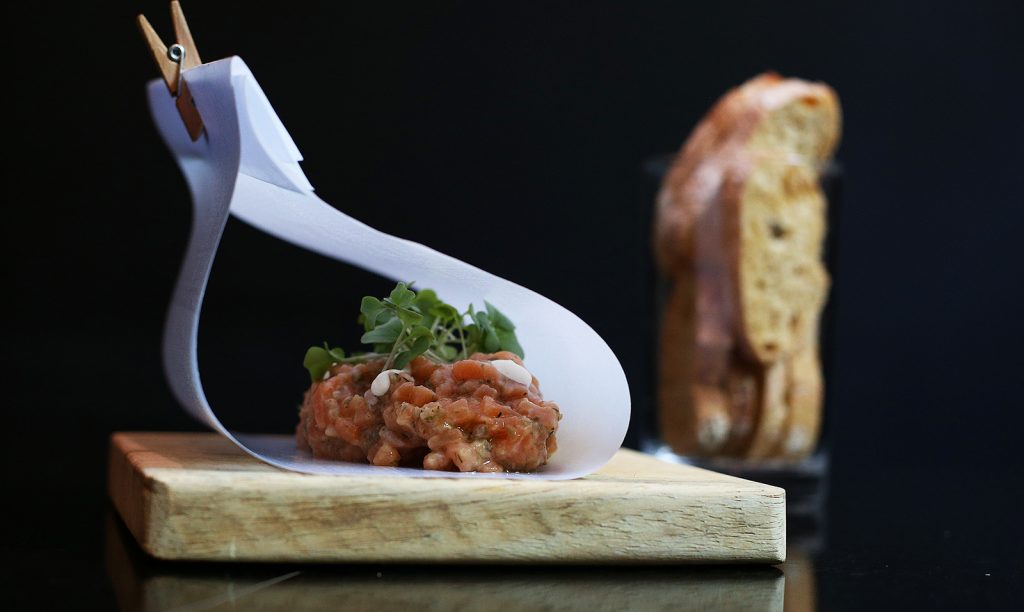 WHERE TO STAY
Exceptional hotel with top location on the well-known Plaza de Colón, the Hotel Gran Meliá Fénix***** provides one city's finest accommodations. It is a member of the exclusive group The Leading Hotels of the World, and with the famous DRY Martini Bar by Javier de las Muelas, offers true luxury accompanied by traditional Spanish charm.
The Westin Palace Madrid***** has since 1912 welcomed the most prominent guests including Matahari, Albert Einstein, Ava Gardner, Ernest Hemingway and Salvador Dali and even if they are long gone, there is still a lot of history and a touch of majestic mystique surrounding the Spanish capital's grande dame. If her walls could talk . .
A 19th century building in the Salamanca district has been transformed into the modern urban-chic hotel TÓTEM**** with 64 rooms, a gym and restaurant. The hotel has a peaceful atmosphere, with minimalistic but very functional furniture, eclectic common areas, stylishly blending finesse and avant-garde.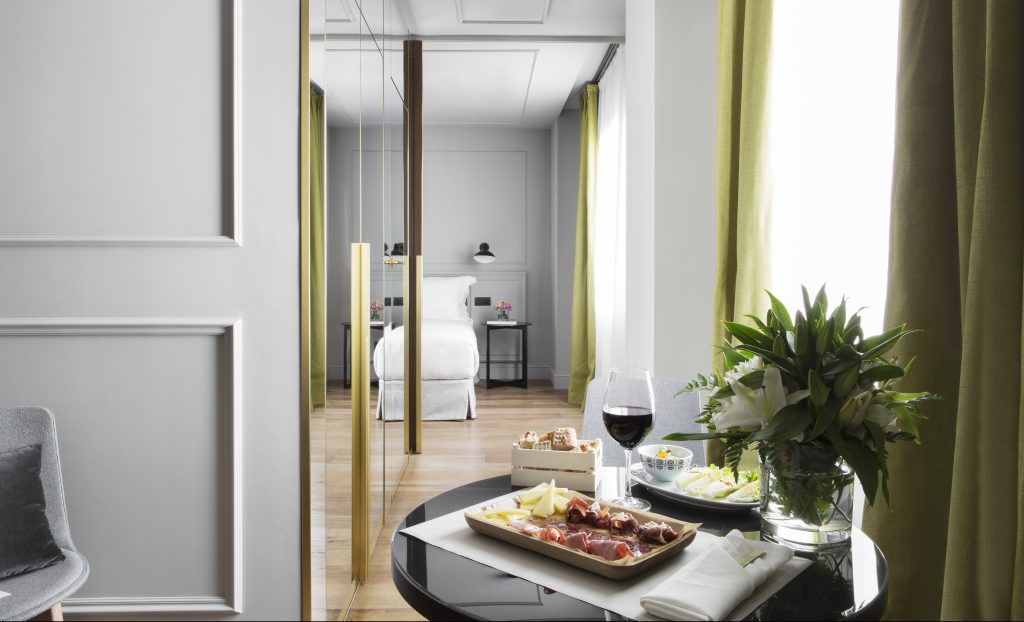 Good value is the Catalonia Goya**** located in the centre of Madrid, in the heart of the Salamanca district. It is set in a building from the end of the 19th century, which has been designated Artistic Heritage of the city. Its unbeatable situation in Madrid's business and commercial centre means that the hotel's guests can enjoy the benefits of this great city.
TAPAS AND COCKTAILS
Located on the ground floor of one of the most luxurious hotels in the city, Gabana is chic, exclusive and luxurious. The music is hot and the drinks menu endless with a range of the most expensive whiskeys and champagnes, attracting celebrities on the dance floor and in its private rooms.
Arguably Madrid's most famous cocktail bar, Museo Chicote serves great cocktails at a landmark location with a cosmopolitan, glamorous and charming ambiance attracting locals and celebrities alike since 1931 such as Ernest Hemingway, Grace Kelly, Ava Gardner, Sofia Loren, Frank Sinatra, and to this day the bar continues to welcome famous guests, as well as the hip and elite of Madrid.
Dry Martini Bar: Javier de las Muelas one of the world's most talented cocktail specialist and his popular bar, where people come to enjoy Tom Collins, Cosmopolitans or Caipirinhas, occupies the whole downstairs of the Gran Meliá Fénix hotel. On the tapas menu: croquetas, jamón Ibérico de Bellota, oysters, prawn fritters and the famous Lola Flores canapé of anchovy and date.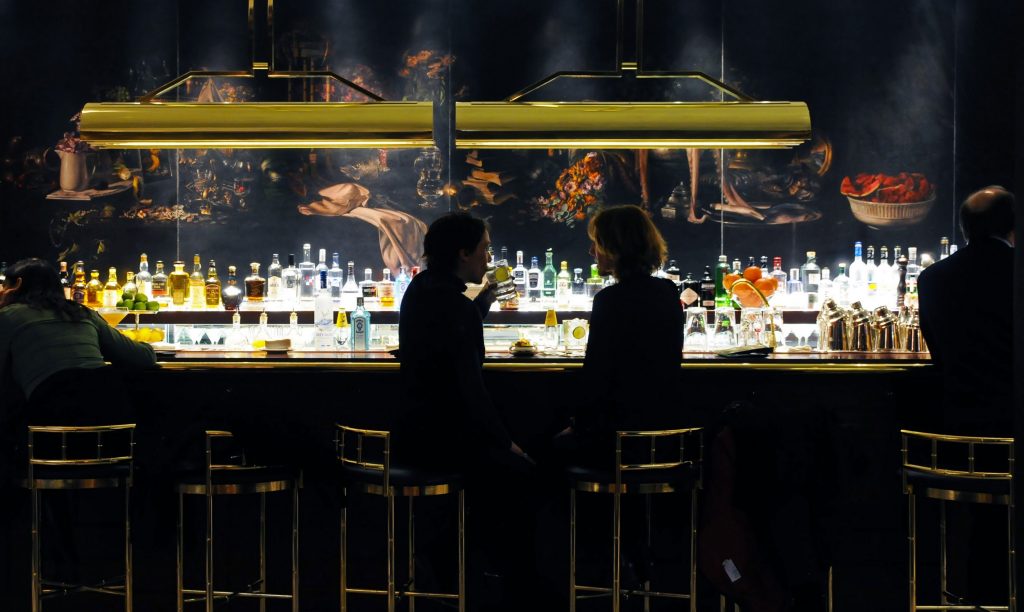 Philippe Starck-designed Ramses is a multi functional venue with a lounge-bar, a club and two restaurants – Ramses Bistro and Ramses Petit. Stunningly dramatic with silver candlesticks, grand chairs and contemporary chandeliers contrasting with graffiti-covered walls and ceilings. You can eat Asian-influence cuisine here after cocktails in the lounge-bar or before dancing in the night-club downstairs.
Editor's note: "At the Westin Palace in Madrid, I have been fortunate to be served in the elegant 1912 Museo Bar by Antonio for more than 20 years. Antonio has been with the hotel for almost half a century and even without saying anything he has that gift of making you feel special, so welcome, and so at home. A gift that does not cost anything, but is worth more than all luxury decoration and design in the world's top hotels, especially if you travel a lot."
A special mention goes out to Mercado de San Miguel. This is Madrid's most inspiring and vibrant sprawling traditional food market in a building on the Plaza San Miguel that dates back to 1916. The market offers a great variety of quality traditional Spanish food and drinks to buy or eat, from top class paella, hams, cheese, caviar, tapas and oysters, to fresh juices and cocktails.
RECIPE
Huevos Estrellados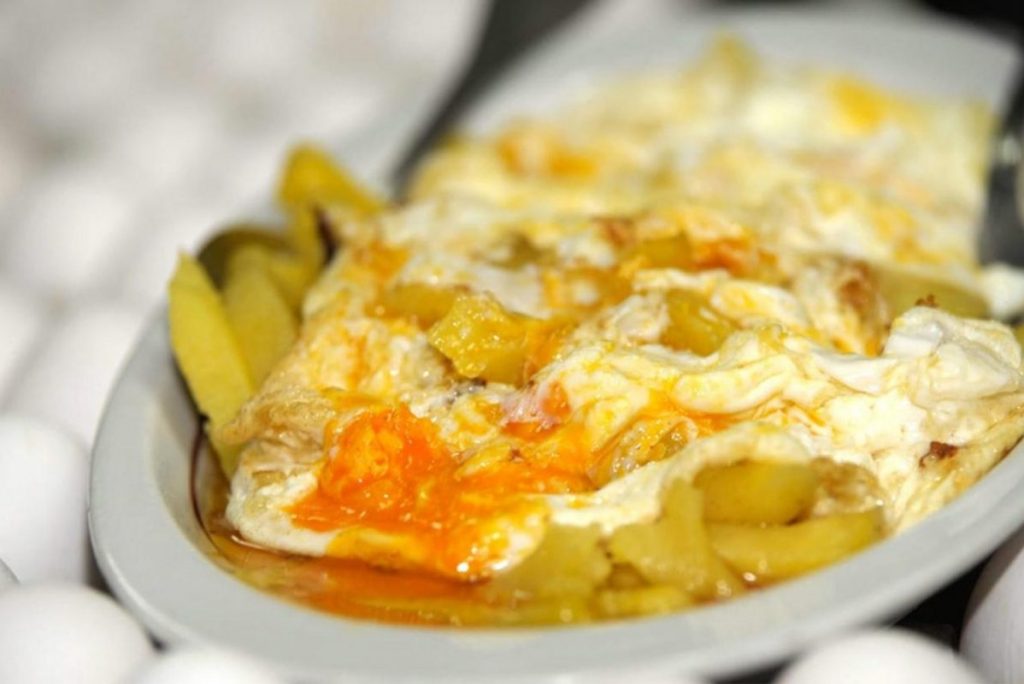 Casa Lucio's Huevos Estrellados is a traditional Spanish dish elevated to world renown!
Having perfected this simple recipe, cooks at Casa Lucio use a wood-fired oven, organic potatoes and top quality oil to make perfect crispy yet non-oily fries, and rich and flavourful eggs whose soft yolks are gently broken over the fries so they are perfectly distributed around the plate.
Ingredients
3 large eggs
3 cups plus 2 Tbsp. extra-virgin olive oil, divided
7 medium potatoes, peeled and cut into eight equal wedges
salt
Preparation
Cook the potato wedges in olive oil until they are soft and creamy throughout and just barely crisped on the outside, 10-15 minutes. Put them on a paper-lined plate. Season liberally with salt. Once cooled slightly, transfer the potatoes to a serving platter.
Now heat some olive oil over high heat and crack the eggs into the pan. Cook gently, away from the heat, swirling the pan, for 20–30 seconds or until the whites are just barely opaque. Use a spatula to gently fold the eggs – or try to flip them like pancakes as a pro! –  without breaking the yolks, and cook an additional 20–30 seconds until the whites are barely set and the yolks are still very liquid.
Slide the soft-cooked eggs over the potatoes. Using a fork and knife, cut the eggs open, so that the yolks trickle down into the potatoes. Sprinkle with more salt and serve immediately.