Sometimes the simplest recipes are the best and the proof is in this pudding. With his crème brûlée recipe, French chef Guy Savoy, worth three Michelin stars, proves to us that we can enjoy ourselves without complicating our lives.
"When I prepare several batches of macarons, I of course use a lot of egg whites. So I still have the egg yolks to "recycle" for dessert. I go back to my recipe books to find what to make with only egg yolks and I keep coming back to this delicious crème brûlée recipe." – Guy Savoy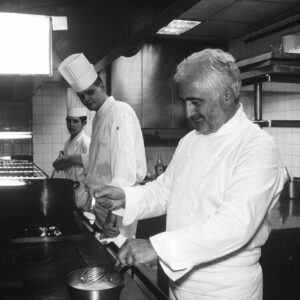 Guy Savoy's Crème Brûlée
Crème brûlée, certainly one of the world's most indulgent and delicious desserts, by a 3-Michelin star French chef
Ingredients
9

egg yolks

100

g

caster sugar

750

g

liquid cream

35% fat

1

vanilla pod

10

g

brown sugar
Instructions
Preheat the oven to 90°C.

In a bowl, blanch the egg yolks by whisking them with the caster sugar.

In a saucepan, pour the liquid cream and add the seeds of the vanilla pod. Bring to a boil.

Pour the hot vanilla cream over the whitened egg yolks, mixing with a whisk.

Now pour the crème brûlée mixture into small pots or porcelain egg dishes and bake them for 50 minutes.

Remove from oven and allow to cool to room temperature.

Pour the brown sugar in a thin layer over the cooled cream and caramelize it with a blowtorch.