With great food, excellent wines, unique interior, and a long history dating back to 1939, restaurant d'Vijff Vlieghen,is an Amsterdam institution.
d'Vijff Vlieghen, in old-Dutch spelling, translates as the Five Flies, which is how Nicolaas Kroese promoted his restaurant in the late 40's in the USA to the American public.
In his hand he held a cage in which were 5 copper flies. With his charismatic appearance he knew to make the people enthusiastic for a visit to his restaurant. "I am Nicolaas the Fifth, born in 1627 and forgot to die. I am the King of the Five Flies' Empire in Amsterdam, Holland. If you come to my Kingdom I will give you an experience you will never forget." Nicolaas Kroese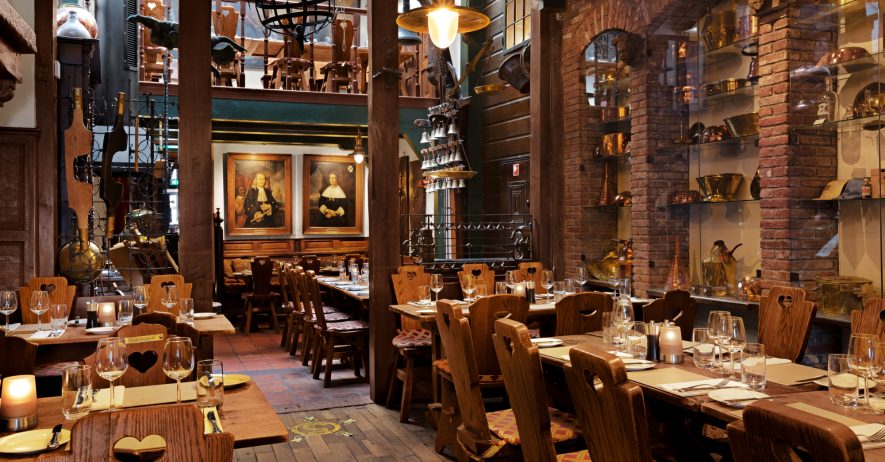 The restaurant likes to call itself a culinary museum, as indeed you feel like dining in the home of Vermeer, in this marvellous old-Dutch ambiance with its exposed brickwork, oak beams, tiled floors and warm lighting, featuring original Rembrandt etchings, antique Delft blue tiles and rare 17th century glassware. You can choose from various different dining rooms or 'chambers' with such illustrous names as the Knights Room or the Rembrandt Room.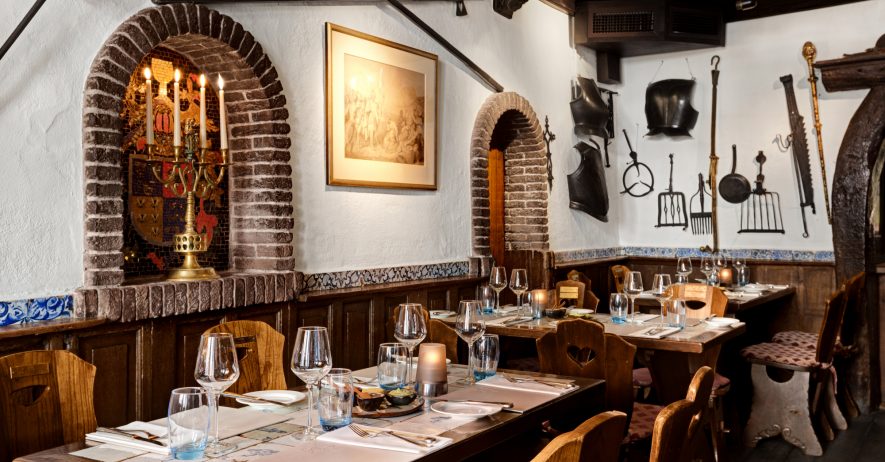 Quite a number of well-known names have come here; Orson Welles, Walt Disney, Danny Kaye, Mick Jagger, and Mikhail Gorbachev – to name a few.
On the menu rustic, healthy, seasonal food often biological, for instance this patriotic dish: Beef tenderloin from Dutch dual purpose cows, radish, Amsterdam onions, cauliflower, Frysian potatoes with caraway and piccalilli gravy.
www.vijffvlieghen.nl
Spuistraat 294-302, 1012 VX Amsterdam
00 31 20 53 04 060