"Gazpacho is a work of art; It is the best dish to sell Spanish cuisine" -Ferrán Adrià
Ferran Adrià i Acosta is a Spanish chef. He was the head chef of the El Bulli restaurant in Roses on the Costa Brava and is considered one of the best chefs in the world. He has often collaborated with his brother, the renowned pastry chef Albert Adrià.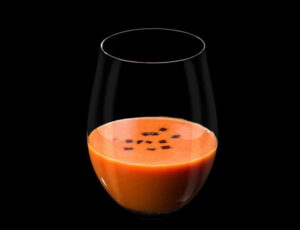 Traditional Spanish cuisine features the best cold soup in the world and we share with you the recipe from world famous chef Ferrán Adrià's book 'From The Family Meal: Home Cooking with Ferran Adrià'.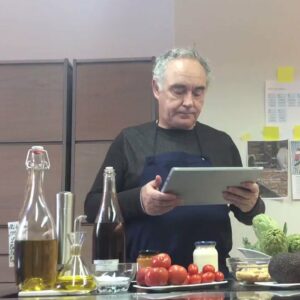 Ferran Adrià's Gazpacho
Famous former restaurant El Bulli owner and chef Ferran Adrià shares his recipe for a truly Spanish classic: Gazpacho
Ingredients
3

garlic cloves

2

onions

1

cucumber

1

red bell pepper

4

tomatoes

40

g

white country-style bread

without crust

1/2

cup

water

1/3

cup

olive oil

2

tbsp

sherry vinegar

1

tbsp

mayonnaise

100

g

croutons
Instructions
Peel and cut each garlic clove in half. Remove the green shoot inside, if there is one. Fill a small saucepan with cold water and add the garlic. Bring the water to a boil. When the water begins to boil lift the garlic out of the water and into a bowl of ice water to quickly cool it. Repeat this twice, always starting with cold water in the saucepan.

Peel the onion and cut in half, then cut into large chunks. Peel the cucumber. Cut in half, then into large pieces. Halve the bell peppers, then remove the seeds and white membranes. Chop the bell peppers, then aside along with the cucumber and onion. Cut the tomatoes into large wedges and put in a bowl with the onions, cucumbers, and bell peppers. 

Add the bread, torn into pieces, then pour over the water. Process everything together using a hand-held blender, or using a food processor. Strain the gazpacho through a fine-mesh strainer. 

Add the oil, vinegar, and mayonnaise, then whisk or blend the soup until smooth and creamy. Season with salt and pepper. 

Chill in the fridge before serving (at least 2 hours). Serve the gazpacho in soup bowls with croutons, plus an extra drizzle of olive oil.