WELCOME TO THE FRENCH ALPS
Home of the Mont Blanc, the highest mountain in the Alps, Les Trois Vallées (The Three Valleys), the world's largest ski area – an exceptional, internationally-renowned 600 km of interconnected slopes and 180 lifts – and some of the world's most exclusive, top winter sports resorts, the French Alps command superlatives few other ski-havens can boast.
Skiing in the French Alps offers unlimited choice of pistes, cross-country trails, all easily accessible and easy to navigate thanks to the elaborate cable car network and excellent snow coverage.
The resorts are world-class, charming, beautiful, luxurious and each one with its own unique character. We have listed some of the best below in our following guides: Val d'Isère, Chamonix, Courchevel, Megève, Méribel and Val Thorens.
VAL D'ISÈRE
Val d'Isère is a delightful mountain village with top skiing facilities and great provisions for children, making it an excellent family resort excellent.
You can slide down the slopes from dawn until dusk and enjoy Après ski on a sunny mountain terrace or by the fireside. Gourmet diners will rejoice in the multitude of eating places in Val d'Isère, with a choice of gastronomic cuisine or Savoyard regional dishes in charming, elegant and lively venues.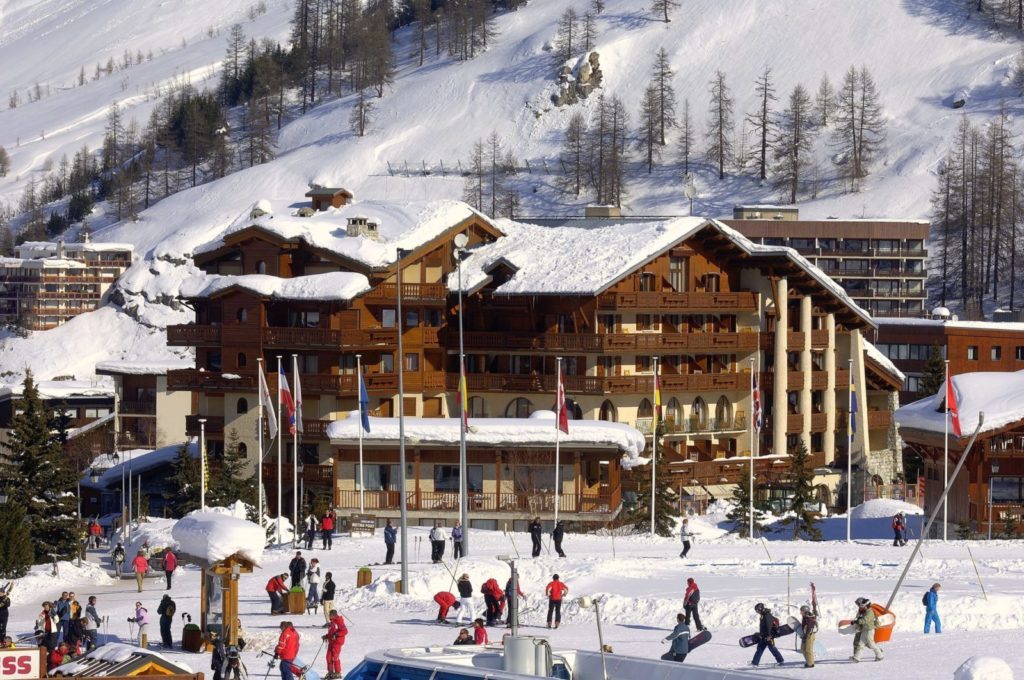 As night falls and the sun sets behind the peaks of Bellevarde the village lights up the night sky and keen shoppers will love to spend some time on the beautiful main street Olympique Avenue.
RECOMMENDED EATERIES
Restaurant Hotel Christiania
Type of Cuisine: Fine Dining
The hotel Christiania is an institution in this resort, known for its timeless charm and elegance, which obviously extends to its classy and comfortable restaurant. The menu is traditional French cuisine and the wine list is well-selected and extensive. Service is friendly and excellent. On the menu: The Hors-d'Oeuvre Buffet is something truly special; a feast for the eyes and senses. Back of Line-fished Bass roasted with Pormonier from Savoy Butter Sauce of Grilled Chestnuts. Roast Fillet of Charolais Beef & its Juice flavoured with Cepe Mushrooms.
www.hotel-christiania.com
Rue du Club des Sports, 73152 Val-d'Isère Tel 00 33 4 79 06 08 25
L'Atelier d'Edmond
Type of Cuisine: Haute Cuisine
L'Atelier d'Edmond is a beautifully restored traditional Alpine building serving wonderful French cuisine. A hearty skier's lunch is served during the day and there is a terrace that overlooks the picturesque village of Le Fornet. The lunchtime menu is rather simpler than the evening version; in the evening L'Atelier d'Edmond welcomes you to 2-Michelin star gastronomic cuisine and elegant service.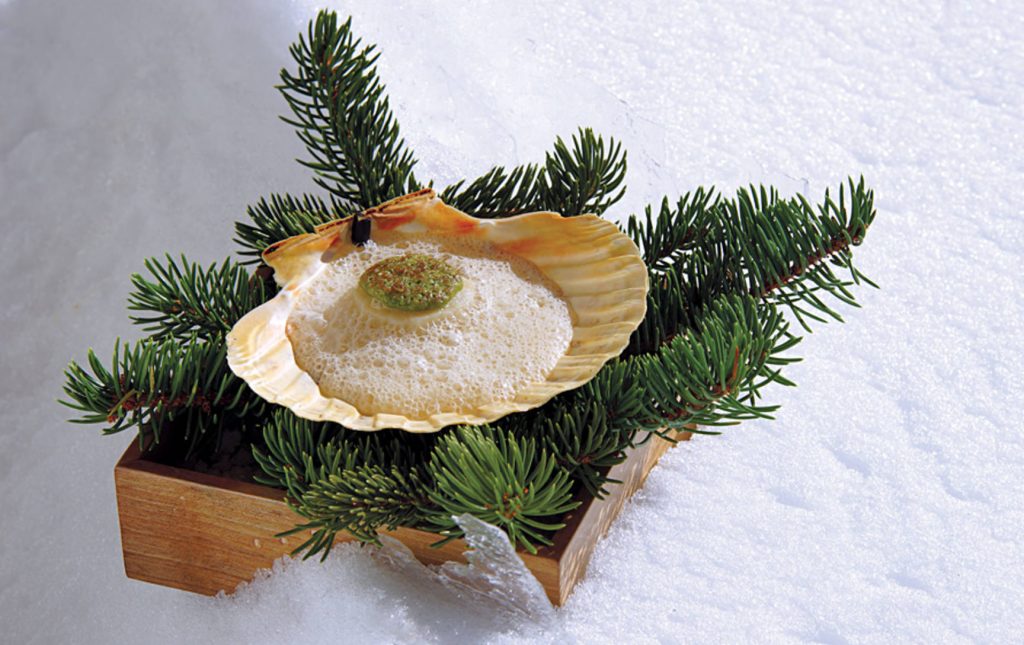 The beautifully designed interior of L'Atelier d'Edmond is one of its charms and many of the items such as lamps, crockery, furniture and throws can be purchased on request.
www.atelier-edmond.com
Le Fornet, 73150 Val d'Isère Tel 00 33 4 79 00 00 82
La Table de l'Ours
Type of Cuisine: Haute cuisine
Dine in style at La Table de l'Ours, the hotel Les Barmes de l'Ours' Michelin-starred restaurant. La Table de l'Ours is in unison with this luxurious hotel. With its large fireplace, the dining room has a chic alpine style. The gastronomic cuisine is based on beautiful products, displaying the hotel's sense of invention and aesthetics.
www.hotellesbarmes.com
Les Barmes de l'Ours***** Chemin des Carats, 73150 Val d'Isère Tel  00 33 4 79 41 37
WHERE TO STAY
Les Barmes de l'Ours***** 
Hotel Les Barmes de l'Ours is situated at the foot of the mountains, with direct access to the ski-slopes, and has a wonderful warm ambiance, at once traditional and modern. Each floor has its own identity relating to travel: Scandinavian Spirit, Grand Lodge of North America, Alpine chalet or Mountain Loft, in contemporary style, but all different for everyone's taste. After a day of skiing or a long walk, there is nothing more comforting than to slide into the pool, under the starry sky. Steam room, sauna and jacuzzi are the other steps to absolute tranquility.
www.hotellesbarmes.com
Chemin des Carats 73150 Val d'Isère Tel 00 33 4 79 41 37 00
L'Aigle des Neiges**** 
Perched at 1,850 m above sea level, Hotel L'Aigle des Neiges enjoys a privileged location in the heart of the old village of Val d'Isere. The 109 rooms are spacious and comfortable, mix wood and natural tones. You will find all the amenities and services expected of an international renowned establishment: porters, room service, concierge, ski laundry, safe, free WiFi, etc. L'Aigle des Neiges is also a Spa for a moment of rest and relaxation, and catering to both upscale and original with the concept of "Pier Paul Jack" taste for unprecedented discoveries.
www.hotelaigledesneiges.com
Place du village 73150 Val d'Isère Tel 00 33 4 79 06 18 88
Hotel Christiania***** 
This beautiful five star Hotel Christiania is ideally situated in the heart of Val D'Isere, less than a minute from slopes and lifts. The hotel is a combination of comfort, elegance and tradition and the staff are welcoming and courteous.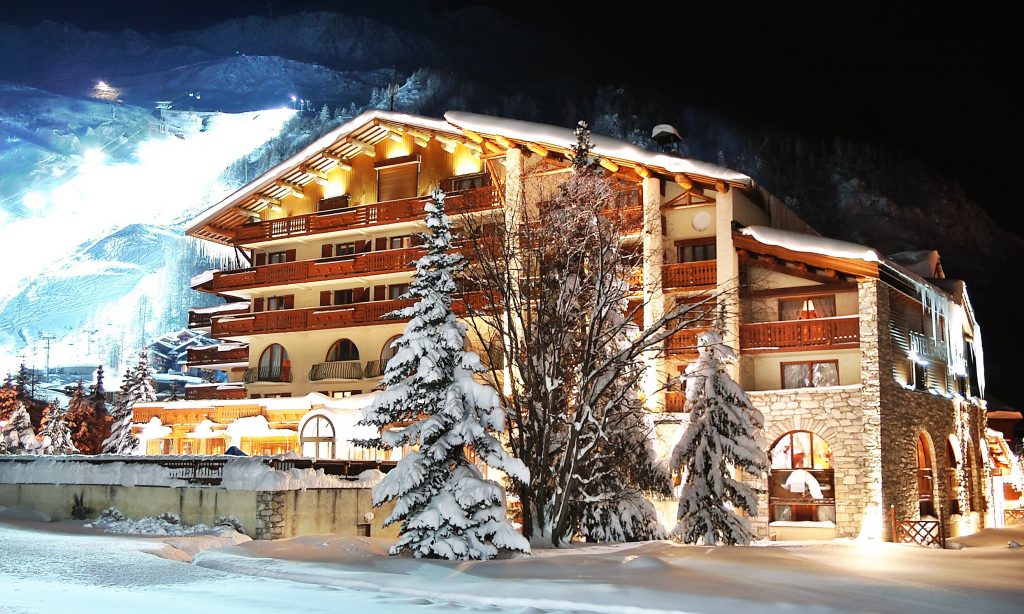 The bedrooms and suites are comfortable and warm, combining wood and colour and the hotel also offers 'family' rooms for 4. The Christiania has a health suite with fitness area, Turkish bath and swimming pool.
www.hotel-christiania.com
Rue du Club des Sports, 73152 Val d'Isère Tel 00 33 4 79 06 08 25
APRÈS-SKI
La Folie Douce
The plan was dreamt up in 2007, a brand new concept in open air clubbing, nearly 10,000 feet/2400 metres up a mountain. A high-altitude version of those (in)famous full-moon beach parties going off in some of the other coolest corners of the planet. Special heated-column pumps stop the beer freezing in the sub-zero temperatures and heated tables enable the public to enjoy the performing artists in any weather conditions, serving up quite literally some of the coolest vibes on Earth – Singers, musicians, dancers, fire eaters to add that extra touch of ambience.
www.lafoliedouce.com
At several locations in the French Alps: Val d'Isère/Tignes, Méribel/Courchevel, Val Thorens, Alpe d'Huez.
Dick's Tea Bar
Dick's Tea Bar, Val d'Isère's iconic Bar & Nightclub established in 1979, is located in the town center just down from the nursery slopes, Dick's opens for 'Apres Ski' everyday at 5pm. The 'After Dinner Club' kicks off at 11pm each night where resident DJ's are accompanied by live Sax, Violin and percussion performers playing everything from classic 80s to chart house music. Fresh fruit cocktails and table service are available; The full club area opens up at around 1am each day and plays host to a range of international DJs and stays open until 5am.
www.dicksteabar.com
DTV SAS, Rue du Parc des Sports, 73150 Val d'Isère Tel 00 33 4 79 06 14 87
Bar at Les Barmes de l'Ours 
The sophisticated Bar at the hotel Les Barmes de l'Ours is a lively venue where guests enjoy a drink together by the piano. Le Bar is cultural haven with book-filled shelves, colourful paintings and unique sculptures.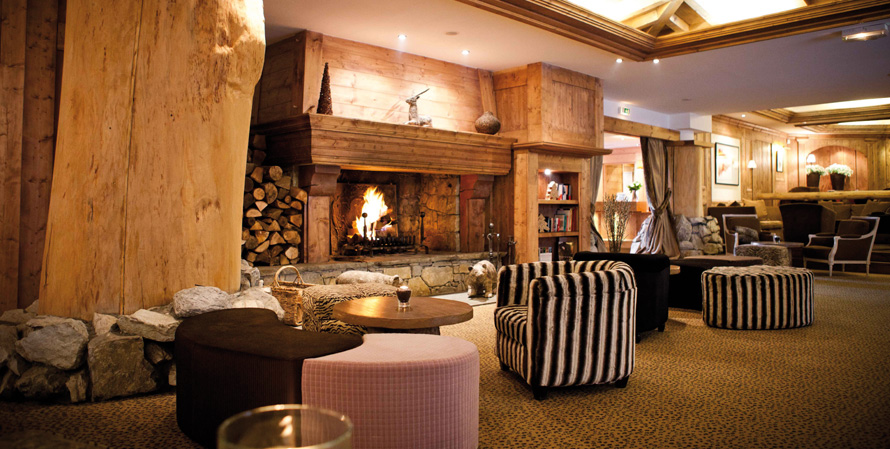 Near the copper still by the bar or in the spacious common room, the warm and intimate atmosphere beckons you in to relax. There is a large open fire place and live piano music.
www.hotellesbarmes.com
Chemin des Carats 73150 Val d'Isère Tel 00 33 4 79 41 37 00
CHAMONIX
Pretty as a picture, high-mountain town Chamonix is a popular destination attracting visitors from all corners of the world who love mountaineering, snow, and the village's laid-back ambiance.
Chamonix is situated in the north-westerly part of the Alps, close to the Swiss and Italian borders at a height of 1000 m. The resort offers exceptional views from mountain spots that can be reached either with lifts, cable car or via hiking trails and some amazing advanced skiing opportunities and extreme sports activities – no wonder this resort was the site of the first Winter Olympics in 1924.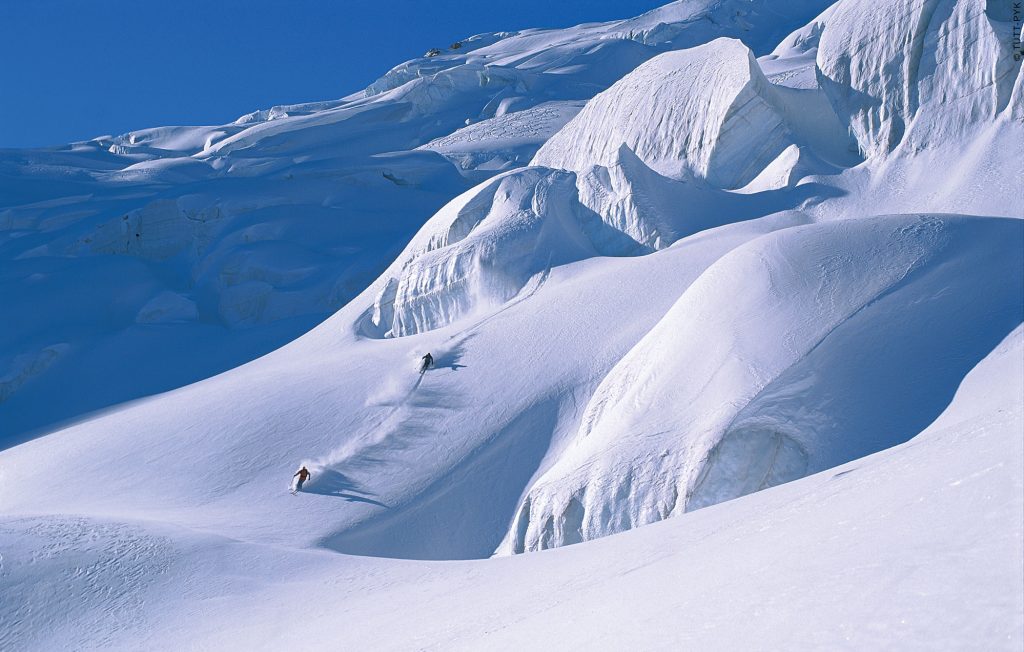 As beautiful as the surrounding nature, the village is a architectural marvel to behold with baroque churches and protestant chapels dating back several hundred years, hotels and palaces from the golden age, Art Deco facades, traditional farmhouses, immense villas and beautiful chalets.
RECOMMENDED EATERIES
La Bergerie de Plan-Praz 
Type of Cuisine: Traditional
This popular wood and stone building with self- and table-service sections has excellent food and gets very busy. Situated at the Plan Praz station, La Bergerie welcomes you at 2000m altitude. On a sunny terrace facing Mont Blanc, the chef offers delicious meals prepared over a wood fire. Formulas at 19 € and à la carte regional inspired dishes. La Bergerie has also thought about the number of hikers at Brévent and offers a range of homemade sandwiches to take away.
www.bergerie-restaurant.com
Télécabine de Planpraz 74400 Chamonix Tel 00 33 4 50 53 05 42
Panier des 4 Saisons
Type of Cuisine: Traditional
Restaurant Panier des 4 Saisons is located in a little alley in the center of Chamonix and offers innovative modern regional French cuisine. Enjoy instinctive, creative and traditional cooking, lovingly prepared with fresh products by the Chef, Thierry, and served by his ever-attentive partner Maureen. The cuisine is based around local seasonal food. From quality wine produced in the region to great vintages, all will delight the finest of palates. A delicious way to taste, smell and relish local produce, cooked to perfection.
www.restaurant-panierdes4saisons.com
262 Rue du Docteur Paccard 74400 Chamonix Tel 00 33 4 50 53 98 77
L'Impossible
Type of Cuisine: International
Love of food and cooking is paramount at this excellent Chamonix restaurant, local and visitors' favourite.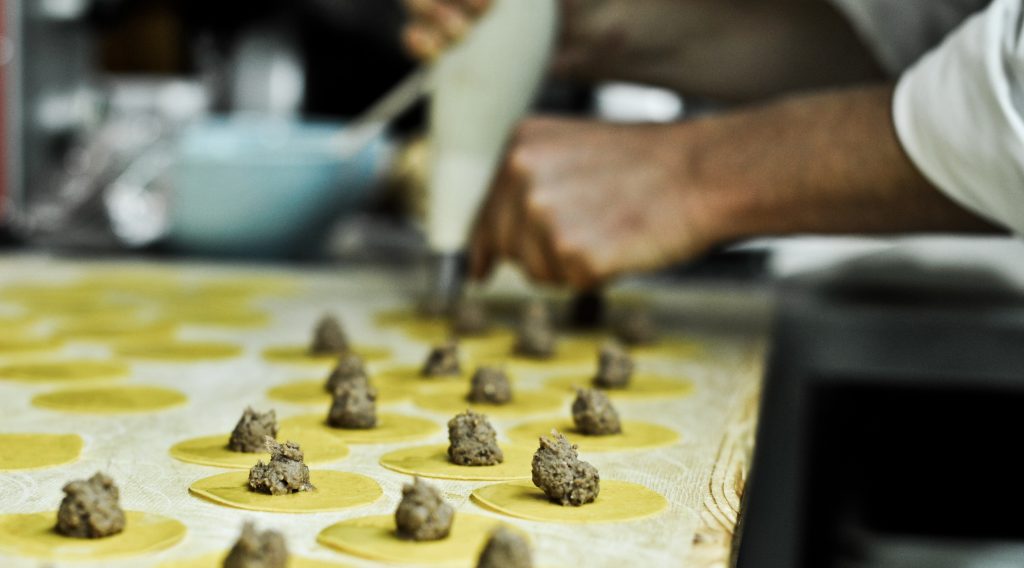 In their own words: 'To eat well we need organic food charged by nature, from the sun, the rain, the heat and the cold, from a living earth not depleted by chemicals. Our dishes are not too elaborate or complicated, it is important to recognise the aromas and the flavours of what we are eating. All our ingredients are fresh and seasonal. Most of our ingredients are organic. The love of cooking, the love of quality ingredients and the pleasure to satisfy and surprise our guests!' L'Impossible also caters for the gluten and lactose intolerant.
www.restaurant-impossible.com
9 Chemin du Cry (Route des Pelerins), Chamonix Tel 00 33 4 50 53 20 36
Le Comptoir Nordique
Type of Cuisine: International
Le Comptoir Nordique is a gourmet restaurant which serves what its name suggests: Scandinavian cuisine.  A luscious menu offers all things from the north that we love, especially the very healthy and yummy fish: Gravlax and Pine smoked salmon with black bread toast, hot smoked Norwegian trout or slightly salted cod cooked on a rock. The restaurant also has a delicatessen stocked with all kinds of Scandinavian goodies such as caviar and good old Absolut vodka.
lecomptoirnordique.fr
Hotel Morgane 151 Avenue de l'Aiguille du Midi, 74400 Chamonix Tel 00 33 4 50 53 57 64
WHERE TO STAY
Grand Hotel des Alpes****
Grand Hotel des Alpes in French Alps Ski-resort Chamonix is a luxury hotel dating back to 1840 whose rooms offer panoramic views of either the Mont Blanc or Brevent. Completely renovated, the hotel offers classic rooms, from standard doubles to suites all equipped with all the conveniences including TV, DVD player and free Wifi, some with balconies and views of the Mont Blanc. Suites add whirlpool tubs and living rooms with pull-out sofas.
www.grandhoteldesalpes.com
75 Rue du Docteur Paccard, 74400 Chamonix Mont Blanc Tel 00 33 450553780
L'Auberge du Manoir*** 
L'Auberge du Manoir is a traditional wooden chalet, built in the last century, tucked in the centre of Chamonix-Mont-Blanc. It faces the stunning mountain chain of 'Aiguilles de Chamonix' and of course, at its peak, the Mont-Blanc. Comfortable rooms with magnificent views of the massif, a warm welcome, and a team at your disposal. The hotel offers full comfort to visitors: free Wi-Fi, skis lockers, private parking, seminar rooms, jacuzzi and sauna. This B&B is located in the centre of Chamonix.
www.chalethotelchamonix.fr
8 Route du Bouchet 74400 Chamonix Tel 00 33 450 531 077
Le Hameau Albert 1er*****
Offering splendid views over the Mont Blanc, Le Hameau Albert 1er is a magnificent 5-star hotel in Chamonix. Located a few steps from the train station, this accommodation is the perfect starting point for guests wishing to enjoy winter or summer activities in the mountains. Featuring a direct shuttle service to the ski tracks of Chamonix, this hotel also provides the possibility to practice outdoor sports, such as paragliding, trekking, mountain biking or canyoning. The hotel offers 2 fine restaurants, outdoor and indoor swimming pool, fitness center, terrace, bar, Internet point and spa.
www.hameaualbert.fr
38 route du Bouchet, 74400 Chamonix Tel 00 33 4 50 53 05 09
Le Jeu de Paume**** 
Beautifully furnished modern chalet overlooking the Argentiere Valley, with indoor swimming pool, hammam and a sauna. The guest rooms at the Hôtel Le Jeu De Paume have free Wi-Fi internet access and views of the Vallée d'Argentière, the Aiguilles de Chamonix or the Aiguilles Rouge.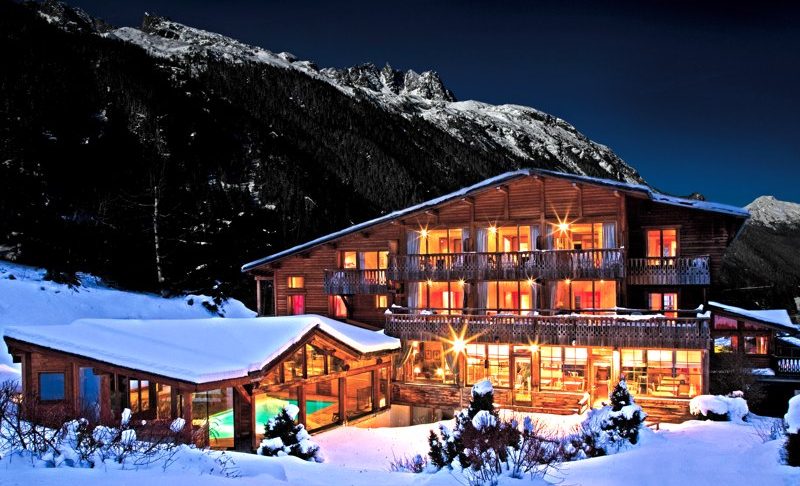 The larger rooms are equipped with balneotherapy baths. Guests can enjoy refined cuisine at the Jeu De Paume's restaurant, Le Rosebud. There is a cocktail bar with pool table. Guests can also enjoy the indoor and outdoor hot tubs.
www.jeudepaumechamonix.com
705 Route du Chapeau 74400 Chamonix Tel 00 33 4 50 54 03 76
APRÈS-SKI
QuartzBar
The QuartzBar at Hameau Albert 1er offers subdued purple lighting, hues of blue, and live jazz with piano, cello and singing combinations – a cosy, chic place for those special evenings out. With a decoration reminiscent of rock crystals- the treasure of the Mont Blanc massif, the bar provides a crystalline and elegant atmosphere for an unforgettable evening. Choose from more than sixteen different wines which are sold by the glass, little known appellation crus from the alpine region, top-quality vintage wines and Champagne, as well as numerous cocktails and liqueurs.
www.hameaualbert.fr
Hotel Hameau Albert 1er, 38 Route du Bouchet, 74400 Chamonix Tel 00 33 4 50 53 05 09
COURCHEVEL
Chic and glamorous Courchevel, in the heart of  Les Trois Vallées beside Méribel and Val Thorens, is one of the best ski resorts in France.
Courchevel offers 150 kilometres of alpine ski runs served by 58 lifts enabling you to make the most of your days on the slopes, whatever your level of expertise. A true ski in/ski out resort, Courchevel offers top luxury hotels as well as more an array of accommodation options to suit every budget and taste.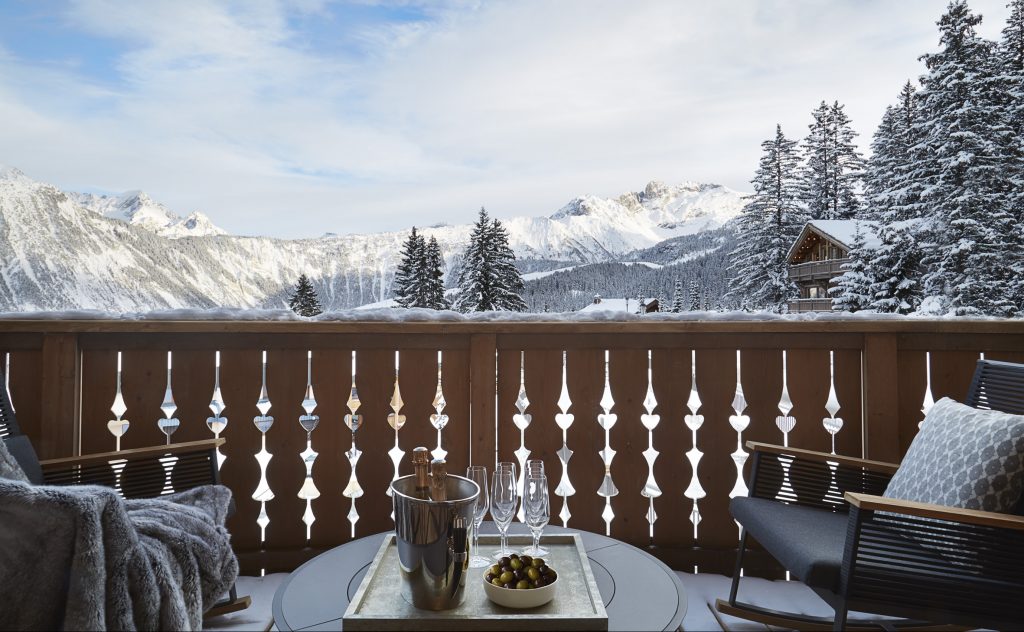 This resort is the chicest in the world with the highest concentration of luxury 5 star hotels attracting an elite clientele. High-end shopping is easily found here with classy boutiques and designer ski-wear shops.
RECOMMENDED EATERIES
Cap Horn
Type of Cuisine: Traditional
At this altitude restaurant next to the Pralong piste, you can soak up the last rays of sunshine after a long day of skiing. At 2100m altitude, access is easy for all skiers, whether beginner or seasoned. With a delicate, refined maritime feel, the festive atmosphere aboard complements the old chalet style perfectly. Sitting on the world's roof… both private and professional events can be organised in our private rooms. The team at the Cap Horn will organise your exceptional meetings and parties… and there's no limit to their imagination!
www.maisontournier.com
1850 – 73120 Courchevel Tel 00 33 4 79 08 33 10
Gastronomique at Le Chabichou 
Type of Cuisine: Haute cuisine
The gourmet restaurant at hotel Le Chabichou, boasting two Michelin Guide stars and honours in the Gault Millau and Bottin Gourmand guides, offers classic fare prepared with precision and finesse. Subtle, refined, inventive and bountiful, it brings out the best of local products and flavours from here and beyond. Dishes crafted with fresh natural ingredients fill the air with delicious aromas from the restaurant to the terrace. The crowning touch of Michel Rochedy and Stéphane Buron's cuisine is the warm, attentive, discreet welcome of Maryse Rochedy, which makes this a showplace of French gastronomy.
www.chabichou-courchevel.com
Rue des Chenus 73121 Saint-Bon-Tarentaise Tel 00 33 4 79 08 00 55
Le Bistrot du Praz
Type of Cuisine: Traditional
In the heart of the village of Le Praz Courchevel, Le Bistrot du Praz offers the rustic charm of Savoyard chalets. On the terrace or indoors, you can enjoy a relaxing break with wonderful views. This restaurant is ideal for families and groups, and true food lovers. You can enjoy tasty cuisine without forgetting the famous foie gras! With a welcoming and warm service, you will spend a nice evening and especially enjoy a cuisine carefully prepared with fresh homemade products.
www.bistrotdupraz.fr
Courchevel 73120 Tel 00 33 4 79 08 41 33
Azimut
Type of Cuisine: Haute cuisine
This Michelin-starred restaurant is unpretentious, relatively inexpensive – for Courchevel, and an absolute delight for your tastebuds! François Moureaux has inspired the richness of his cuisine from his love of quality products. After a day of skiing, you can enjoy a friendly atmosphere in Azimut Restaurant. Menus from 28€. A nice welcome awaits you in this simple and bright restaurant.
www.restaurantazimut.com
Le Praz | Courchevel, 73120 Courchevel Tel 00 33 4 79 06 25 90
La Cendrée
Type of Cuisine: International
La Cendree has been run for three decades by Ted di Trapani who has established its reputation as "The Italian restaurant in Courchevel".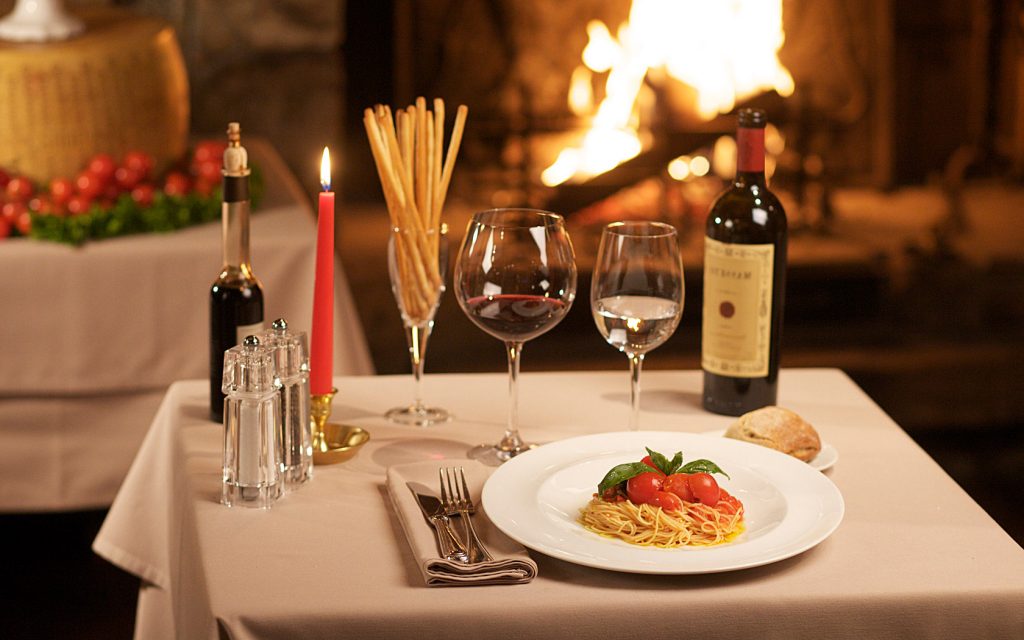 At this warm and friendly establishment, La Cendrée's team of Italian chefs will make you savour the freshly home-made pasta, risottos with different flavors, the fine and crunchy pizzas, the tournedos Rossini. The restaurant boasts a large cellar of wines chosen by Ted Di Trapani, son of a wine grower from whom he learnt the love and the respect for the grape.
www.lacendree-courchevel.com
Le Maroly Courchevel 1850, 73120 Courchevel Tel 00 33 4 79 08 29 38
WHERE TO STAY
L'Apogée***** 
Hotel L'Apogée is ideally situated on the resort's ski slopes, offering stunning views of the French Alps. Hotel L'Apogée Courchevel has ski-in ski-out facilities and features 55 rooms, an exclusive penthouse across the top floor with its own butler and hot-tub as well as a 5 bedroom chalet with chef and also its own butler. The hotel also has a restaurant, bar, champagne lounge, spa and childrens' club.
www.lapogeecourchevel.com
Jardin Alpin, 73120 Courchevel Tel 00 33 4 92 93 32 40
Hôtel Les Airelles***** 
From the outside, Hôtel Les Airelles looks like an Alpine fairytale come true, with its wooden balconies, pastel paintings and cozy window nooks. The hotel's founder was inspired by the life of Empress Elizabeth of Austria (captured so memorably by Romy Schneider in the biopic "Sissi"), and the interiors showcase an imaginative take on Austro-Hungarian glamour.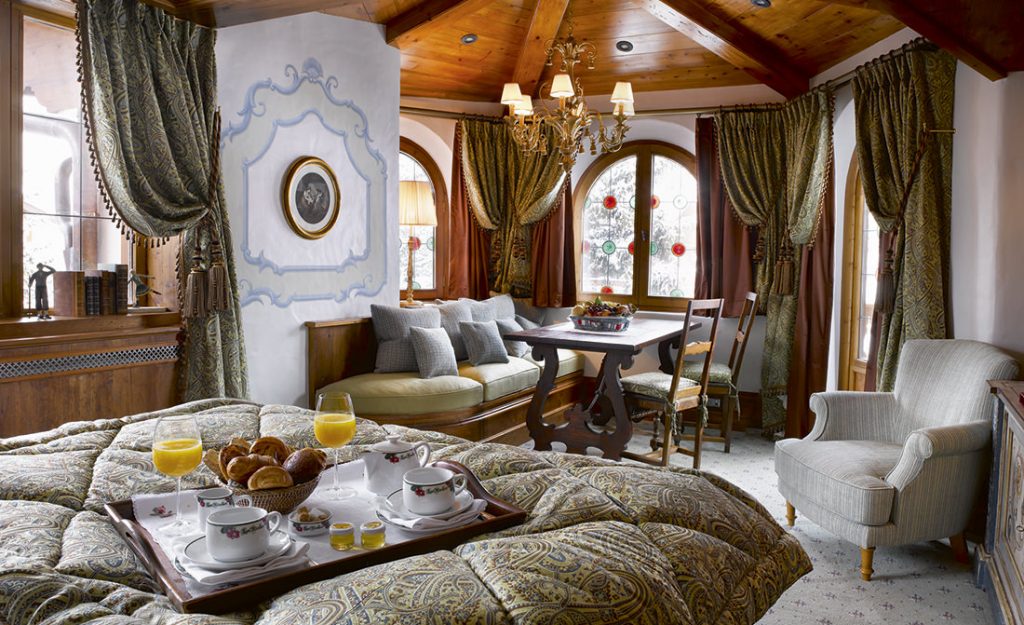 Equally grand is the restaurant with menus conceived by Pierre Gagnaire. Les Airelles is a perfectly sumptuous place to return to at the end of a vigorous day on the slopes — the kind of hotel Sissi would have checked in to while visiting Courchevel.
lesairelles.airellescollection.com
Le Jardin Alpin, 73120 Courchevel 1850 Tel 00 33 4 79 00 38 38
Le Portetta***** 
Le Portetta has a convenient position at the bottom of the slopes of Courchevel 1650 which means you can ski straight in and out. Le Portetta has 6 Luxury apartments and 38 spacious rooms, many with balconies overlooking the slopes and all with flat screen TV and free Wi-Fi. The restaurant and brasserie provide a combination of classic and modern French cuisine using local ingredients. Aromatherapy Associates Spa, a sauna and steam room, fitness room.
www.leportetta.com
Courchevel 1650 Tel Hotel/Lodge 00 33 4 79 08 01 47 Tel Lodge 00 33 637 343 875
Cheval Blanc*****
The Cheval Blanc has 34 rooms and suites spread over five floors. Each elegant room has been individually designed and all offer spectacular views of the French Alps from either private terraces or balconies. The hotel also boasts a spa center with a comprehensive range of beauty treatments as well as in-house boutiques that stock designer brands. The best in French cuisine is available in the Le 1947 restaurant while after dinner cocktails can be enjoyed by the open fireside in the hotel bar.
www.chevalblanc.com
Le Jardin Alpin 73120, Courchevel 1850 Tel 00 33 4 79 00 50 50
Le Chabichou**** 
A world of luxury, delights and well-being are yours at the foot of the slopes of Courchevel. For your utmost comfort: 4-star Relais & Chateaux hotel with guestrooms and suites, gourmet restaurant, bistro, spa and aqua-fun area, shops. Any time of day is the right time for pleasure: gourmet or bistro restaurant, 1,100-m² new concept Spa, terraces, bars and lounges including Le Jaipur for our smoking guests, live-music evenings, ski shop, DVD library, WiFi, game room, fitness room, bellhop service and valet parking, not to mention the best… personalised family welcome from Michel and Maryse Rochedy.
www.chabichou-courchevel.com
Rue des Chenus. 73120 Courchevel 1850 Tel 00 33 4 79 08 00 55
APRÈS-SKI
Bar at Hotel Les Airelles
The bar at the Palace Les Airelles is a warm and friendly place. It comprises the bar area, a smoking room and a great number of cosy lounges. After a long day of winter sports, recline into one of our feather-soft sofas and unwind. You will be delighted in this relaxing ambience of authentic 19th-Century Austro-Hungarian style.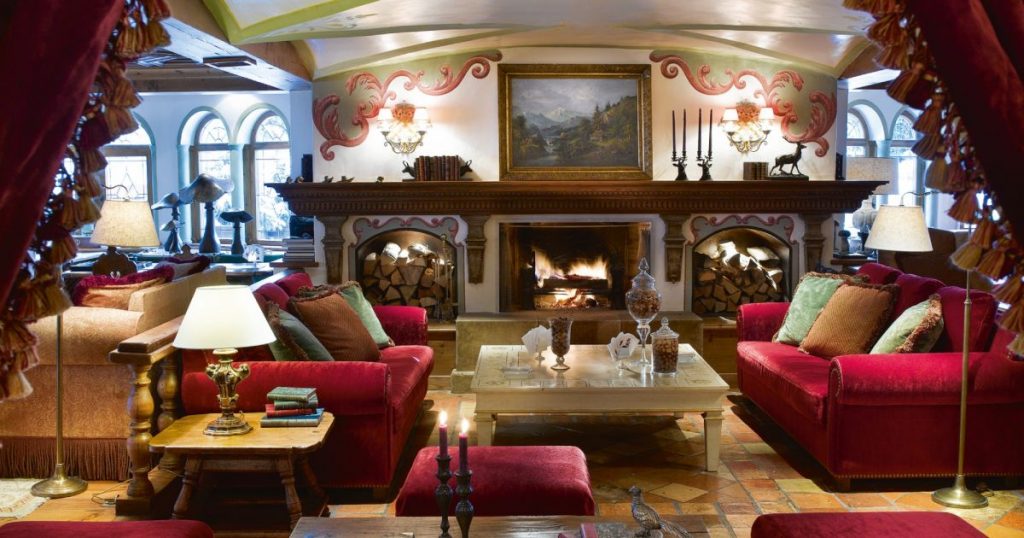 Enjoy a wonderful teatime with a great variety of hot drinks and tasty refreshments. For your utmost enjoyment, our team keeps the crackling fire going in the massive fireplace that dominates the room. The bar serves a great many kinds of cocktails, prestigious Grand Crus and rare liquors. Cigar lovers will enjoy a top-quality selection of some of the world's best cigars in the Airelles smoking room.
www.airelles.fr
Rue du Jardin Alpin, 73120 Courchevel
00 33 4 79 00 38 38
Les Caves de Courchevel
The Caves are the hot spot of Courchevel night life since its 20 years in existence. The club and VIP area are equipped with the latest in stereo and lighting and, in addition to the lengthy cocktail menu, everything is possible.
Nebuchadnezzars of Cristal and Jeroboams of Dom Pérignon Rosé compete for the limelight throughout winter as the well-heeled crowd (business men, mannequins, show-biz artists and jet setters) arrive. Until the end of the night, the night club "Les Caves" offers valet parking and has luxury limousines at your disposal.
www.lescavesdecourchevel.com
Porte de Courchevel, 73120 Courchevel 1850 Tel 00 33 4 79 08 12 74
Le P'tit Drink
The P'tit Drink is a discreet and special little place, perfect for an aperitif. Over the years, it has remained simple and authentic, offering an excellent variety of tapas and a winelist to matche to be enjoyed at the cosy bar or by the fireplace. There is a smoking room in the basement.
Rue des Tovets, Immeuble Les Follières, 73120 Courchevel Tel 00 33 479 08 65 52
Le Bellini's
Le Bellini's is a classic bar where you can enjoy a superb selection of spirits, liquors and cocktails, a range of vintage champagnes, served in the finest crystal in an elegant environment. The wine list is extensive and exclusive and you can choose a Cohiba or Partagas from their range of cigars to accompany an antique cognac.
grandesalpes.com
Grandes Alpes Private Hotel
Rue de l'Église, 73120 Courchevel 1850 Tel 00 33 479 00 00 00
MEGÈVE
Megève is an enchanting resort which one visits as much to ski as to relax and enjoy – luxury and pleasure guaranteed. 
This historical Haute-Savoie village, dating back to the 14th century, is a favourite with those who like to pass a ski-holiday in style and enjoys a unique reputation among the resorts in the French Alps. Set in the heart of the Mont-Blanc massif, Megève's skiing area is exceptional and particularly suitable for families.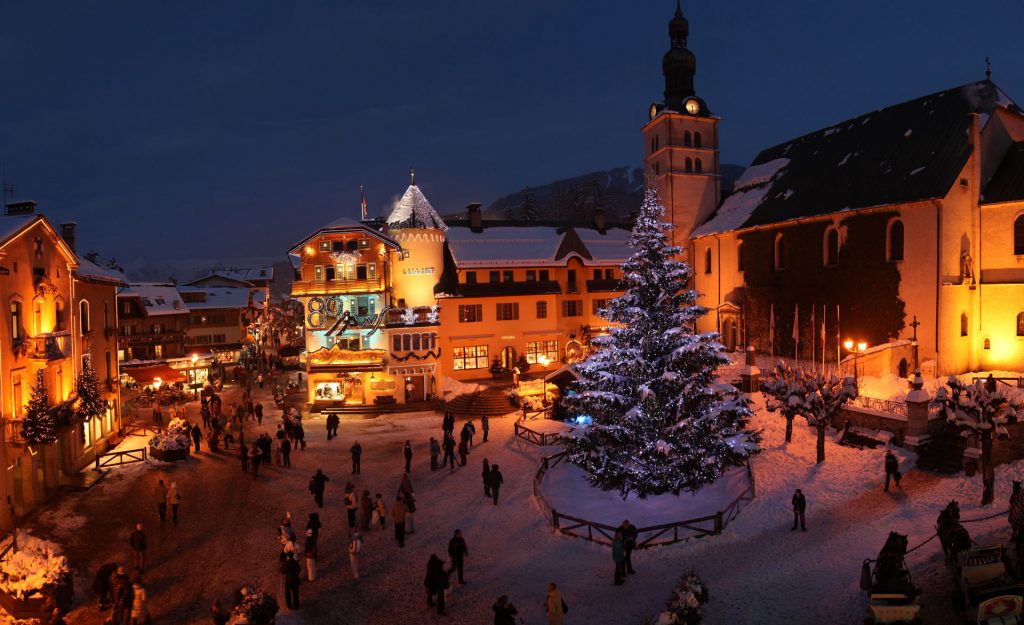 The resort is a strong ambassador of regional gastronomy with excellent produce from local farms and a wealth of quality high altitude and village restaurants, cafés and bars offering a great variety of food, including Michelin-starred cuisine.
RECOMMENDED EATERIES
Flocons de Sel
Type of Cuisine: Haute cuisine
One of Megève's best: Five star hotel Flocons de Sel's gastronomic restaurant offers a unique setting for a romantic dinner, a relaxing lunch with friends or a family meal. In his restaurant on an alpine mountain-side, Chef Emmanuel Renaut serves dishes of creative subtlety, which are superb matches for the rich nectars to be found on the hotel's extensive wine list. Emmanuel RENAUT, 'Meilleur Ouvrier de France' and 'Compagnon du Tour de France' was awarded his third Michelin star in 2012.
www.floconsdesel.com
1775 Route du Leutaz, 74120 Megève Tel 00 33 4 50 21 49 99
The Beef Lodge
Type of Cuisine: Traditional
At this steak house the finest cuts of meat have been selected for the colour, tenderness and juiciness, and are served in generous slices, crispy on the outside and melt-in-the mouth on the inside. Some of the best: rib of Black Angus or Bavarian beef, fillet of Simmental beef, choice cuts of lamb and veal. Great range of sauces with Arbois wine jus, rare Madagascar peppercorn sauce, red onion chutney and side dishes of home-made potato purée with dairy butter or truffles, mature Beaufort matouille, green polenta with Comté cheese and more. One word: delicious.
en.lodgepark.com
100 rue d'Arly 74120 Megève Tel 00 33 4 50 93 05 03
Les Enfants Terribles
Type of Cuisine: Fine dining
his chic bistro with its elegant and relaxed atmosphere, decorated with a mural by Jean Cocteau, is a an ode to another era. Located in the village center, on the menu you will find great classics of French cuisine and sumptious seafood.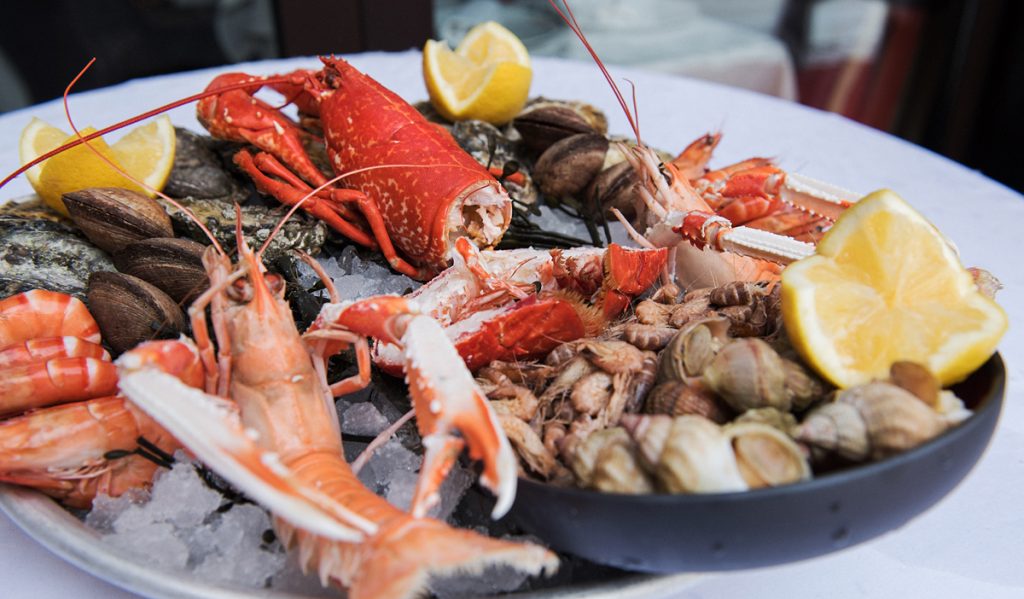 Simplicity is the ultimate form of elegance and with the finest ingredients, this certainly rings true: beef tenderloin "Enfants Terribles" style, the lobster roll, authentic sole meunière or the irresistible roasted sea scallops.
en.hotelmontblanc.com
Hôtel Mont-Blanc
29 rue Ambroise Martin 74120 Megève Tel 00 33 4 50 21 20 02
Le Cintra
Type of Cuisine: Traditional
Le Cintra is one of the older restaurants in Megève, having originally opened in 1937, when it was a favourite of Rita Hayworth and the Aga Khan. The décor is what you might expect from the Alps with wooden walls, ceilings and tiled floors, but with brasserie touches like white linen table clothes, green leather banquettes and antique lamps. Chef Stephane Burnouf's menu features traditional French mountain fare and makes use of local ingredients from rabbit and lamb to mushrooms and herbs. Grilled sole, a magnificent platter of seafood and foie gras with figs are among the specialties.
www.lecintra-megeve.fr
196 Place Eglise, 74120 Megève Tel 00 33 4 50 21 02 60
WHERE TO STAY
Lodge Park**** 
The Lodge Park is a trendy retreat with an inspired mix of the great North, the wild African Savanna and Scottish manors, convenient situated in the centre of Megève near the ski lifts, the village square and the casino. The rooms are warm, cosy and elegant. The Bar Espace Trappeur has a New England style with log tables and tanned leather relax chairs. The restaurant, the Beef Lodge, is THE place to eat for lovers of fine cuts of meat. The Spa Pure Altitude, is a magnificent award-winning oasis of calm and well-being.
en.lodgepark.com
100 rue d'Arly 74120 Megève Tel 00 33 4 50 93 05 03
Flocons de Sel***** 
Kristine and Emmanuel Renaut, Maîtres de Maison, present their property: On the Megève heights Grand Chef Emmanuel Renaut offers imaginative, colourful, timeless cuisine with a mountain flavour. Emmanuel Renaut boldly injects colour, bitterness or acidity where they were not to be found before, to make each dish original and surprising. Walk in the mountains with Emmanuel Renaut to discover mushrooms, flowers and wildlife. Inside, the hotel has several chalets which associate functionality with design in a cosy and relaxed atmosphere. The treatments in the spa are inspired by the mountain: Megève pine trees, flowers and water.
www.floconsdesel.com
1775 Route du Leutaz, 74120 Megève Tel 00 33 4 50 21 49 99
Hôtel Mont-Blanc**** 
The Hôtel Mont-Blanc is a renowned 4-star hotel in Megève with an ideal location in the centre of the village. Its new suites have been brilliantly reinterpreted to pay tribute to some of the artists to which the hotel owes its fame, featuring a new style that is chic, artistic and couture. At the Hôtel Mont-Blanc, you will experience the heights of hospitality and exclusivity. The hotel is conveniently situated near the ski lifts at the heart of Megève. Les Enfants Terribles-Megève, the restaurant made legendary by the artist Jean Cocteau, will offer you its equally legendary steak au poivre. The hotel spa, Spa Pure Altitude, is a magnificent award-winning oasis of calm and well-being.
en.hotelmontblanc.com
29 rue Ambroise Martin 74120 Megève Tel 00 33 4 50 21 20 02 / 00 33 4 50 21 45 28
Les Fermes de Marie*****
Les Fermes de Marie is a lovely, luxurious yet cozy 5-star hotel in Megève, comprising nine chalets in the heart of Megève constructed with materials from high mountain pasture chalets several centuries old.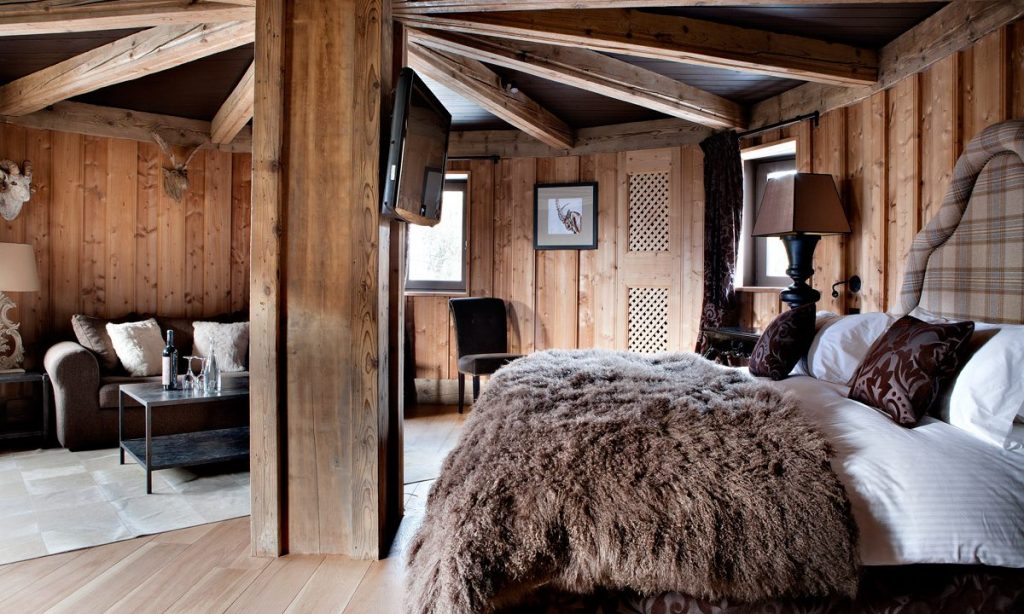 The hotel has an array of amenities: Several excellent restaurants, for the young ones Le Hameau des Enfants, which is entirely dedicated to children, and also the spa Pure Altitude, where you can soak in the jacuzzi, pamper yourself in the spa, have massages, treatments with the soothing benefits of products derived from mountain plant extracts and natural essences.
www.fermesdemarie.com
163 Chemin de la Riante Colline 74120 Megève Tel 00 33 4 50 93 03 10
APRÈS-SKI
Palo Alto
L0cated in a huge former 1930s bus shelter Megève's club Palo Alto is a fantastic night-out destination. On the first floor is a restaurant and piano bar, while upstairs is the night club. Top DJs, a cool crowd. Across the road is the classy casino attracting a more sedate clientele.
www.palo-alto.fr
192 rue charles feige, Megève 74120 Tel 00 33 4 50 93 01 83
MÉRIBEL
Méribel is a charming typical mountain village with its wooden chalets and scattered rocks, and is part of the Les Trois Vallées interlinked ski system.
All the top quality facilities of modern ski resorts are found here with an ultra modern lift system which has all but eliminated queuing and ample skiing-areas for all abilities including many off piste possibilities.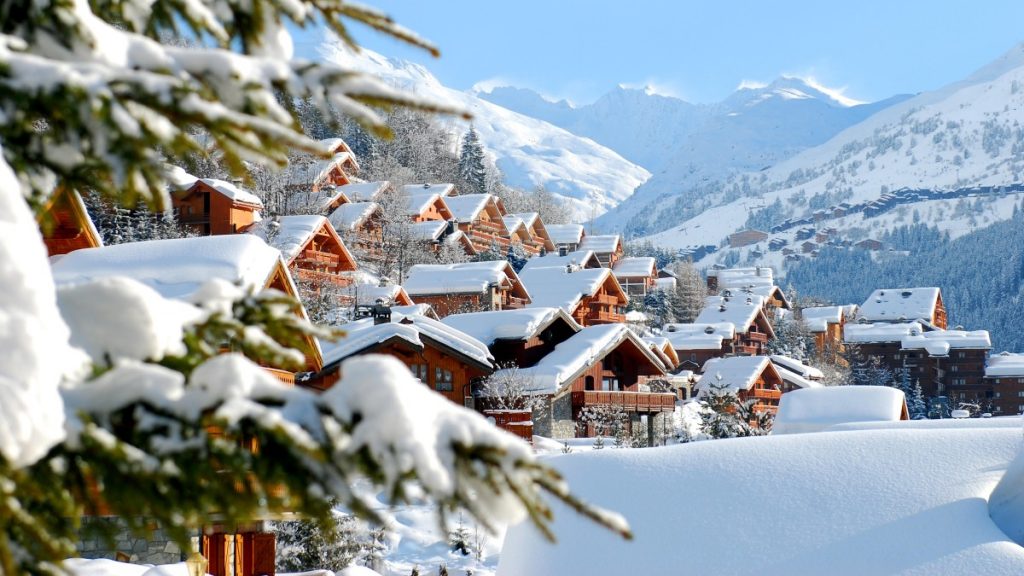 The après-ski experience such as La Folie Douce on the mountain is superb and with countless activities on offer besides skiing and snowboarding, Méribel resort with its Olympic centre and cultural heritage offers a fantastic varied holiday destination.
RECOMMENDED EATERIES
Le Grand Cœur
Type of Cuisine: Fine Dining
Luxury hotel Le Grand Cœur's restaurant offers a cuisine that is both elegant and daring as the chef adds a gourmet twist to traditional dishes. The restaurant's cellars contain more than 400 different wine labels from the whole of France. The set menu changes daily and offers two starters, a meat or fish course, cheeses, a dessert of the day or dessert trolley and suggested food and wine pairings. The gourmet set menu is designed to blow you away, with a new selection of ingredients approximately every two weeks.
www.legrandcoeur.com
Le Grand Cœur & Spa
Chemin du Grand Coeur 73550 Méribel Tel 00 33 4 79 08 60 03
Chez Kiki
Type of Cuisine: Traditional
Grilled meat and a fireplace sum up Kiki's philosophy: Enjoy the simple things life has to offer! What's better than a beautiful piece of Beef grilled in the fireplace and shared between friends. Using fine products and classical recipes, Kiki's traditional cuisine, is above all about the conviviality that surrounds a good meal. The menu includes hearty dishes that warm you to the core. A tasty blend of tradition and innovation has made the reputation of this lovely meat restaurant in Méribel.
chez-kiki.fr
Restaurant La Bergerie – Chez Kiki Le Morel 73550 Méribel Tel 00 33 4 79 08 66 68
Le Monchu Méribel
Type of Cuisine: Traditional
Le Monchu Méribel is a unique place, a trendy and modern chalet in the middle of the slopes, a sun-filled terrace with stunning views of the ski area, music, a fun atmosphere, great food, a list of selected wines & unforgettable evenings. The restaurant is located on the Rhodos piste. It is open all winter day and for Wednesday and Thursday 'theme' nights.
www.lemonchu-meribel.com
Station Méribel 73550 Tel 00 33 4 79 04 19 30 / 00 33 4 79 22 46 09
La Fruitière
Type of Cuisine: Trendy
Upmarket slopes restaurant: The delicious aromas you can smell come from the typically Savoyard flavours of the dishes lovingly prepared by Franck Mischler, Maître Cuisinier de France" from La Fruitière. Combining authenticity and modernity, the restaurant is a hymn to the Savoie region: decorated in the style of an authentic dairy co-operative, La Fruitière works with local artisans and producers to keep their centuries-old regional know-how alive. The young, dynamic team guarantees you a good service in a friendly, welcoming atmosphere.
lafoliedouce.com
La Folie Douce, Méribel Tel 00 33 479 005 831
Le Blanchot Chalet Restaurant
Type of Cuisine: Fine Dining
Le Blanchot is located above Méribel, on the road leading to the Altiport offering spectacular views from the dining terrace. The interior décor is charming: a traditional wooden chalet decorated with great care and impeccable taste, warmed by a roaring open fire. As well as the gastronomic menu, le Blanchot also offers a simpler menu of traditional local dishes in the upstairs dining room. Le Blanchot's lengthy wine list will delight any connoisseur of fine French wines.The Blanchot is also open during the summer season, the terrace overlooking Méribel's golf course.
leblanchot.com
Route de l'Altiport, 73550 Méribel Tel 00 33 4 79 00 55 78
La Bouitte
Type of Cuisine: Haute cuisine
Situated in the Savoy, in the "3 Vallées" ski area, La Bouitte offers one of the best tables in the Alps, 16 charming bedrooms and a Spa. La Bouitte is the emblem of the metamorphosis of the art of living in the Savoy.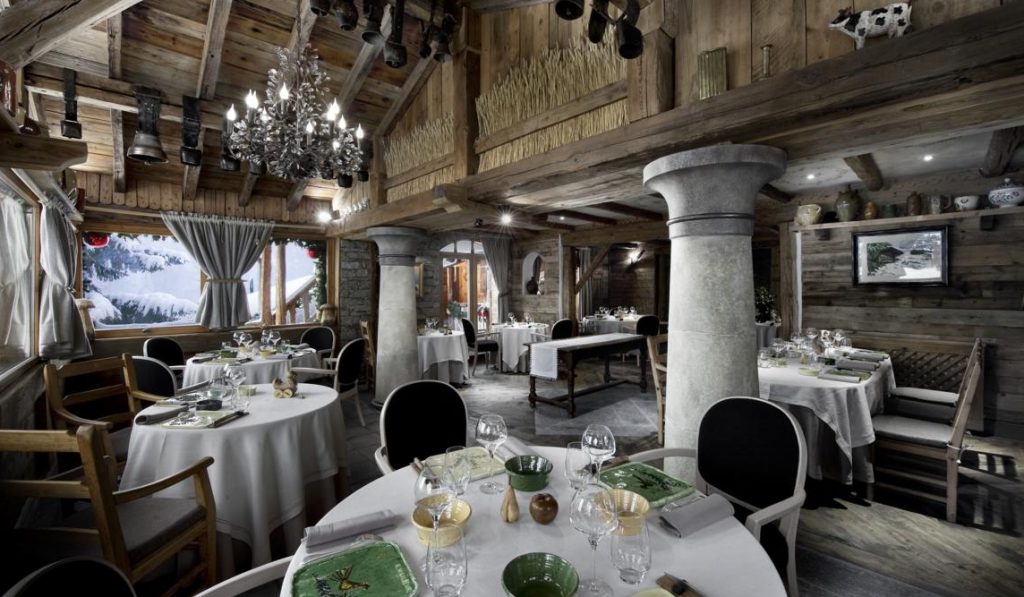 Its aim is to attain an excellence, not only in its 3 Michelin-starred cuisine (with a team of 20 cooks), but in the hospitality it offers too. This is reflected by its entry, in 2012, into the circle of "Les Grandes Tables du Monde" ("The World's Best Tables"). When you next visit the Alps, René, Maxime and all the MEILLEUR family would be delighted to invite you to La Bouitte, and to share their passions with you.
www.la-bouitte.com
Hameau de St Marcel
73440 St Martin de Belleville Tel 00 33 4 79 08 96 77
WHERE TO STAY
Hotel Allodis**** 
Beautifully located at the top of Méribel the ski-in ski-out Hôtel Allodis enjoys a privileged panoramic view on the mountains and the valley. This stylish hotel offers a lovely collection of rooms and suites which will surround you in a luxurious and intimate setting. For lunch & dinner, you will be delighted by the beautiful view from the terrace or the  gastronomic restaurant. After a fun-filled day, renew yourself at the Spa des Neiges by Clarins for exceptional massages and beauty treatments.
www.hotelallodis.com
Route du Belvédère 73550, Méribel Tel 00 33 4 79 00 56 00
Le Grand Coeur*****
Le Grand Cœur & Spa prides itself on its impeccable hospitality. Staff members are available to answer your questions and meet your every request round-the-clock to ensure that you make the very most of your stay. The hotel offers a wide variety of services: luggage service, changing rooms for before you leave, ski school, ski lift passes, ski hire, transport, car park, secure garage, babysitting, shuttles for children's classes.
www.legrandcoeur.com
Chemin du Grand Coeur 73550 Méribel Tel 00 33 4 79 08 60 03
L'Helios**** 
Hotel L'Helios is a stunning property with a beautiful setting perched on the mountain side with the slopes just below. The hotel's guest rooms have all the amenities expected in a hotel of its class to suit all guests' comforts. The hotel restaurant offers fine dining with subtle aromas, refined flavours, quality products and re-fashioned Savoy specialties, accompanied by a carefully selected wine list. For guests to unwind, the hotel offers a variety of facilities and services including massage, indoor pool, jacuzzi, spa.
www.lhelios.com
Route de la Renarde, Chemin Durupt, 73550 Méribel Tel 00 33 4 79 24 22 42
Le Kaïla Hotel***** 
Guestrooms at Le Kaïla Hotel are luxuriously decorated with taupe and chocolate tones, creating a cosy chic feel, and some bathrooms feature jacuzzi baths and hammams. At the hotel restaurant, Michelin-starred Chef Laurent Azoulay creates authentic local cuisine using seasonal products.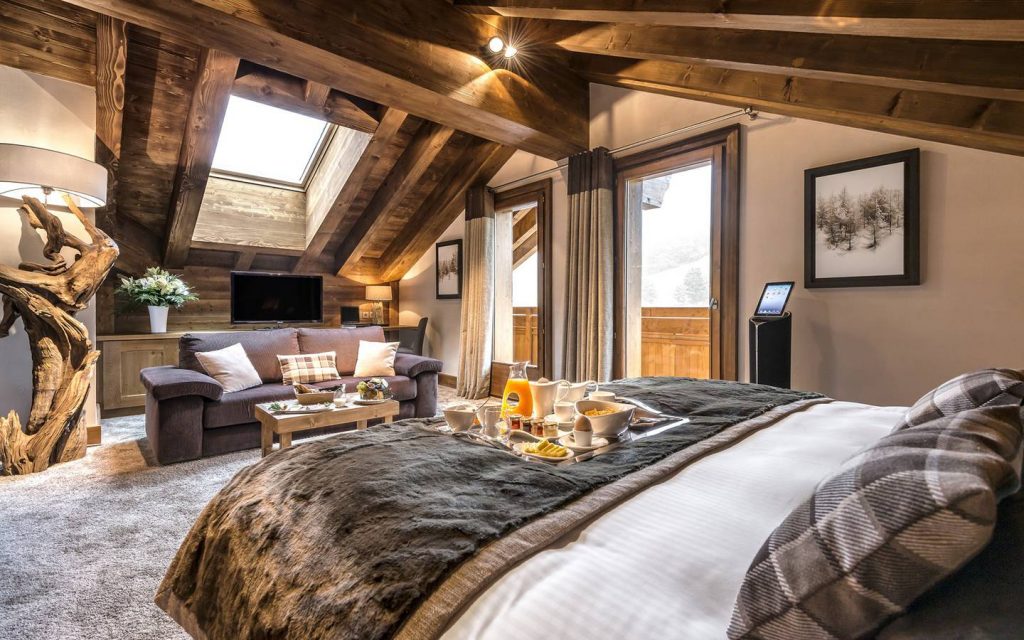 The hotel spa by Nuxe reflects the local architecture, and offers rejuvenating treatments and relaxing massages. The hotel swimming pool features hydromassage seats and an aquatic course, and is surrounded by glass, offering breathtaking views of the surroundings.
www.lekaila.com
Route de la montée 73550 Méribel Tel 00 33 4 79 08 89 03
APRÈS-SKI
Barometer
Situated in the centre of Meribel, next to the bread shop, Barometer is a stylish and sophisticated bar with a relaxed atmosphere and great music. An excellent selection of wines, the best coffee in town and the ever treacherous Mutzig Old Lager (7.3%) attract a discerning clientele who know where to drink. The food and bar-snacks are fresh, original, and served non-stop from mid-day until 11pm. The big screens show major sports events as well as the latest ski and board videos, the pool table does not disturb and the staff really do serve with a smile.
www.meribelbarometer.com
B.P. 55, 73550 Méribel
Bar at Le Grand Cœur
When it's time for afternoon tea or on your return from a day's skiing, enjoy a cup of tea or a hot chocolate in Le Grand Cœur & Spa's lounge bar.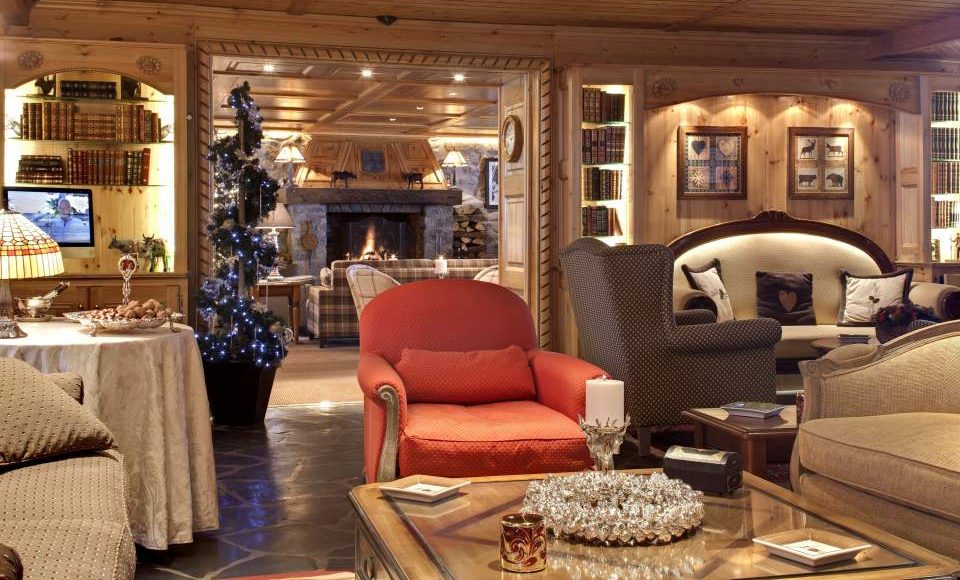 Not to mention the magnificent desserts trolley – what better way to relax? Snuggle down in front of the open fire and enjoy a quiet break. There is also the cosy warm bar. There can be no better way to enjoy a delicious afternoon tea in peace and quiet than sitting in the warmth of a crackling fire. If you just look up out of its huge picture windows you will see magnificent views of Mont-Vallon.
www.legrandcoeur.com
Chemin du Grand Coeur 73550 Méribel Tel 00 33 4 79 08 60 03
VAL THORENS
Val Thorens is a resort that combines the top skiing with a great atmosphere.
This is a relaxed and sociable place and ideal for those who want a vigorous holiday with many activities available: ski cross, mountain biking on snow, paragliding, snowmobile, snowshoeing, sledding, fitness and relaxation at the Sports Centre, aquaerobics at the Aquaclub.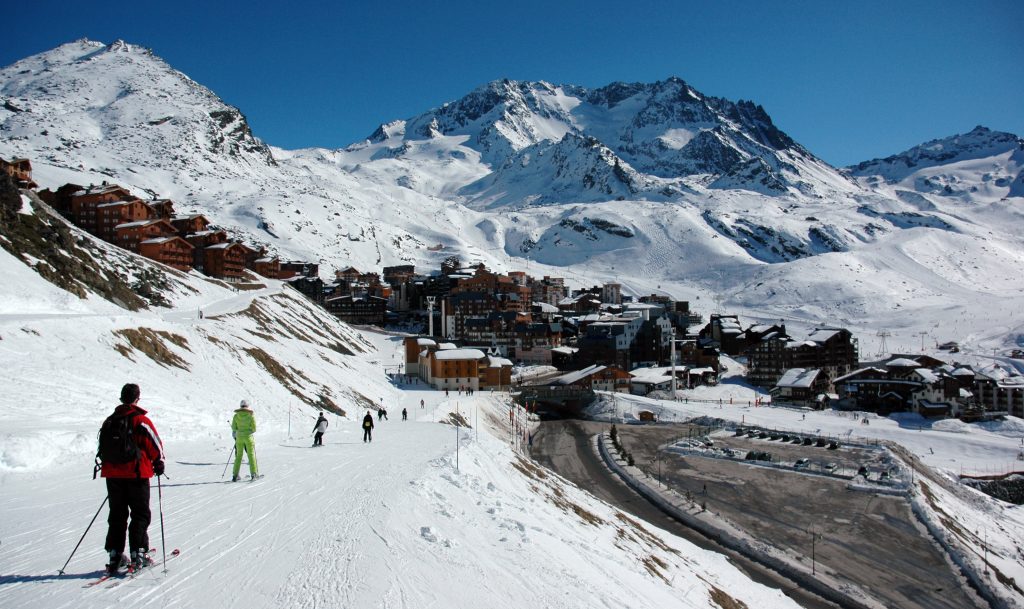 To nourish a healthy appetite, there are many excellent chalets and restaurants on the slopes and in the village that cater to anyone's taste and wishes, offering varied menus and a friendly welcome. Restaurants vary in style and décor, as much as in food that ranges from gourmet sandwiches to traditional meals, and from trendy modern cuisine to creative Michelin-starred gastronomy.
On the shopping-list: Top ski-shops and yummy gourmet boutiques, as well as the market on Tuesdays and Thursdays with fresh regional produce like excellent local charcuterie and Savoyard cheeses.
RECOMMENDED EATERIES
Le Chalet de la Marine
Type of Cuisine: Traditional
This mountain restaurant serves traditional French Savoyard fare with a gastronomic touch in an unbeatable location at the top of the Cascades chairlift with panoramic views of the valley from the lovely terrace. This charming chalet is typical with all wooden diner, Agricultural tools and a roaring fire in the fireplace. Le Chalet de la Marine gets a mention in three prestigious guide books (Michelin, Pudlowski and Routard) and earned its first Michelin 'fourchette' (fork).
www.chaletmarine.com
Piste les dalles – Télésiège Cascades, 73440 Val Thorens Tel 00 33 4 79 00 11 90
La Maison 
Type of Cuisine: Traditional
La Maison, located in the heart of the resort on the slopes of Val Thorens, is a traditional brasserie offering simple good food in a friendly and cosy atmosphere.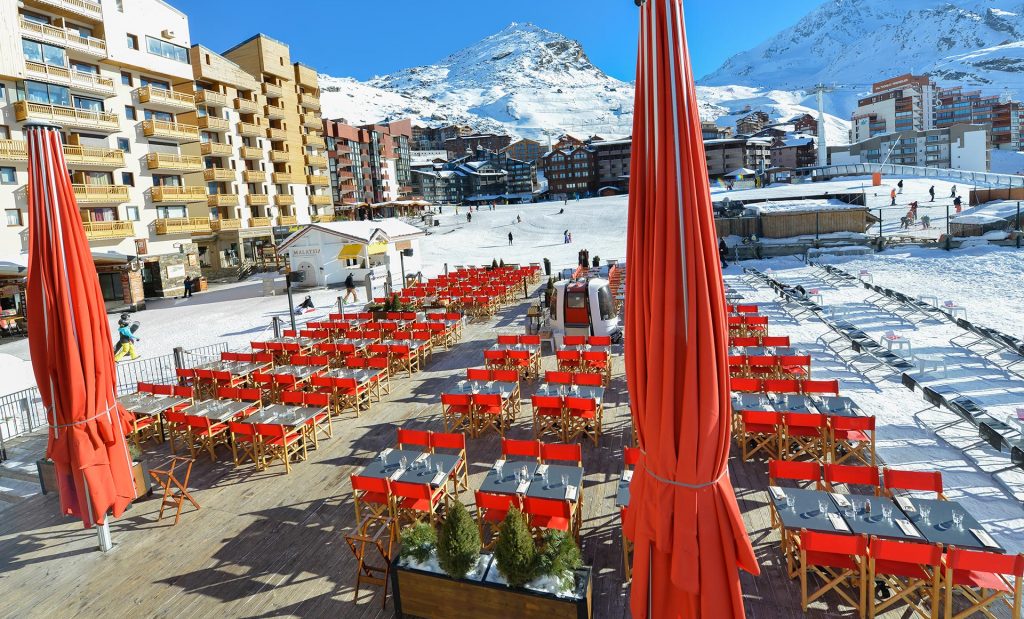 This is a typical mountain restaurant with fur rugs, a central fireplace, a huge terrace, and natural materials and a variety of traditional cuisine and Savoyard specialties.
la-maison-valthorens.fr
Galerie Commerciale de Caron Val Thorens, 73440 Saint Martin de Belleville/Val Thorens Tel 00 33 4 79 00 00 48
WHERE TO STAY
Altapura***** 
Altapura provides direct access onto the slopes and has ski professionals on hand to show you the most beautiful spots where you experience the most incredible ski and snowboarding. The hotel's spacious, elegant areas bring to mind the flair of luxury palace hotels, the atmosphere is Nordic-chic with a choice of noble materials such as wood and stone. You can enjoy each moment to the full, be it in the calm serenity of your room or the spa through to the restaurants, lounges or south-facing terrace. The hotel spa, Spa Pure Altitude, is a magnificent award-winning oasis of calm and well-being.
en.altapura.fr
Rue du Soleil, 73440 Val Thorens Tel 00 33 4 80 36 80 36
Hôtel des 3 Vallées**** 
Hôtel des 3 Vallées is a boutique hotel priding itself on luxury service. It features a central location in the 3 Vallées ski resort, a stone's throw from the slopes and shops. The hotel has 28 guest rooms, ranging from classic rooms to suites. It features traditional chalet-style decor and is designed with comfort in mind. The on-site restaurant offers a buffet breakfast and gourmet dinners. Spa center which includes a sauna, hammam and hot tub – ideal after a day of skiing.
www.hotel3vallees.com
Grande Rue, 73440 Val Thorens Tel 00 33 4 79 00 01 86
Koh-I Nor Hotel***** 
The 5-star Koh-I Nor Hotel is perched atop the highest ski resort in Europe with an uninterrupted view over Val Thorens. It has 63 rooms and suites, 35 apartments, 2 restaurants, 2 pools, a lounge bar, and an 800m2 spa. The hotel is a harmonious mix of luxury, wellness, and quality service. Enjoy panoramic window views in all the rooms and apartments, as well as in the public areas. The natural lighting is also in the bathing areas of the spa behind the large glass walls, and even in the massage rooms, most of which have windows.
www.hotel-kohinor.com
Rue de Gebroulaz 73440 Val Thorens Tel 00 33 4 79 31 00 00
Hotel Le Sherpa***
Located in the heart of Val Thorens, Hotel Le Sherpa offers ski-in-ski-out accommodation in a chalet-style building offering a view of the top of the Trois Vallées ski area. This family-run hotel features comfortable rooms with wooden furniture and warm colours. Each room features satellite TV and a balcony from which you can enjoy magnificent views. Le Sherpa's restaurant serves a buffet breakfast and a 5-course dinner. Unwind the hotel's beauty centre and spa, featuring a sauna, hammam and a hot tub.
www.lesherpa.com
Rue de Gebroulaz, 73440 Val Thorens Tel 00 33 4 79 00 00 70
APRÈS-SKI
Lounge Bar Koh-i Nor
Luxury hotel Koh-i Nor's Lounge Bar is a musical and relaxed universe ready to host you day and night. In the daytime, the atmosphere is cosy and calm. In the evening, it's livelier, but still feels like a lounge. You are cordially invited to sample cocktails and other tasty nectars that our head bartender has dreamed up.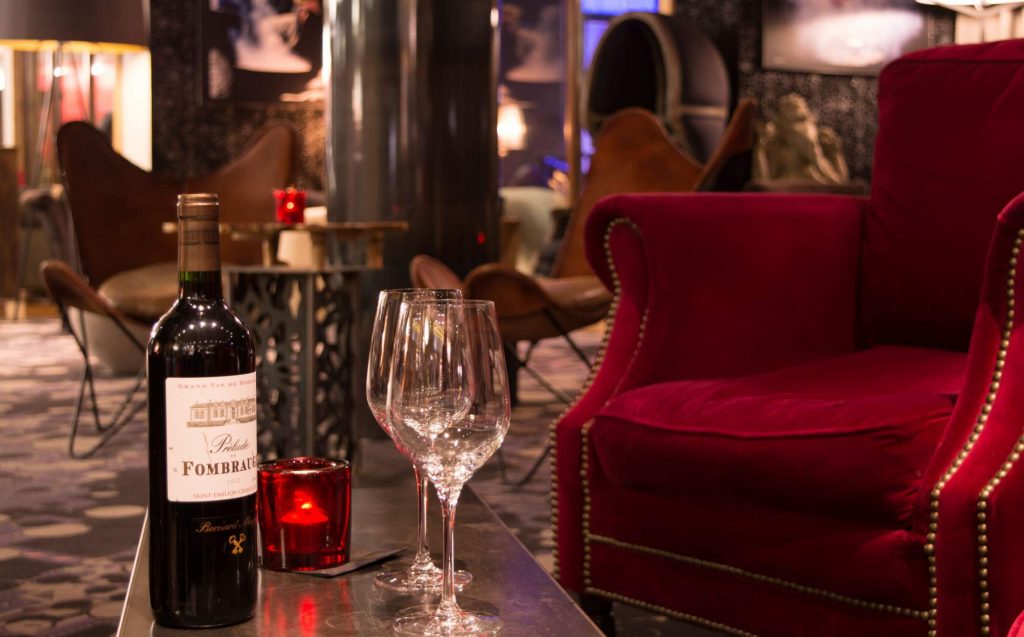 There is also a wide selection of pure malt and single malt whiskies, liquors, and prestigious spirits. Luxury, calmness, and pleasure reign in this unique place that opens onto a wonderful terrace.
www.hotel-kohinor.com
Hotel Koh-i Nor
Rue de Gebroulaz, 73440 Saint-Martin-de-Belleville/Val Thorens Tel 00 33 4 79 31 00 00
Malaysia
For 25 years Malaysia Night Club has been the place to be for clubbing in the region: it is both the biggest dance floor in the Alps (700m2) and the only club opened until 5AM. All big DJs passing through this part of the planet inevitably stop by… Malaysia has hosted DJs like Calvin Harris, David Vendetta, DJ PONE (Birdy NamNam), Chase &Status, RuneRK (Enur), KraftyKuts, Pendulum, Jack Beats, High Contrast, AFROJACK … Every night, the venue attracts between 2000 and 2500 people, an international, young & trendy crowd.
www.lemalaysia.com
Place Caron, Val Thorens Tel 00 33 4 79 00 05 25
Bar 360, Val Thorens
Bar 360 at Les Chalets du Thorens offers an apres-ski out of the ordinary, right on the pistes of Val Thorens. You can ski up to our terrace and enjoy drinks, food, music and a great atmosphere while the sun goes down. DJ's, bands and a range of events keep the party going throughout the season. A unique Dance & Lounge atmosphere in the hearth of the slopes!
www.leschaletsduthorens.com
Les Chalets du Thorens
Rue du Soleil 73440 Val Thorens Tel 00 33 4 79 000 280
RECIPE
Tartiflette
A simple and delicious gratin recipe made from potatoes, reblochon (a typical Savoyard cheese), bacon lardons, cream, white wine and onions.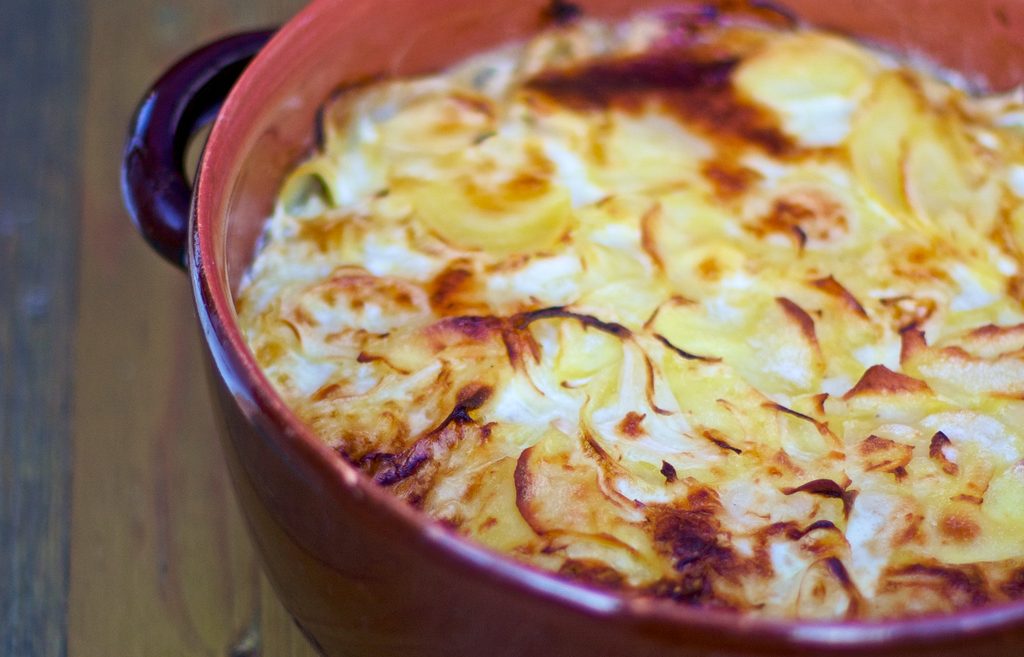 Ingredients
1.5 kg firm potatoes
500 g reblochon
150 g smoked bacon pieces
100 g thick cream
1 small glass of dry white wine
3 onions
3 tablespoons oil
1 tablespoon coarse salt
White peppercorns
Nutmeg
Preparation
Wash then cook the potatoes for 20 minutes. Peel and slice the onions. In a frying pan, heat the oil and fry the chopped onions. When they become translucent, add the smoked bacon. Continue cooking, stirring regularly with a wooden spoon, until onions and bacon are golden brown. Deglaze the pan with the white wine and continue cooking for 5 minutes. Set aside.
Preheat the oven to the "grill" position. Cut the reblochon into long strips. In a pestle, crush the white peppercorns. Peel the cooked potatoes and cut them into large slices.
Butter a large baking dish and layer with the potato slices. Sprinkle with cracked white pepper and nutmeg. Spoon over the onion and bacon mixture, then cover with the cream, then place the slices of cheese on top. Bake the tartiflette for 35 minutes, until the reblochon forms a golden brown crust.
Serve your delicious tartiflette hot, right out of the oven, accompanied by a nice green salad with vinaigrette and a glass of white Savoy wine.
More about the French Alps
French Alps
Tourist Information rhonealpes-tourisme.com
Emergency numbers: 
General emergency 112
Medical help/SAMU 15
Police/Police Nationale (Gendarmerie) 17
Fire & accident/Sapeurs Pompiers 18
COURCHEVEL
Tourist Information courchevel.com
Tourist Information Office addresses:
Le Coeur de Courchevel 1850
Saint-Bon-Tarentaise
00 33 4 79 08 00 29
Le Praz
Courchevel Saint Bon
00 33 4 79 08 41 60
MERIBEL
Tourist Information  meribel.net
Tourist Information Office address:
Les Allues, Méribel, 73550
00 33 4 79 08 60 01
VAL D'ISERE
Tourist Information valdisere.com
Tourist Information Office address:
Place Jacques Mouflier, Val d'Isère
00 33 4 79 06 06 60
CHAMONIX
Tourist Information chamonix.com
Tourist Information Office address:
85 Place du Triangle de l'Amitié, Chamonix-Mont-Blanc
00 33 4 50 53 00 24
MEGEVE
Tourist Information megeve.com
Tourist Information Office address:
70 Rue Monseigneur Conseil, Megève
00 33 4 50 21 27 28