WELCOME TO THE FRENCH RIVIERA
Transformed from once a quiet coastline of fishing villages, farms and vineyards, the French Riviera with its magnificent azure blue sea, dark green of pines and swaying palms, seaside resorts Cannes and Saint Tropez as well as glamorous Cap d'Antibes, idyllic Saint-Paul-de-Vence and Eze, is now not only a destination for the rich and famous, but a natural choice of gourmets and foodies for its diversity in sun-drenched produce, abundance of seafood and renowned wines.
The region is famous for its wines, notably the Provençal rosés, which are superb due to the sunny Mediterranean climate and undulating landscape, ideal for winegrowing. Food specialties reflect the variety of fresh and healthy produce available here, for instance the salade niçoise, a classic hailing from the city of Nice made with tuna, tomatoes, hard-boiled eggs, Niçoise olives, anchovies, green beans and dressed with olive oil, or the bouillabaisse, a traditional fish stew originating from the port city of Marseille with differend kinds of fish, including shellfish or even lobster, slow-cooked in a broth with Provençal herbs and spices.
If you want to sample the local food straight from the source or try your own hand at southern French cooking, visit any of the many food markets in the French Riviera, whether you are in St Tropez, Cannes, Nice and so on..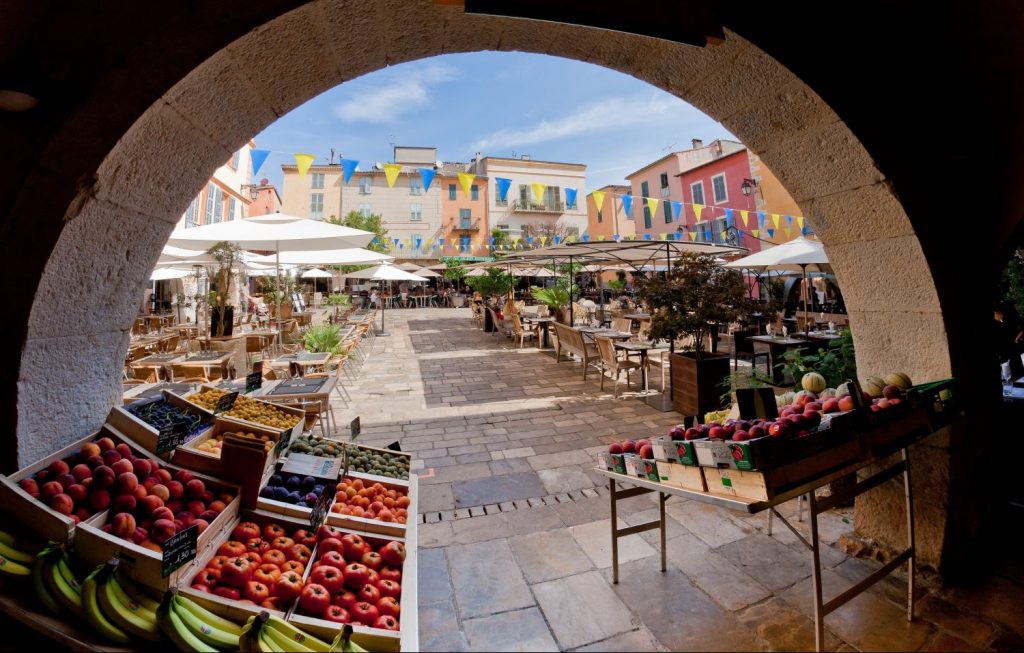 BONV RECOMMENDS
WHERE TO EAT
Currently number one in the world on the The 2019World's 50 BestRestaurants List, three Michelin-starred Mirazur in Menton stands proudly beside one of France's oldest avocado trees, elevated above the palms and bougainvillea of Menton with panoramic views of the town and its bay and the Mirazur's own vegetable garden. Argentine chef Mauro Colagreco worked under superstar Alain Passard at L'Arpège in Paris, one of the world's premier places for fresh vegetables, so it's no wonder that his Côte d'Azur smart-casual restaurant includes the words "from our garden" next to nearly every dish.
The African Queen in Beaulieu-sur-Mer has become a gourmet's paradise for film stars and their fans from all over the world. The restaurant has developed a real reputation for its menu featuring specialities of Nice and the region, made with the freshest seasonal ingredients, such as the famous pizza with truffles or Vissian's delicious salad nicoise. The colonial look and feel, with bronze statuettes, exotic woods and elegant lamplight, make the entire experience of the Aftrican Queen a truly memorable one.
Easily the world's most legendary beach club restaurant, serving delectable Mediterranean cuisine, Club 55 is an institution in Saint Tropez attracting exclusive clientele from everywhere. However, everyone is treated in the same manner, and the right to a table is a privilege which needs to be earned. It's best to begin with an opulent basket of crudités, select a bottle of Chateau de Pampelonne Rosé, and then sit back and relax.
La Colombe d'Or, the historic Roux family's legendary hotel and restaurant in St Paul-de-Vence is renowned all over the world for its sublimely romantic restaurant with fine home-grown Provençale cooking and a superb private collection of 20th century art. Since the 1920s, the late Paul Roux has hosted some of the greatest modern artists: from Miró to Matisse, Calder to Chagal, Utrillo and Pablo Picasso. Many settled their bills with paintings, sculptures and drawings, hence the amazing collection.
Somewhat of an institution Sénéquier is located in the busy port of St Tropez. This popular brasserie has a sprawling terrace usually filled to maximum potential with its signature bright red lacquered chairs and tables. In 1887 Marie and Martin Sénéquier opened a patisserie and today this café's terrace is the hottest spot in town to drink their delicious ice coffee in the sweltering summer heat and taste their own special homemade nougat while watching the rich and famous descend from their super yachts.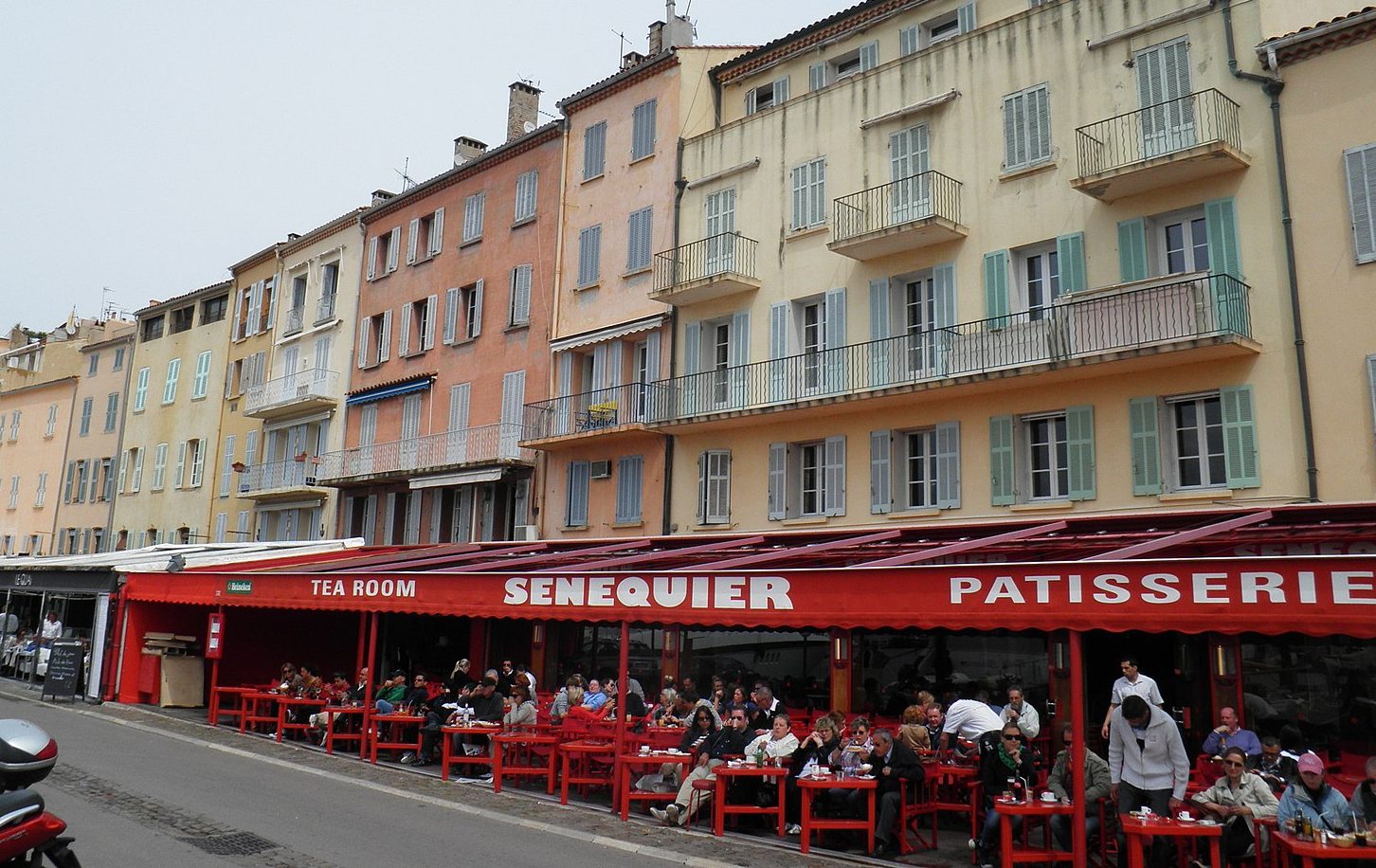 WHERE TO STAY
Hôtel Le Pré Catelan*** 
Charming boutique Hotel Le Pré Catelan*** offers the magical setting of the charm and authenticity of a Provençal Bastide 1920. At an ideal location just 200m from Juan les Pin's sandy beaches, and 5 mn from Antibes Old City, in a secluded estate and lying in the shade of palm trees, this hotel offers 24 rooms entirely renovated in Provençal style, a swimming pool from april to october, outside Jacuzzi all year, bar, selection of cold plates, buffet breakfast, and free wifi.
Le Yaca**** At the foot of the Citadelle, near the port and St Tropez' lively streets, this magical 4-star hotel sits amid four beautiful 18 century Provencal houses. The establishment is well-known for its enchanting garden restaurant as well as its refined setting. Rooms have views overlooking the internal garden and its swimming pool, the Gulf of Saint-Tropez or the old village.
Le Château de la Chèvre d'Or ***** in the medieval city of Eze sits between the sky and the Mediterranean Sea and offers spectacular views. Luxurious though it is, this Chateau has a warm, family-friendly atmosphere and the neighbouring village of Eze is a delightful medieval place to visit, whose charm is reflected in the hotel rooms. The gardens filled with sculptures, fountains, waterfalls, flowers, herbs, trees and shrubs perfume the air with the scents of jasmine, bougainvillea and roses. The hotel features no less than 4 excellent restaurants.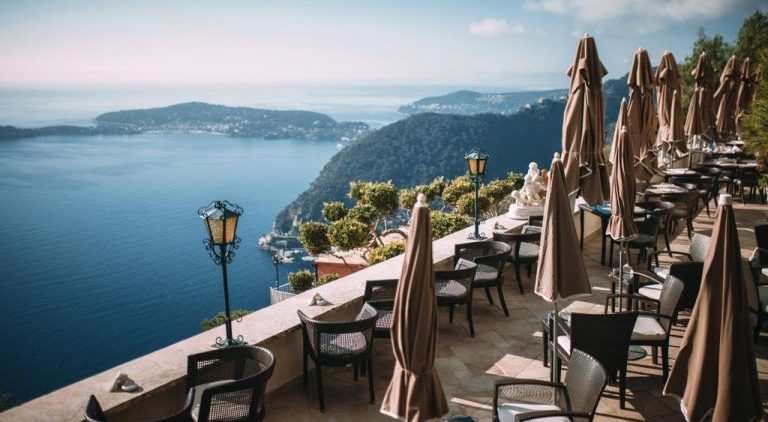 DRINKS
One of the Riviera's best and most famous places is Le Baoli in Cannes, a spectacular restaurant and nightclub which is often visited by celebrities, especially during the Cannes Film Festival. The tropical setting makes for a magical dinner and later at night the champagne flows freely and the dancefloor is packed with beautiful people.
Le Quai is located right on the harbour of St Tropez. This trendy bar/restaurant/night club with a large terrace facing the yachts and the floor covered with their iconic black sand is one of the fmous resort's highlights. The Quai's menu features French-Asian fusion cuisine. The diner turns into a hip nightclub in the evening and is the only night bar open all year round in St Tropez. The musical atmosphere changes during the day, from breakfast to dinner, piano bar, lounge room with progressive live music.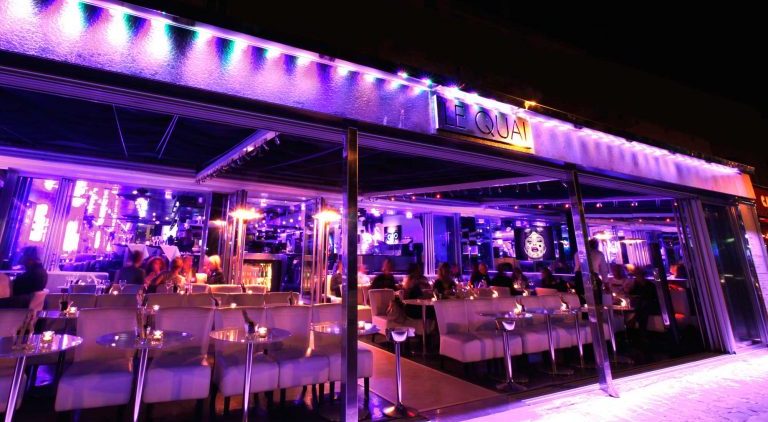 RECIPE
The best kind of experiences are the ones that follow you through life, that can be re-lived in another place, at another time.
Two of our favorite places in the south of France are the Colombe d'Or and the Club 55. Places that are well known for their history and extravagance, therefore very busy during high season. We prefer to visit those places off-season.
We warmly recommend that you visit these places in May-June just before the public holidays, or, even better, in the fall when the south of France and especially the Cote d'Azur changes in colours and crowd. Nothing is more inspiring than walking on the white beach of Ramatuelle and to see the mistral merge the sea and the horizon, then later stroll up to the bar at Club 55 and order a good bottle of red wine.
During this part of the season you can actually talk to the personnel and learn the insider view of this mythical place and its people. If the climate is too fresh for an outdoor lunch, just step into the restaurant and try to get a table next to the fireplace. The same goes for the Colombe d'Or in Saint Paul de Vence. Here you should come when all tourists are gone and when the locals have a chance to tell you their story.
The terrace at Colombe d'Or is a classic; you can almost be sure to get the same table as Picasso, Miro, Chaplin or Scott Fitzgerald once had, because nothing has changed, not a single table, chair or painting has ever been sold or exchanged for something more modern or more functional. The simple but generous culinary experience offered here has also become a tradition at the Club 55.
"Everything you can imagine is real."
Pablo Picasso
Lunch at the Colombe d'Or
Here we always order the same: the Panier de Crudités (basket of raw vegetables) together with the even more popular hors d'oeuvres, starters that are so simple, but still so special. Indulged with a local wine and the stunning view of valleys filled with olive trees that take your eye all the way down to the sea, you are left with a feeling of intense satisfaction, you don't need more from the menu nor from life itself.
"The kitchen, it is made of sun. On the menu, signed Paul Roux, there is the basket of vegetables and the famous appetizers: roasted peppers in olive oil, onion confit, stuffed vegetables, tomatoes Provençal, beans, anchovies, eggplant and other delights of the South. The tableware and unpretentious sensuality recalls at any time that one is received by a family here." From the book 'La Colombe d'Or'.
Panier de Crudités and the French Vinaigrette
One of those mystical ingredients that helps create these magical moments, is the sauce served with the basket of vegetables. The owners and the cooks of the Club 55 and the Colombe d'Or are by far as generous as Jamie Oliver and Gordon Ramsey when it comes to exploiting their skills and recipes, so when we try to re-experience our lunches in the South of France we prefer to make a simple but very French dip/dressing, a vinaigrette.
First of all we would like to underline that there is no "original" recipe for French vinaigrette as far as we know. However, we have a recipe that we would like to share with you, a Dijon vinaigrette that is truly French.
One secret is to find good Dijon mustard, the most common ones like Maille and Amora are ok, but there are better choices. We like the mustard from the Fallot family, which is made from French-grown spices and exactly the right balance of spices for our taste. The other secret is the use of shallot onions, which, when marinated in a sherry vinegar and salt, soften and give a distinct flavour. We recommend not using balsamic vinegar. Why? The word vinegar is actually a liaison between two words, vin (wine) and aigre (sour). So, that sweet balsamic doesn't cut it in the sour department at all.
Ingredients:
2/8 teaspoon sea salt
2 tablespoons sherry vinegar
1 small shallot
1 teaspoon Dijon mustard
1-1,2 dl olive oil
fresh herbs and ground pepper
After you have marinated the finely shopped shallots in salt and vinegar for a few minutes or more, it's time to add the Dijon mustard and when you have a smooth paste you start adding the olive oil little by little. Mix slowly until you have your preferred consistency, the more you work this mixture the more of a mayonnaise consistency you get. Now it's time to taste and add salt and freshly ground pepper, if necessary. To finish of this little gem for your summer lunch (wherever you are), add some chopped fine fresh herbs; chives, chervil or parsley are all good.
Place the vinaigrette next to your Panier de Crudités, which should include: hard-boiled eggs, carrots, yellow peppers, red peppers, celery, cucumber, tomato, champignons, fennel bulb, radishes, cauliflower, lemon and if possible an artichoke boiled until tender. Last but not least, don't forget to serve heavy slices of rustic dark bread directly from the grill or oven and a plate with shaved curls of extra salted butter.
Bon Appétit!
BonV French Riviera Guide