WELCOME TO LA RIOJA
One of Spain's most famous wine regions, La Rioja, is an autonomous community and province in Spain, in the Ebro River Valley in the north of the Iberian Peninsula whose capital is Logroño.
The Ebro River and its 7 small streams create the valleys of Rioja. The streams used to be more like rivers, but climate has reduced them severely so that in some cases they nearly dry up by harvest.
However, in spite of their decreasing size, the valleys are home to 36% of the biodiversity in Spain due to their unique climate and terrain, which also accounts for the very different styles of Rioja wines. So, if you love Rioja and Tempranillo, it's useful to know about the 7 valleys and what makes them unique.
Rioja can be divided in three major regions: Rioja Alta, Rioja Oriental (Baja until 2018) and Rioja Alavesa. Rioja Alta and Alavesa are in a position higher up in the Rioja Valley on soil type called calcareous clay which produces wines with greater ageing ability, but you can find amazing wines in Rioja Oriental too.
Rioja Alta
Rioja Alta is in the west of La Rioja and known more for its 'old world' style of wine. Strongly influenced by the Atlantic climate and with a great variety of soils (clay-limestone, ferrous-clay and alluvial), its grapes are at the origin of some of the world's best and most famous wines. The higher elevation makes for a shorter growing season, which produces brighter fruit flavours and a wine that is lighter on the palate.
Rioja Alta has much to offer wine tourists with its numerous towns full of history featuring the largest concentration of century-old wineries in Europe and the world.
Haro is an excellent starting point for visitors who wish to enjoy the history of the many century-old cellars holding the winery's oldest vintages, learn about the secrets of winemaking and taste some fantastic wines. Many of these wineries are still in the same family that founded them. The town of Haro also hosts the annual Wine Festival that is noted for its Batalla de Vino where participants conduct a food fight of sorts with wine.
The other well-known towns are distributed among the districts of Haro, Nájera, and Logroño and nestled in spectacular landscapes such as Ollauri, Briones, Cuzcurrita del Río Tirón, San Asensio, Cenicero, San Vicente de la Sonsierra, Logroño and Fuenmayor – some of the destinations that offer a world of wonderful wine history to enthousiasts.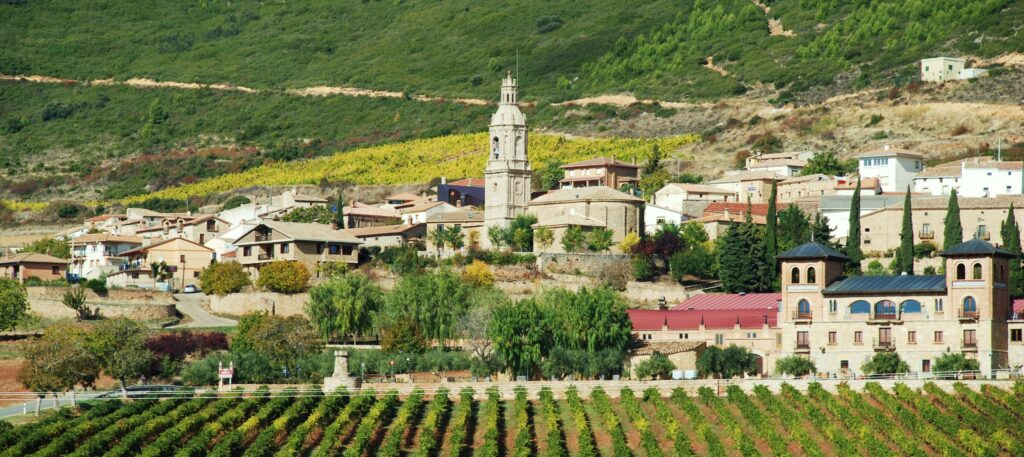 Rioja Alavesa
Rioja Alavesa is the smallest part of Rioja located south of the province of Álava on the north bank of the River Ebro whose dry and sunny land with mainly clay-limestone soils is divided into terraces and small plots.
Due to its geographical location, between the Ebro River and the Sierra de Cantabria, this territory has a privileged microclimate for growing vines. Despite sharing a similar climate as the Alta region, the Rioja Alavesa produces wines with a fuller body and higher acidity. The quality of such prestigious wines is also influenced by the care and dedication of its people, who have been able to combine traditional production processes and new technologies.
Visitors of Rioja Alavesa will be able to taste everything from wines made in medieval caves to vintages produced in the most avant-garde wineries.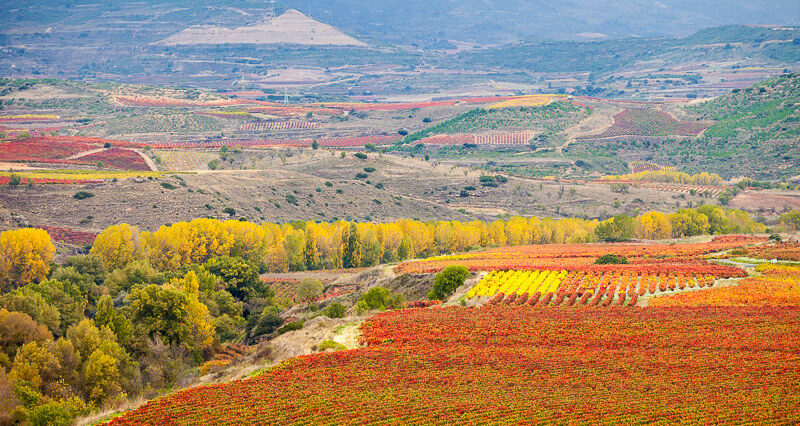 Rioja Oriental
Rioja Oriental is the eastern part of Rioja, formerly known as Rioja Baja, whose geography, climate and soils make it a privileged land for growing grapes, however, unlike the more continental climate of the Alta and Alavesa, the Rioja Oriental is strongly influenced by a Mediterranean climate which makes this area the warmest and driest of the Rioja which occasionally requires irrigation of the vines.
Oriental wines are very deeply coloured and can be strong in alcohol content. They have less acidity or aroma than the other Rioja wines and are often used as blending components with wines from other parts of the region.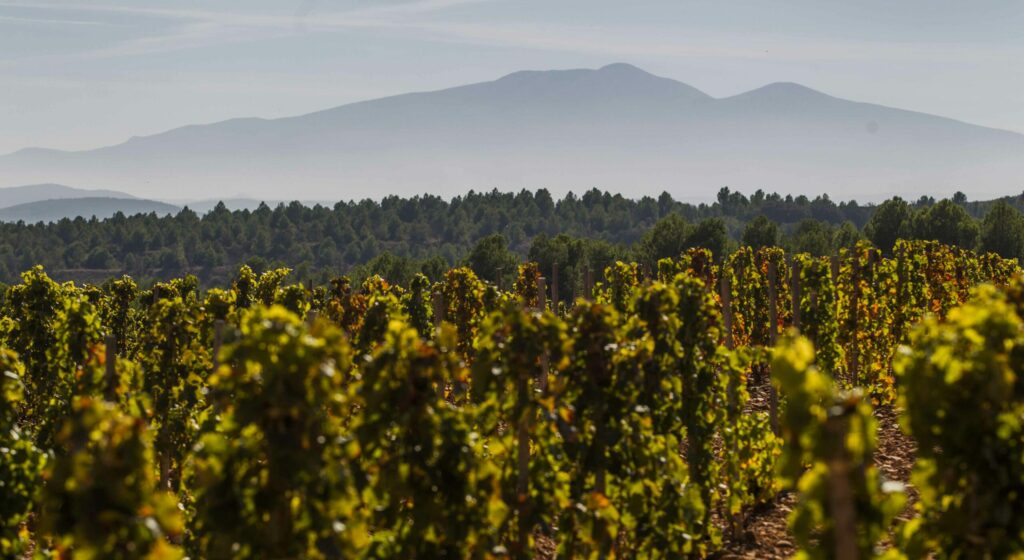 Places to stay
Hotel Marqués de Riscal*****
Designed by Frank Gehry of Guggenheim Bilbao, Hotel Marques de Riscal sits amidst vineyards and overlooks the charming town of Elciego, the wine capital of la Rioja. This spectacular designer property offers five-star accommodation, gourmet dining and exclusive wine experiences in an incomparable setting. Guests can enjoy daily wine tours of the state-of-the-art facilities, with cellars housing vintages dating back to 1862. The rooms are luxurious, services impeccable and facilities abundant with a variety of excellent restaurants, including the Michelin-starred Marques de Riscal Restaurant, elegant wine bar and a cozy rooftop library lounge, and vinotherapeutic wellness center.
www.marquesderiscal.com
Bodegas Marqués de Riscal
C. Torrea Kalea, 1, 01340 Eltziego, Álava, Spain Tel +34 945 18 08 80
Hotel Gastronómico Echaurren*****
This Relaix & Chateaux hotel is housed in a century-old building completely renovated by the Picado de Blas architecture studio in Madrid, who have managed to transform it into a beautiful and cozy hotel. The architects knew how to make a contemporary and respectful interpretation of all the history that the establishment and its privileged surroundings treasure. The renovation is full of current and modern winks, with its legacy retained in materials, fabrics, furniture and spaces open to the outside, to the beautiful square that houses the imposing Gothic church-fortress of Ezcaray, built between the 12th and 14th centuries. The hotel boasts a 2 Michelin star gastronomic restaurant.
echaurren.com
C. Padre Jose Garcia, 19, 26280 Ezcaray, La Rioja, Spain Tel +34 941 35 40 47
Hotel Palacio Tondón****
Located in the center of Briñas and a stone's throw from Junguitu Wine Museum, Hotel Palacio Tondon offers a garden, a sunbathing terrace and a shared lounge. The hotel has 33 rooms and a restaurant, a sun terrace and an on-site meeting room. Rooms are cozy and all have lovely views over the Ebro River. The hotel has a bar where a buffet breakfast is served in the morning. The local dishes of the Tondón restaurant will satisfy your culinary desires.
www.marriott.com
C. Campo, 2, 26290 Briñas, La Rioja, Spain Tel +34 941 69 01 00
Parador Santo Domingo Bernardo de la Fresneda***
This historic hotel is housed in the former San Francisco Convent, in Santo Domingo de la Calzada. Located on the Camino de Santiago Pilgrimage Route, this restored property features impressive architecture and is divided into 3 sections: the church, the workshop-museum and the hotel area. Its restaurant is located in the Parador de Santo Domingo, 400 m away. It serves traditional dishes from La Rioja, and the wine list features many good local wines.
www.parador.es
Pl. San Francisco, 1, 26250 Santo Domingo de la Calzada, La Rioja, Spain Tel +34 941 34 11 50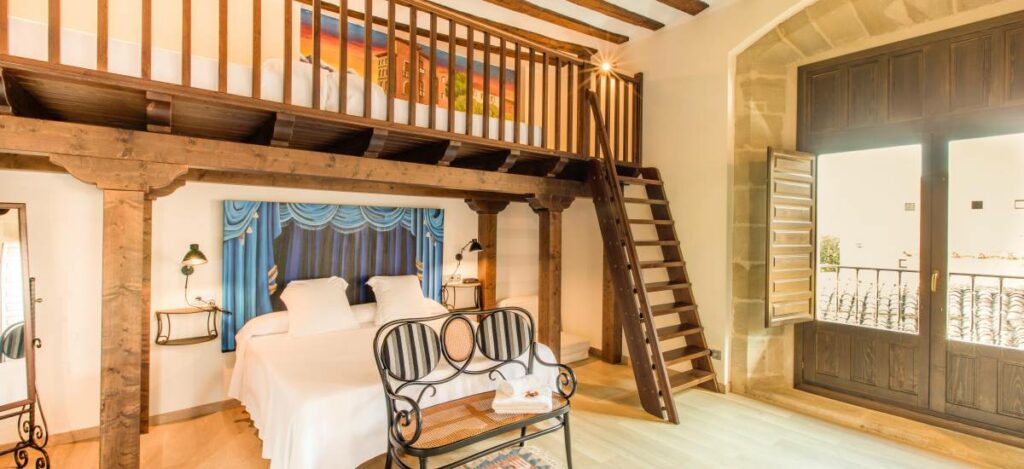 Hotel Teatrisso***
Teatrisso Hotel Palacio is a charming family friendly boutique hotel run by the hosts Laura and Jose who will prepare the most delicious breakfast using the best ingredients, plan your day and make sure you have everything you need. Their hotel features a bar, shared lounge, garden, and free WiFi, family rooms and a children's playground. Selected rooms have a kitchenette with a microwave and a minibar. Guests will be able to enjoy activities in and around Cuzcurrita-Río Tirón, like hiking, skiing and cycling.
teatrisso.com
C. Segundo Cantón, 26214 Cuzcurrita de Río Tirón, La Rioja, Spain Tel +34 697 92 24 52
Eurostars Los Agustinos****
Impressive 4 star hotel in a great historical building that previously was a convent, military barrack, jail and hospital. Nowadays, it offers guests comfortable facilities with a touch of luxury. Located in Haro, the Capital of the Rioja Wine, it is an ideal start point for winelovers to explore major Rioja wineries. Rooms are decorated in a rustic style and possess practical comforts to guarantee a pleasant stay.
www.eurostarshotels.com
C. San Agustín, 2, 26200 Haro, La Rioja, Spain Tel +34 941 31 13 08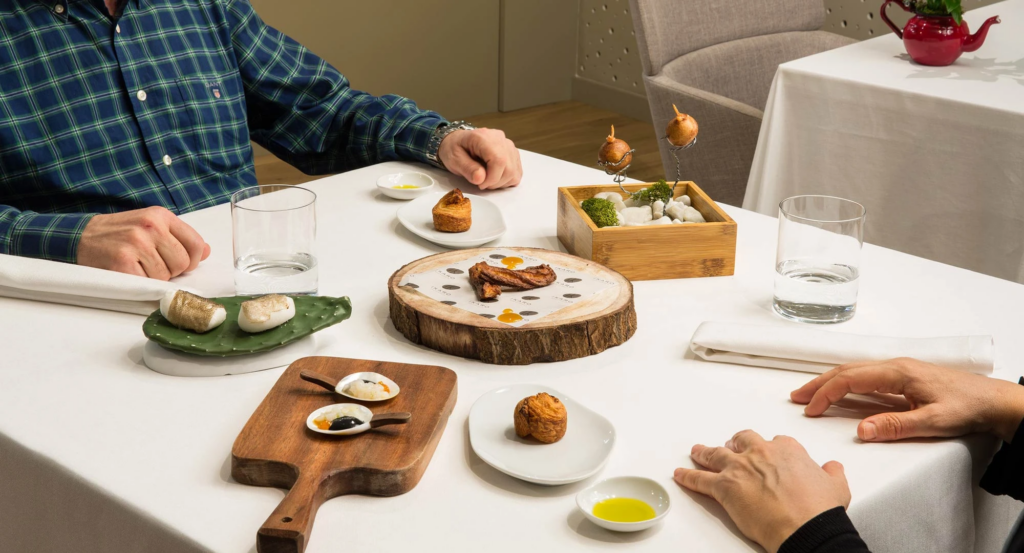 Eating & Drinking 
Ikaro
Carolina Sánchez, from Ecuador, and Iñaki Murua Iñaki, a native of Laguardia, are the two ingenious young chefs behind the success of elegant Ikaro restaurant. They mix Riojan, Ecuadorian and Basque cuisine, with a dose of passion and a lot of work. These inventive, personal dishes are executed with impeccable technique. The menu is adapted to the seasons, featuring Chicken Breast with slightly pickled juice, textured pear and lacquered drumstick; Catch of the Day, mushroom emulsion laurel-style; Seasoned Cantabrian Squid quinoa socarrat, chive emulsion and squid juice.
www.restauranteikaro.com
Av. Portugal, 3, bajo, 26001 Logroño, La Rioja, Spain Tel +34 941 57 16 14
Wine Fandango
Wine Fandango is a restaurant and wine bar located in the heart of Logroño, in one of the palaces in the Espolón, which housed the legendary Gran Hotel with a mantra of 'food, wine and fun'. On offer an extensive and original menu of pintxos and wines. Different gastronomic proposals that range from a good breakfast, lunch, snack or dinner. The wines are a selection of Rioja, Spanish and World wines. The atmosphere is truly 'fandango'!
www.winefandango.com
C. Gral. Vara de Rey, 5, 26003 Logroño, La Rioja, Spain Tel +34 941 24 39 10
La Tavina wine and tapas bar
Located in the heart of Logroño's bar scene, La Tavina has a street counter and another inside to eat tapas and enjoy a good glass of wine. Being in the capital of La Rioja, the region's brands take centre stage but there are always alternative options from other Spanish regions and from abroad. Wine tastings are held every Monday and are very popular. Most of the producers who flock here to present their wines are local but there are occasional tastings with wines from other regions as well as artisan products such as cheese or chocolate.
latavina.com
Calle del Laurel, 2, 26001 Logroño, La Rioja, Spain Tel +34 941 10 23 00
Venta Moncalvillo
This Michelin star restaurant is a benchmark of Rioja gastronomy with an outstanding winery, awarded by the Ministry of Agriculture for its wine service. At the head of the establishment are Carlos and Ignacio Echapresto, both with different awards for their careers. The Echapresto brothers, in addition to having an extraordinary wine cellar, harmonize the wines with the orchard, game and mushroom season, which they crown with homemade desserts such as curd with honey and walnuts. You can have an aperitif in the garden or the wine cellar. Everything invites you to return.
ventamoncalvillo.com
Ctra. Medrano, 6, 26373 Daroca de Rioja, La Rioja, Spain Tel +34 941 44 48 32
La Vieja Bodega
Garnering rave reviews from their customers, La Vieja Bodega is a firm favourite with food and wine lovers, whether local or visiting, since opening in 1994. Riojan gastronomy and signature cuisine come together in this lovely restaurant, where seasonal products and updated traditional recipes are cooked with love, flavour and knowledge. The interior has 5 dining rooms (two large rooms, a glazed terrace and two private rooms), and can accommodate up to 200 people. In addition, it has 2 cellars where the best wines rest. Outside you can enjoy a large garden, ideal for holding events and weddings.
laviejabodega.es
Av. de La Rioja, 17, 26230 Casalarreina, La Rioja, Spain Tel +34 941 32 42 54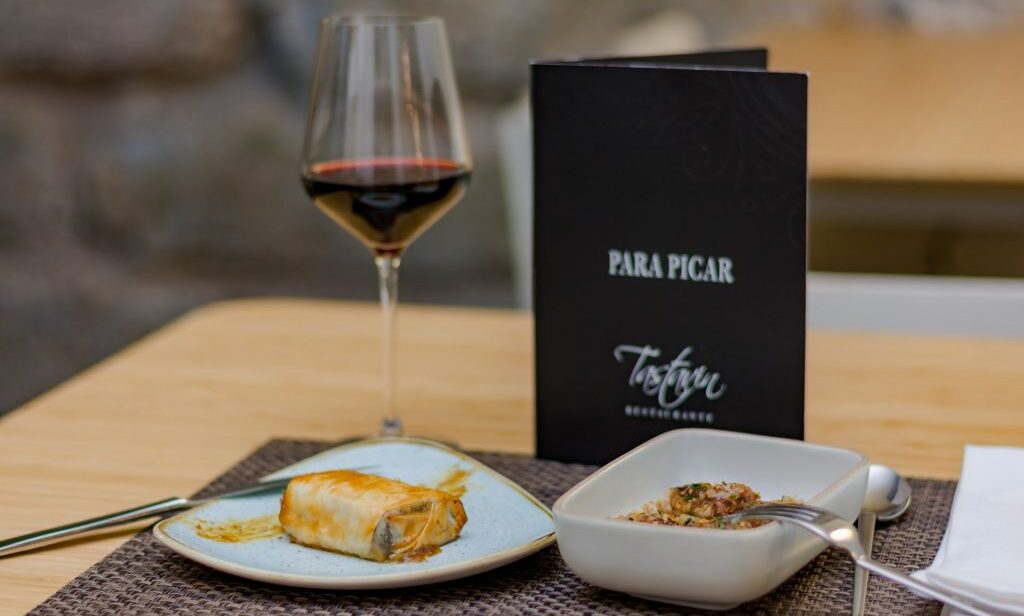 Tastavin
Tastavin has been offering elaborate pinchos for more than 15 years in Calle San Juan de Logroño, one of the benchmark tapas areas in the capital of La Rioja. In the lower part of the premises there is a bar and 7 high tables, where pinchos and raciones are served to share in an informal atmosphere. On the first floor we have the menu dining room, a space for 20 people, distributed in 4 round tables. The venue boasts an impressive wine list of more than 160 references, where Rioja plays the major role, but there are also wines from other D.O. both national and international.
tastavin.es
C. de San Juan, 25, 26001 Logroño, La Rioja, Spain Tel +34 609 78 70 36
Papín Gastronomía Dulce
All the cakes, tarts, baked goods and sweet pinchos at this pastelería are artisan pastry chefs in their workshop where you can watch them at work live. Papín is located in the heart of Logroño's tapas area between the famous Laurel street, San Juan street and the mythical Portales street. This is the ideal place to taste a great sweet treat while you enjoy a coffee, a hot chocolate or place your order to go. At Papín you will find vegan and gluten-free options and pets are welcome. Papín seeks to be that meeting place for those looking for a different pastry shop with many options therefore they include vegan, gluten-free, lactose-free, nut-free and no added sugar recipes. All pastries that non-vegan people without food intolerances will also find delicious!
www.papin.es
Tr.ª San Juan, 2, 26001 Logroño, La Rioja, Spain Tel +34 941 48 42 35

Art & Culture
The Wine Culture Museum
Considered by The World Tourism Organization to be the best wine museum in the world, The Wine Culture Museum takes visitors on a journey through the history of wine, with an explanation of its production methods and cultural significance. The museum is the creation of Rioja vineyard owner Pedro Vivanco, and includes permanent and temporary exhibitions, a document centre, a tasting room and an important collection of grapevines from different growing areas around the world. Designed to give the visitor a truly immersive experience, there are a range of fun activities on offer, such as workshops, wine tastings and workshops for children. A must-visit for wine enthousiasts.
vivancoculturadevino.es
Winery – Vivanco Museum of Wine Culture
Carretera Nacional, 232, 26330 Briones, La Rioja, Spain Tel +34 941 32 23 23
San Millán Yuso and Suso Monasteries
San Millán Yuso and Suso Monasteries are located in the Autonomous Community of La Rioja, in the north of Spain, and both registered as UNESCO World Heritage Sites . The property has an area of 19 hectares with a buffer zone. Because of the identification and inter-relationship of the two monasteries with elements of the Moorish, Visigothic, Mediaeval, Renaissance and Baroque styles, the architecture and the natural landscape bring together highly significant periods in the history of Spain. Since the Monastery was founded in the 6th century by San Millán and his disciples, this site has been a centre of culture, history and religion for the north of Spain and the rest of the country. This religious site was strongly supported by the Royal House of Navarre, as well as by the Counts, Kings and Queens of Castile, during the 10th and 11th centuries. Of great universal associative importance is the fact that the Spanish language, one of the most common in the whole world today, was first written down here.
monasteriodesanmillan.com
Calle Prestiño, 8, 26326 San Millán de la Cogolla, La Rioja, Spain Tel +34 941 37 30 49
Castillo de Sajazarra
Sajazarra castle is part of Bodegas Señorío de Líbano founded by the Líbano family in the late 1960s.
They bought the castle to rebuild it and make it their home. Different very old elements related to wine appeared in its dungeons, such as wooden presses and vats, presses, etc. They began to make their own wine inside the castle, first for their own consumption and later as a company, continuing the centuries-old winemaking tradition of the castle. Have the Castillo de Sajazarra experience by exploring the essence of the bodega's wines: high altitude vineyards, estate vineyards on microplots sustainable wine-growing.
senoriodelibano.com
C. del Río, s/n, 26212 Sajazarra, La Rioja, Spain Tel +34 679 49 40 47