The traditional Spanish way of eating is as good for you as the famed Italian 'mediterranean' diet: Spanish food is fresh, tasty, colourful and full of nutrients. And there is no better ambassador of Spanish gastronomy in the world than Famous Spanish chef José Andrés.
Known for his ability to fuse traditional food with innovative ingredients, in 2020, during the height of the pandemic, he was cooking a lot at home and using a variety of beans. In an interview with leading culinary US magazine Food & Wine he said "The best canned beans are actually in a jar," he said. "Conservas Rosara is one of my favorite brands these days. In Spain, the very best vegetables are preserved at their peak, so you can get incredible beans in a jar—garbanzos, Judión, alubias, pochas, fabes … all from Navarra in the Basque region. All are amazing."
This kind of advice from a chef of his calibre should be embraced by any serious foodie. Born in Asturias, on the coast of the northern region of Spain, Andrés has worked at the famed El Bulli restaurant in Barcelona in the late 80s before moving permanently to the US where his career took off to see him become one of the most recognisable chefs in the world.
He has opened many succesful restaurants, starred in his own Spanish cooking show and founded the 'World Central Kitchen', which provides healthy food to families and individuals touched by disasters. Unsurprisingly, Andrés has won many awards during his career, from One of the world's 100 most influential people, Time to the Lifetime Achievement Award, International Association of Culinary Professionals as well as a prestigious appointment by President Barack Obama as an ambassador for citizenship and naturalisation.
The celebrated chef is known for his love of traditional Spanish dishes and ingredients which he promoted from the very start of his career such as Iberian ham and chorizo, the classic tortilla, or his favourite Fabada asturiana – a rich Asturian bean stew.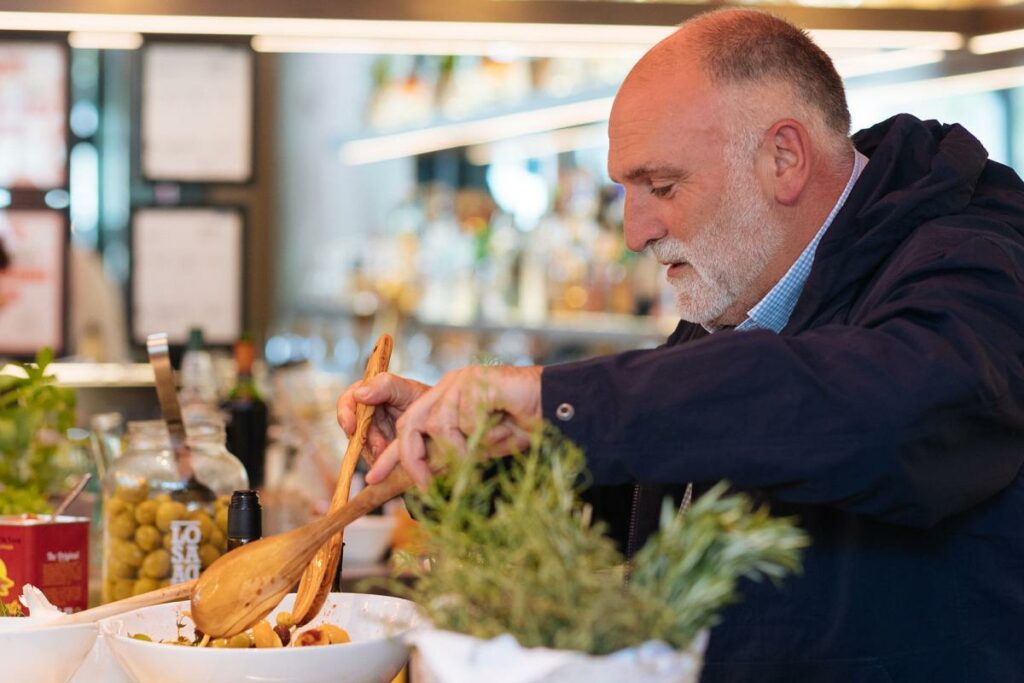 But back to the beans. What is different to most countries is that Spain has a wonderful quality of canned and jarred food, from clams and tunafish to artichokes and peppers. All vegetables are harvested at optimal ripeness, resulting in freshly packed food of the highest quality. We were very happy to learn of Andrés' favourite brand of canned and jarred vegetables, as Rosara happens to be our favourite too!
Conservas Artesanas Rosara is a Spanish company that produces premium gourmet canned and jarred products prepared with care and without artificial additives, that excel in flavour..
Their products are excellent, and they themselves have outlined the six reasons why they believe their legumes are the famous chef's favourites :
"Freshness: we make them with fresh raw materials, to maintain their original texture and flavour.
Quality of the ingredients: they are made with high quality ingredients, without preservatives or artificial additives.
Taste: they have a natural and authentic flavour, like the ones we ate straight from the pot when we were little.
Texture: their texture is uniform, without being too soft or hard.
Nutrition: they are rich in proteins, vitamins and minerals, a very balanced nutritional composition.
Variety: we have a wide variety of options, both natural and in delicious stews."
José Andrés is absolutely right. Cooking can sometimes be as easy and healthy as opening a can or, in this case, a jar.