Classic Swedish salmon pie topped with asparagus and served with clarified butter. This recipe comes from top chef Leif Mannerström's cookbook 'Matglädje hela livet' literally 'Food joy for life'.
Leif Reinhold Mannerström, is a Swedish restaurateur. Between 1994 and 2010 he ran the restaurant Sjömagasinet in Gothenburg, he has been the judge of the cooking shows Sveriges mästerkock and "Sveriges yngsta mästerkock" that are broadcast on TV4. He is a master of traditional Swedish dishes.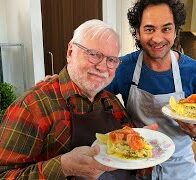 Leif Mannerström's Salmon Pie With Asparagus
One of Sweden's best chefs and best dishes
Ingredients
For the salmon pie
800

g

salmon, sliced

2

onions

butter

800

g

boiled potatoes

cold

1

bunch

dill

4

eggs

3

dl

milk

1

dl

cream

salt & pepper
For serving
150

g

butter

2

tsp

caviar

1

tbsp

anchovies juice

1

bunch

green asparagus

1

sprig

dill
Instructions
Heat the oven to 200 degrees.

Peel and chop the onion, fry it golden brown in butter over low heat.

Peel and slice the potatoes into thin slices.

Cut the dill but save a couple of sprigs for garnish.

Grease a mold with a removable rim and line it with a layer of salmon. Let the slices hang over the edge. Then alternate potatoes, onions, dill and salmon. Lightly salt and pepper between rounds. Fold over the salmon slices in the last layer and press down a little.

Whisk together eggs, milk and cream, lightly salt and pepper and pour into the mould.

Bake in the middle of the oven for about 40 minutes. Test with a needle to see if it is ready.

Brown the butter in a pan and season with caviar and anchovy soup.

Cook the asparagus. Cut it into pieces and put on the salmon pudding. Garnish with a few sprigs of dill.

Serve your salmon pudding piping hot with the butter on the side.