WELCOME TO SAN SEBASTIAN
Gastronomically blessed San Sebastian is a place with more Michelin stars per capita than any other, a place people visit not just to enjoy its golden beaches, but to eat and eat well, very well.
San Sebastian sits on the coast of the Bay of Biscay in Spain's Basque country. This little city is the provincial capital of Spain's Gipuzkoa region and may well be the culinary capital of the world.
Walk into this town and immediately you will notice that everything revolves around food, or rather, the famous pintxo, local version of tapas. Though a simple looking little dish, based on bread with a few ingredients as topping, held together with a wooden toothpick, the pintxo has evolved over the ages from a French baguette paired up with regional produce such as olives to accompany a drink to ever more elaborate, varied and experimental servings.
For a full foodie experience of San Sebastian, you should start with a visit to La Bretxa, the city's traditional food market, where locals, tourists and restaurateurs mingle to buy the famed Bonito tuna or Iberian ham. To get a good taste of the amazing culinary variety on offer make a tour of the old town's many bars and try not to make the traditional mistake and accept the plate that they will offer you, because it's too tempting to fill that plate and then miss out on all other specialities, many of which we have mentioned below in our guide. For the ultimate gourmet experience book yourself the full gastronomic San Sebastian treatment at one of the many Michelin star restaurants.
To walk off all this indulgence or simply relax, head to the sea for the picturesque bayfront promenade and beautiful beach Playa de la Concha. Take some good leisure time here or even a well-deserved siesta at your hotel because by sunset, its time to head back into town and do it all over again and add to that some good music and fine wine to party into the night as San Sebastian vibrates with all good things in life.
BONV RECOMMENDS
WHERE TO EAT
Gandarias is a popular pintxo bar and restaurant, located in the heart of the old town of San Sebastian, serving some of the best pintxos and traditional Basque cuisine with premium products: fresh, local and seasonal. The extensive menu focuses on vegetables, meat, acorn-fed Iberian pig and fish, with some of the most famous dishes the roast piglet or baby lamb, Iberian acorn-fed Joselito ham, or T-Bone steak.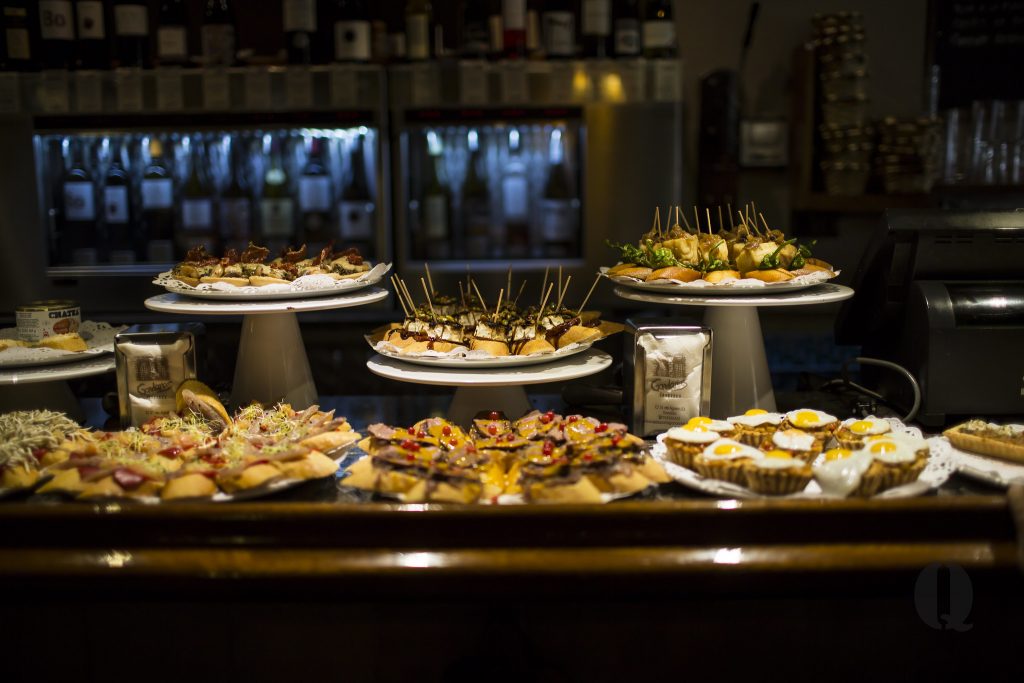 Also in San Sebastian's old town, the more upmarket Bodegón Alejandro focuses on the authenticity and classic flavours of local dishes, but recreated with flair. The tasting menu at 52€ per person is a good deal. Samples from the tasting menu: Spider crab Stew Donosti style and pil-pil sauce and Long maturation Iberian pork loin, with mash.
This one will set you back financially but you will be enriched with an incredible gastronomic experience: Arzak. Arzak has earned three Michelin stars during its splendid career while it has been in the same family for generations. Father and daughter Juan Mari and Elena set a worldwide standard through inventive cooking and a spectacular wine-cellar with over 100,000 bottles. Arzak offers multiple tasting menus and an à la carte.
Another upscale restaurant, though less pricey than Arzak and with 'only' one Michelin star is Kokotxa. This smart establishment serves Daniel López's signature cuisine: Regional dishes up to international standards with Chinese and Japanese influences.
WHERE TO STAY
Since opening in 1912, Hotel Maria Cristina***** has been closely linked to the history and cultural life of San Sebastian. This is the place where A-list celebs stay during Zinemaldia, the San Sebastián International Film Festival, as well as other VIP guests during the rest of the year. Pricey, but the luxury, style and dazzling array of services make for an unforgettable stay.
More than a century-old Hotel de Londres y de Inglaterra**** is the other 'Grande dame' in town. A luxury boutique hotel in a historic building which inhabits a prime position overlooking the beach and at a minutes' walk from both the old town and the main shopping area. The hotel bar features a terrace that overlooks the sea and is frequented by well-heeled locals taking tea and cake in the afternoons.
Charming small boutique hotel Villa Soro**** is housed in renovated late 19th-century villa. Like a true luxury country home the hotel boasts cosy wood fires, a stained-glass panel in the ceiling bearing the coat of arms of the family that once lived here and Molton Brown toiletries. Only drawback: the hotel has no restaurant. However, some small Basque-style dishes can be ordered to your room.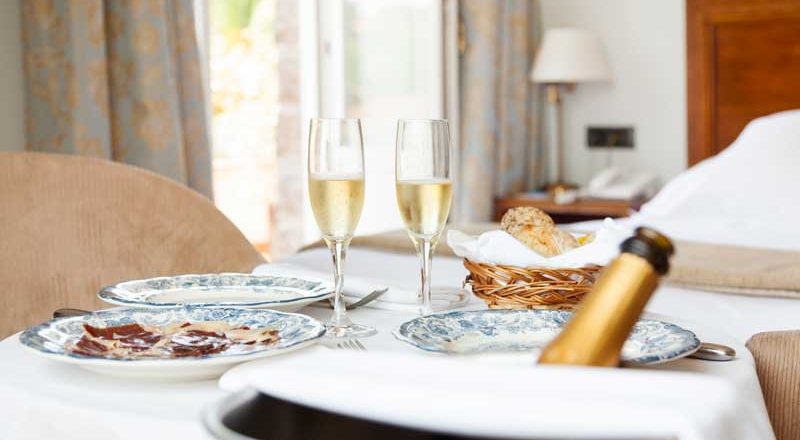 Hotel Niza*** is beautifully located on the beach of picturesque Concha Bay near shops and the old town with all its restaurants and world famous tapas bars. Niza has very comfortable rooms and a fine restaurant which benefits from the culinary excellence of rising star Iñigo Pena. The hotel is owned by one of San Sebastian's most prominent families, the Chillidas, as is evident in the display of Eduardo Chillida's works throughout.
DRINKS AND PINTXOS 
We suggest that you go on a proper 'Pinxto Bar Crawl' and try to taste some of these flavoursome little bites at every spot. Overwhelmed by choice? We have selected the best of the bunch for you below.
A good place to start your evening is at one of San Sebastian's most popular pintxos bars; Ganbara. Jose and Amaia's bar is a charming sight with its Iberian hams hanging from the wall and a small bar stacked with a great selection of pintxos –  sautéed mushrooms topped with fried eggs and prawns, spider crab tartlet, blistered padrón peppers and pastry-wrapped sausage, just to name some.
Bar Nestor a local institution. This is a family affair. Tito, brother of Nestor is behind the bar pouring Basque sparkling wine,  or finding tables for guests – not easy – whilst calling out orders to the kitchen where Nestor and his wife are making their famed Spanish omelette. Nestor's tortilla is so sought after that people line up before the bar opens to get their name on the list for a slice of this yellow gooey heaven.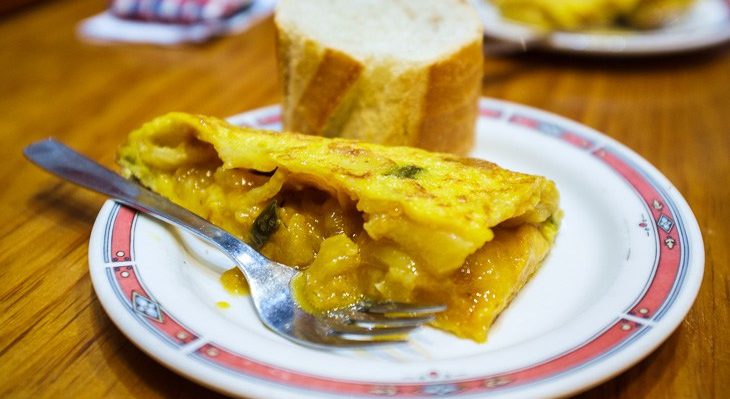 La Cuchara de San Telmo is small and usually very busy. Its does not have its pintxos displayed like other bars do – they must be ordered and are served at tables inside and outside. Pintxos on the menu change daily and are fantastic with such delicacies as grilled octopus or ear of an Iberian pig in an emulsion of wild mushrooms.
Another small top-class bar is Borda Berri; authentic and charming with the menu written on chalkboards on the wall. Apart from superb pintxos, Borda Berri's specialties are fresh fish and grilled country meats. They offer a great 7-course tasting menu at 46€ and a 6-course barbecue menu (includes meat and fish) at 58€.
Bar Txepetxa has a penchant for anchovies and if you didn't like these little delicacies already, you'll learn to love them here.  These silvery fillets marinated  in a secret family recipe are arranged on a warm slice of baguette and topped with spider crab, sea urchin roe, black olive pâte and so on – delicious!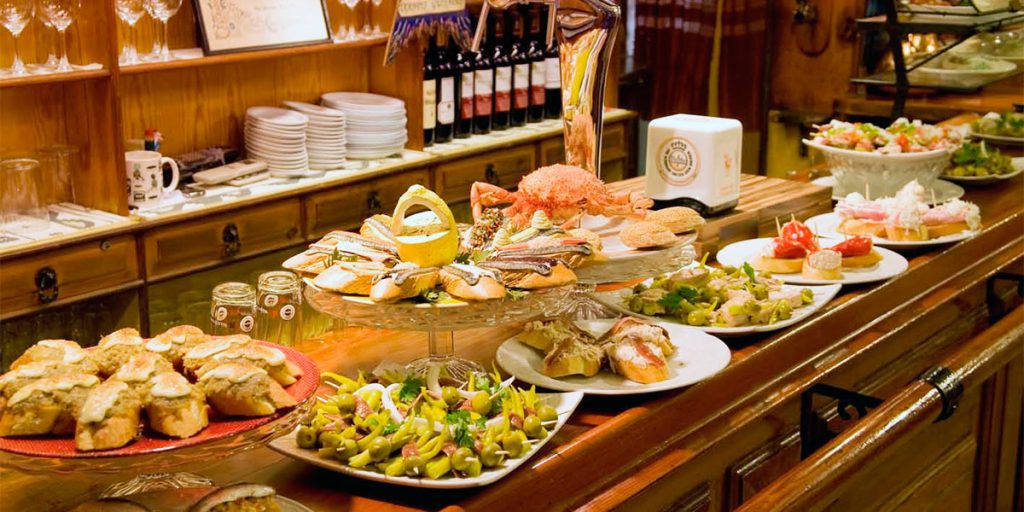 A Fuego Negro is modern in decor and menu, i.e. bold colours and creative, experimental pintxos respectively. Samples from the unusual menu: Homemade pastrami de Euskaltxerri (Basque wild pig), Anemonas from Donostia with leche de tigre, Tartare of bonito & watermelon with grated yolk.
Hidalgo 56 is another more modern bar whose chef already had one Michelin star when he opened it. Signature creations include a volcán of spicy black pudding, with raisins and apple and topped with an egg yolk. The drinks list is extensive with a special mention for the Basque-style mojito; fresh tomato juice sprinkled with basil leaves and slivers of Iberian ham.
Our final pintxo bar is also a great suggestion for dessert: La Viña. Besides pintxos and main meals, the restaurant offers some of the best cheesecake in the country. According to Spain's ABC newspaper who made a'ranking of the best cheesecakes of Spain', La Viña's cake deserves the sixth place out of ten. A sizeable portion of this creamy delight will be the perfect way to finish your San Sebastian pintxo bar discovery.
RECIPES
If you cant travel to San Sebastian right now you can get the city's culinary experience sent home to your door with the GC San Sebastian Gourmet Gift Box, which includes two bottles of Juan Gil Silver Label, a jar of Bonito Tuna, a jar of white Navarra asparagus tips and a block of duck foie gras.
These three products are used in infinite recipies in San Sebastian
and its vibrant world of bars and restaurants. They can be used in
salads, starters and main dishes and of course in your own favourite
Pintxos. Here are some of our  ideas for local recipes that are easy to make and simply delicious to share:
1. Foie Gras: This goose liver can be served just on toast with sea
salt and black pepper or with added fig jam. We prefer it with caramelised
onion on warm toast.
2.Esparagus blanco: White thick asparagus tips from Navarra are
great on toast with hollandaise, bearnaise, or white wine sauce. To serve
it gratinated with cheese and ham or just an aged good quality cheese is
always appreciated. Our take is with hard-boiled egg and melted
butter.
3.Bonito tuna: White tuna fillets from the Bay of Biscay are some of
the most versatile delicatessen on the market. Serve just with tomato,
or with bread, add a little bit of mayonnaise with capers and sprinkle
some chopped onion on top; these high-quality fillets taste fantastic
any way you like them.
BonV San Sebastian Guide
Spain
Tourist Information spain.info
Emergency number: 112
Ambulance number: 061
Country code: +34
Currency: Euro
San Sebastian
Tourist Information www.sansebastianturismo.com
Tourist Information Office addresses:
Boulevard 8 / Frantzia Pasealekua 23 / Cervantes Plaza
00 34 943481166
Area Code: 943
Airport:
San Sebastian Airport  www.aena.es
902 404 704
Transport:
Bus DBUS
Taxis:
Taxidonosti  +34 943 46 46 46
Vallina Teletaxi +34 943 40 40 40
Emergency numbers:
Central Police Station (Comisaría de policía Madrid-Centro) 915 487 985
Fire Service (centralised service) 913 973 700
Ambulances 913 354 545
Emergency Doctor and Hospitals 112
Emergency Dentists 961 496 199
Pharmacy/Chemist On Duty 963 600 313