WELCOME TO LA PRIORAT
Priorat is a small Spanish mountainous wine region officially recognized with the highest quality status 'DOQ' or Denominació d'Origen Qualificada, located in the province of Tarragona, in the southwest of Catalonia.
DO, short for denominación de origin, is Spain's wine quality control system where each region is assigned its own DO. DOCa (DOQ in Catalan) – denominación de origen calificada ('denomination of qualified origin'), is the highest category in Spanish wine regulations, reserved for regions with above-average grape prices and particularly stringent quality controls. Rioja and Priorat are the only two regions considered above DO status.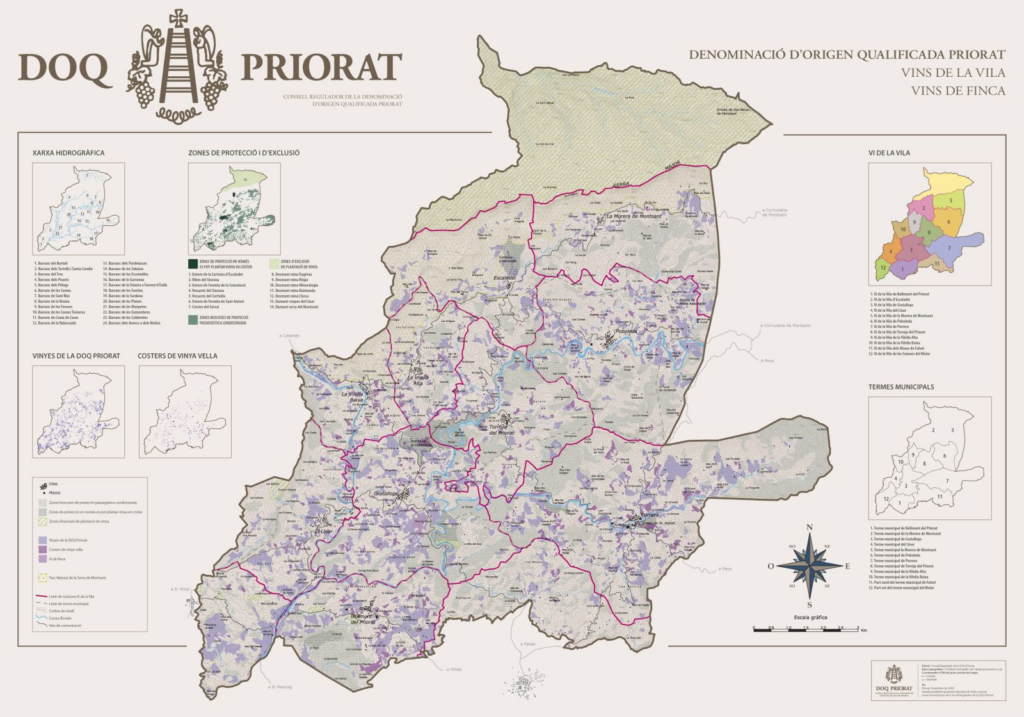 Priorat's vineyards sit on black slate and quartz soils called llicorella. This is a mountainous area with steep slopes, so the vines are cultivated on terraces and the grapes hand-harvested as the vineyards are often too steep and narrow for machine-harvesting. The climate is temperate and dry, with marked fluctuations in temperature between day and night. Summers are long, hot and dry while winters are cold. There is the occasional risk of frost, hailstones and drought.
Yields are very low, due to the rocky nature of the soil that does not allow the accumulation of water, but which contributes to the wine's intensity and characteristic minerality. Priorat produces primarily powerful red wines with a garnet colour, a very intense aroma, a high degree of alcohol and a dense and rich flavour.
Places to stay
Terra Dominicata Winery Hotel*****
Adults-only luxury hotel Terra Dominicata is located in the Tarragona province, right in the middle of the wine regions of Montsant and Priorat. Rooms are spacious and beautifully designed whilst retaining some rustic character. Standard rooms are equipped with rain showers and espresso machines, while the suites add luxuries like freestanding tubs. There's an outdoor pool with fantastic views and a restaurant that serves excellent local cuisine. A very zen-environment with the backdrop of the mountains and endless vines, this hotel is pure five star indulgence and relaxation for grown-ups.
terradominicata.com
Carretera, T-702, Km 13, 43379 Escaladei, Tarragona, Spain Tel +34 877 91 22 92
El Palauet del Priorat | Cornudella***
This exceptional small hotel is is close to Castell de Siurana and Grau d'en Carrasclet. Staying at El Palauet del Priorat, you will enjoy its many advantages: an airport shuttle, a terrace and a garden. The more adventurous will appreciate the activities offered by this country house, such as cycling. Be sure to enjoy a meal at the restaurant, El Paulet del Priorat. Take in the views from a rooftop terrace and make use of amenities such as complimentary wireless Internet access.
elpalauetdelpriorat.com
Carrer de les Eres, 9, 43360 Cornudella de Montsant, Tarragona, Spain Tel 34 670 96 14 64
Hotel-Hostal Sport****
The family-run Hotel-Hostal Sport is set in the centre of Falset, in the picturesque Priorat region. Open since 1923, it offers a traditional Catalan restaurant and free Wi-Fi. Rooms at the Hotel Sport are spacious and some have balconies with views of the surrounding countryside. The restaurant promotes wine tourism and the cultural, natural and historical heritage of the region; it offers local gastronomy and an excellent wine list including mainly Catalan wines. The establishment servesmarket cuisine, constantly evolving, made from local products. Tarragona and the beaches of the Costa Dorada are less than 30 km away.
www.hotelpriorat-hostalsport.com
C. de Miquel Barceló, 4, 6, 43730 Falset, Tarragona, Spain
Phone: +34 977 83 00 78
Hotel Trossos Del Priorat***
The hotel's 7 rooms invite you to relax and include a minibar. The rooms have a furnished balcony or patio. Featured amenities include luggage storage and a library. To finish off the day, there is a bar/lounge on site. A buffet breakfast is served daily from 9:00 AM to 10:30 AM for a surcharge. Convenient for exploring Gratallops, Trossos del Priorat is within a 5-minute drive of Buil & Gine Winery and Exploitation Celler Sabaté winery. Take advantage of the many recreational options available at the resort, including an adjoining winery, or take in the views from a terrace.
www.hoteltrossosdelpriorat.com
Carretera de Gratallops, a la Vilella Baixa km 10.65, 43737 Gratallops, España, 43737 Gratallops, Tarragona, Spain Tel +34 877 91 46 00
Hotel Cal Llop***
A golf course, attached winery and an airport shuttle are just a few of the features of Hotel & Restaurant Cal Llop situated in the historic sector of Gratallops by the sea. Pamper yourself with a body treatment, massage or manicure/pedicure. Free in-room WiFi is available to guests, along with amenities like a terrace and a coffee shop. The emblematic Church of Saint Mary is certainly a must-visit and other popular venues in the area are Celler Sabaté Winery and Sangenís i Vaqué Winery. Water sports enthusiasts will be able to take advantage of their stay in the region to discover kayaking, while outdoor enthusiasts will fall for hiking or cycling, climbing and mountain biking, activities to which fit the surroundings perfectly.
www.cal-llop.com
Carrer de Dalt, 21, 43737 Gratallops, Tarragona, Spain Tel +34 977 83 95 02
Clos Figueras, B&B
Clos Figueras is a winery, restaurant and bed and breakfast which offers a free guided tour of the on-site wine cellar, with wine tasting included. The restaurant is dedicated to oenotourism and boasts a large terrace with dining tables. Three comfortable rooms all with lovely garden views or views of the vineyards and mountains are available. They all have a private bathroom with shower and hairdryer. A  la carte breakfast, including organic and locally sourced products, is served every morning at the on-site restaurant also specialised in local, regional dishes. In season, they also offer salads and vegetables from the on-site kitchen garden.
www.closfigueras.info
Carrer de la Font, 38, 43737 Gratallops, Tarragona, Spain Tel +34 671 49 10 81
Eating & Drinking 
Brichs
The menu at Brichs is quite extensive, it is famous for its traditional Catalan and Mediterranean food, for instance Chicken with truffle or Roasted chicken croquettes, Mediterranean tuna tartare or Iberian pork with rice. This place is popular and it's likely to get quite crowded over the weekend, so reserve your table in advance. Upon entering you will find a pleasant atmosphere, if you are looking for a restaurant to go with children this is the most suitable. The wine list is extensive, it can satisfy the needs of all clients. A selection of good coffee is provided to guests and the service is perfect.
en.brichsrestaurant.com
Carrer Sindicat, 10, 43730 Falset, Tarragona, Spain Tel +34 690 25 12 06
Les Figueres
Winery Clos Figueres, who we already mentioned in the places to stay section for their bed and breakfast, has a lovely restaurant with a pretty pergola overlooking the vineyards. The restaurant is specialised in local, ecologically farmed products of the highest quality, salads and vegetables from their own on-site kitchen garden, serving Catalan tapas and cuisine at its best. From the menu: Selection of artisan pates from Vilella Baixa, Artisan sausage from Priorat with ECO grilled vegetables, or  Assortment of catalán shepherd cheeses: raw milk of sheep, goat and cow. Les Figueres serves their own olive oil and wine, as well as a fine selection of other Catalan and Spanish wines.
www.closfigueras.info
Carrer de la Font, 38, 43737 Gratallops, Tarragona, Spain Tel +34 671 49 10 81
Restaurant Amics
Have a fantastic culinary experience in the comfort of Restaurant Amics and enjoy impeccable service. The menu features Mediterranean market cuisine and seasonal produce, beautifully plated and creative dishes combined with a superb view. Located between Gratallops and la Vilella Baixa, in Buil&Giné winery, is where Restaurant Amics proposes a gastronomic and enotouristic discovery, with close relation between the kitchen and the Priorat wines and their wineries.
www.restaurantamics.com
Bodega Buil Giné, Carretera Gratallops-Vilella Baixa Km11,5, 43737 Gratallops, Tarragona, Spain Tel +34 667 73 20 42
La Bacchanal
Baco, from Uruguay, and Adrià from the Mas d'en Martinet wine family, together opened a small place where they can relax and enjoy what they like best, with your company. The Bacchanal Tavern is a converted stable with a vaulted Catalan ceiling where they store wine from all over the world, and serve craft beer from the region or some tasty tapas made with locally sourced products. On the menu: Ajoblanco (almond soup), Aubergine and goat cheese millefeuille, Iberian ham table, Grilled Xurrasco (steak).
www.labacchanal.com
Carrer de la Font Vella, 9, 43730 Falset, Tarragona, Spain
Tapes i Tapes
This upscale tapas bar is born from the philosophy of gastronomic tapas to share. On the menu you will find refined tapas with signature touches, beautifully plated and a joy for your tastebuds. A great place to enjoy with friends. On the menu: Oyster Ceviche, Grilled mushrooms with celery and truffle sauce, or Cantonese Pork Chops.
gruptapes.com
Address: Carrer de Galió, 4, 43201 Reus, Tarragona, Spain Tel +34 977 34 02 19
Restaurant Sport
The restaurant at Hotel-Hostal Sport offers traditional Catalan cuisine with local essence and a wide selection of the country's wines and cavas. Homemade desserts and appetizers with vermouth from Falset. Enjoy such lovely dishes as Salt cod fritters with garlic and parsley, Grilled beach squid, Grilled Iberian pork belly, or Traditional 'torrija' (bread-based pudding) with vanilla ice cream. Sport's ambiance is welcoming and warm with a bright dining room overlooking the garden with hundred-year-old trees.
www.hotelpriorat-hostalsport.com
C. de Miquel Barceló, 4, 6, 43730 Falset, Tarragona, Spain
Phone: +34 977 83 00 78