Served hot or cooled, quiche Lorraine is a great classic of French cuisine! A popular and friendly dish, this savoury tart made from bacon bits, eggs and milk is unanimous.
Originally from the Landes and naturalized Monegasque in 2008, Alain Ducasse became the first three-starred chef in the Michelin guide in 2005.
He presents local, generous and responsible cuisine that highlights the authentic taste of the products.
The art of living well and eating well that Chef Ducasse cultivates is expressed throughout the world, in 70 renowned establishments.
We give you his recipe for the quiche Lorraine.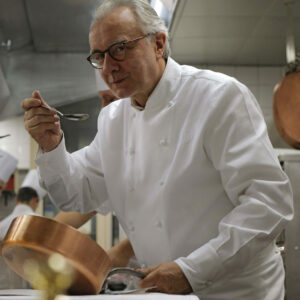 Quiche Lorraine by Alain Ducasse
A firm French favourite, easy to make and truly delicious!
Ingredients
Pastry dough
500

g

flour

80

g

flour

for dusting

10

g

fine salt

300

g

butter

10

g

butter

for dusting

1

egg yolk

water
Filling
250

g

smoked pork belly

1 1/2

tbsp

olive oil
Custard
2

eggs

2

egg yolks

250

g

milk

250

g

full cream

fine salt

cayenne pepper

nutmeg
Instructions
Pastry dough
Sift the flour and make a well in the center.
 Add the salt, water, egg yolk and cubed butter.
 Mix these together with your fingertips in the center of the well.
 Gradually bring the ingredients together. 
Knead very briefly if needed.
 Roll the pastry into a ball without working the dough any further.
Cover with plastic wrap. 
Refrigerate so that the dough becomes firmer and loses any remaining elasticity.
Filling
Trim off the rind and any cartilage from the smoked pork belly.
 Cut the slices across the grain into inch-long strips (or into small lardons). Quickly sauté the pork strips in the oil over high heat until just cooked. Be sure not to dry them out. Drain on paper towels.
Custard
Mix the eggs, egg yolks, cream, and milk together in a small bowl.
 Season with salt, cayenne pepper, and a few scrapings of nutmeg.
Crust
Butter and flour a tart mold and place it in the fridge to chill. Roll the dough out to a thickness of 1/16th of an inch.
 Dock it all over. Line the tart pan with the dough.
 Brush away any excess flour.
 Crimp the edges of the dough.
Baking
Scatter the bacon and the Gruyère evenly into the crusts.
 Pour the custard mixture over them. Bake in a 350°F convection oven for 30 minutes.
 Serve cold or warm.