Emblematic Spanish dish the tortilla is a must try at home and easy to make. We follow Spanish native Chef José Andrés' recipe for what he has called "the most important dish in Spanish cooking".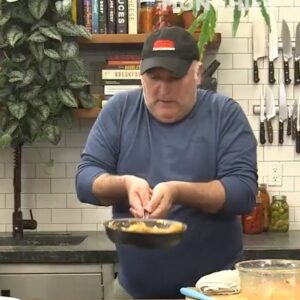 José Andrés' Tortilla Española
Chef José Andrés has called the Tortilla Española "the most important dish in Spanish cooking"
Ingredients
500

g

russet potatoes

2

cups

olive oil

extra virgin

2

tbsp

olive oil

extra virgin

6

large eggs

sea salt
Instructions
Peel the potatoes and dice into 2 cm cubes.

heat 2 cups of the olive oil in a medium pot over medium-low heat until it reaches about 125ºC. Slowly fry the potatoes until golden brown, about 20 minutes. Drain the potatoes on paper towels.

Using an electric mixer or whisk, vigorously beat the eggs in a large bowl with 1 teaspoon of salt until they're foamy. Add the cooked potatoes to the beaten eggs and let sit for 1 minute.

Heat the remaining 2 tablespoons of olive oil in a 6-inch sauté pan over high heat. Once the pan begins to smoke slightly, remove from the heat and pour in the egg-potato mixture. Return the sauté pan to the stove top and reduce the heat to low. The tortilla should puff up like a soufflé. Once it begins to set and the edges turn golden brown, place a plate over the pan and flip the pan and plate together so the tortilla ends up on the plate, uncooked side down. Slide the tortilla back into the pan, uncooked side down.

Make a small hole in the center of the tortilla to allow the egg in the center to cook. Once the tortilla sets, carefully flip the tortilla back over and allow the center hole to close up. Transfer the tortilla to a platter, season with salt and cut into wedges to serve.