This classic spaghetti is not just convenient and quick to make, it is a perfect example of how a dish with a minimal amount of ingredients can be as brilliant as it is simple.
Giorgio Locatelli is an Italian Michelin starred chef and restaurateur working and living in the United Kingdom. The following recipe is an extract from his cookbook 'Made at Home'.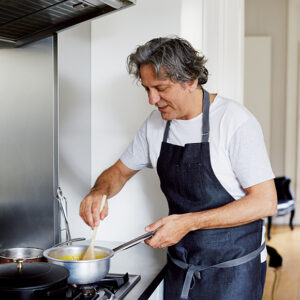 Giorgio Locatelli's Cacio e Pepe
UK-based Italian celebrity chef Giorgio Locatelli provides the recipe for one of his favourite late-night spaghettis
Ingredients
500

9

spaghetti

5

tbsp

pecorino romano

ground

1

tsp

salt

2

tsp

black pepper

freshly ground

1

tbsp

olive oil
Instructions
Grate around 5 tablespoons of young pecorino romano, or more to taste.

Start boiling your water for the pasta. For this recipe, the water becomes an important ingredient that binds the cheese and pepper to the pasta, therefore you want as much starch as possible. So only use 3 litres of water for 500g of pasta. This also means using less salt (a teaspoon) and stirring the pasta around in the water becomes pivotal, so that it doesn't stick to itself. So give it your full attention: cook only for 5-6 minutes, until al dente.

Once the spaghetti is in, crush around 2 teaspoons of black peppercorns in a sauté pan using a steak hammer or the end of a rolling pin – it is easier to do this in the pan than on your work surface – add a little olive oil, stir in a ladleful of the cooking water from the pasta and bubble up.

Now drain your spaghetti (reserving the cooking water), add it to the pan along with the grated cheese and toss everything together really well – the spaghetti will carry on cooking, and so will release more starch into the pan.

Add a little more of the cooking water from the pasta as necessary so that it combines with the melting cheese to give a creamy consistency.