Coffee is so much a part of Italian culture that you are spoilt for choice when it comes to finding a café, lounge or coffee bar that serves perfectly foamy aromatic coffee in the country's capital.
There are many different types of coffees in Italy, but the benchmark is the espresso – so called because it is made fast and with freshly ground beans, which exists since the 1880s.
Locals usually drink this coffee while standing at the bar. Italians take their coffee seriously and the job of barista – the person behind the bar who makes your coffee – can be compared to art.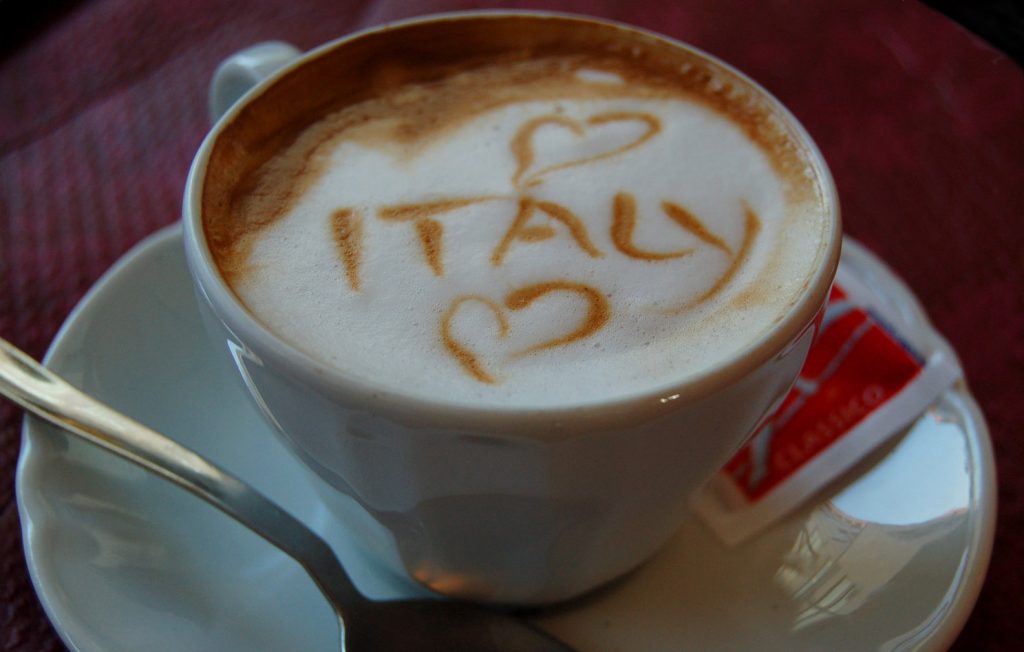 With as many varieties as there are different pizzas, there is an Italian coffee suitable for different times of the day, all types of occasions and for everyone's  taste.
caffè – this is an espresso
caffè Americano – espresso with hot water
cappuccino – espresso topped with hot, foaming milk
caffè macchiato – espresso decorated with a drop of hot, foaming milk
caffè latte – hot milk mixed with coffee
caffè Hag – decaffeinated coffee
caffè doppio – double espresso
caffè freddo – iced coffee
caffè corretto – coffee with a shot of alcohol
caffè marocchino – espresso with hot milk and cacao powder
caffè stretto – short and very strong espresso
granita di caffè con panna – frozen coffee with ice shavings and topped with whipped cream
You can be sure that it is hard to find a bad cup of coffee in Italy, let alone in Rome, but we have listed some of the best cafés/coffee bars here:
Antico Caffè Greco – Historic café dating back to 1760, formerly visited by such personalities as Goethe, Casanova and Wagner. Waiters wear proper tuxedos here and your cappuccino might be twice as expensive as anywhere else, but the classic Belle époque style surroundings with a vast collection of art on the walls are worth it. 86 Via Condotti Tel 00 39 06 679 1700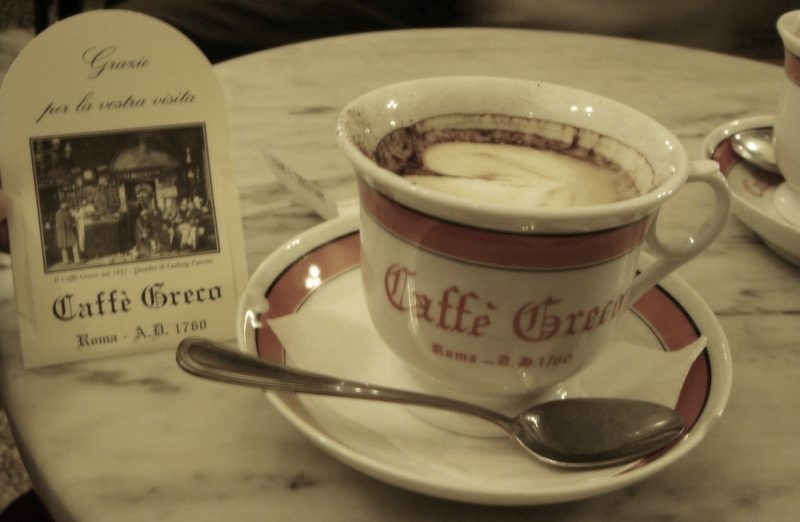 Tazza d'Oro – This renowned coffee roaster next to the Pantheon, was founded in 1946 by Mario Fiocchetto, and is responsible for the creation of  the famous blend "La Regina dei Caffe". A splendid coffee house which is one of the most famous in the world. 84 via degli Orfani Tel 00 39 06 678 9792
Sant'Eustachio – Another famous bar in Rome, this tiny traditional one was founded in 1938 and has hosted among others Henry Kissinger and Mikhail Gorbachev. The Sant'Eustachio has a secret recipe which is roasted in the back over a 1948 wood-burning stove. Yummy goodies on offer to go with your coffee are all coffee flavoured: cookies, chocolate bars, cakes or for you to take home. 82 Piazza Sant-Eustacchio Tel 39 06 688 02048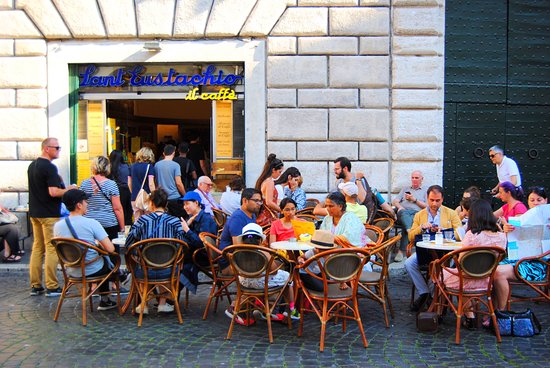 Stravinskij Bar Hotel de Russie – Upscale venue in luxury hotel visited by elegant clientele. Lovely garden terrace with wrought iron tables and chairs and stunning bar-lounge featuring purple velvet sofas. 9 Via del Babuino Tel 39 06 3288 8874
Rosati
– Exceptional traditional café with a great view of Piazza del Popolo with the Pincian Gardens above. Top espresso and delicious tiramisu in sophisticated environment with old wooden décor and marble floors of the 1920s. 4/5a Piazza del Popolo Tel 00 39 06 322 7378