Scandinavia, and Sweden in particular, produces some of the world's best food. Go to your local grocery store and fill your basket with the most popular and common products then compare with similar items from any other countries. We can almost guarantee you that the Scandinavian products are made from better raw materials, have a higher quality, are made in a climate-friendly way and, most importantly, taste better.
Scandeat Food & Beverage Group wants more food lovers to discover the true flavours of the nordic cuisine.
Most people outside the nordic region only know Scandinavian food products from their visits to IKEA stores all over the world. IKEA is in many ways a Swedish national icon and success story, but the quality of their food products and their bistros doesn't really live up to what a Swede would consider as really good quality food. Cheap meatballs at IKEA must be seen as a marketing strategy to make people come to the stores instead of a serious effort of serving well-cooked nordic cuisine.
Many Scandinavian restaurants have reached international top level over the last decennium and lots of local produce is recognised as world-leading when we look at taste, nutrition and sustainability.
In the Scandinavian production of many commonly – even daily – enjoyed foods, often organic and pure ingredients are used. For instance in muesli, jams or fruit and vegetable lemonades and shots, which are then made without added sugar or artificial sweeteners, flavour enhancers or preservatives.
Less commonly consumed products from the nordic region with its pure water and wild native country are sustainable food sources such as reindeer, moose and an array of wild growing berries and mushrooms. The wild Baltic salmon from the Bay of Bothnia is another natural delicacy as is the renowned and exclusive Kalix Löjrom, Sweden's own unique golden-orange 'caviar'.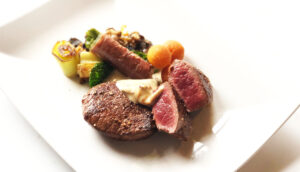 Scandeat has a range of products from carefully selected producers in Sweden – high quality products that many top chefs and restaurants use in their regular recipes.
Below we list some Scandinavian favourites that you can create at home with Scandeat's range of products.
Smørrebrød is basically 'bread and butter'. It consists of a dark bread, often rye, layered with a variety of different toppings, meats, fish, and seafood, fine leafy salad, herbs, sauces, cheese and egg etc.
The Smörgåsbord is similar in that it includes the same ingredients but encompasses more: A buffet style meal including these 'open' sandwiches, but also hors d'oeuvres, hot and cold meats, smoked and marinated fish, cheeses, salads, and relishes.
Shrimp salad "Skagen". Best used in Sweden's Toast Skagen, a creamy shrimp-based delight which is one of the most popular and classic of all Swedish gourmet dishes. Made with hand-peeled shrimp, horseradish, mayonnaise and dill, served on toast and often topped with Kalix Löjrom "nordic caviar".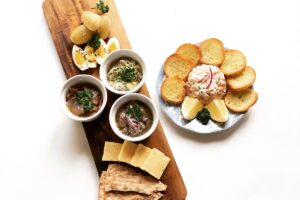 Smoked reindeer salad. Smoked reindeer is salty and tart with a fondant texture. Mix this finely chopped with horseradish, parsley, mayonnaise and crème fraiche and you have another classic Swedish starter which is simply delicious. Serve with some crisp onion and Kalix Löjrom on dark rye bread.
Herring. Traditionally served with a good Swedish cheese such as Västerbottensost, soft boiled eggs, boiled or baked potatoes and knäckebröd.
Gravlax. Served with dill & mustard sauce (Hovmästersås)
For more information about Scandeat Food & Beverage Group please visit:   
Scandeat.com