With over four thousand active producers and the world's largest wine country in terms of cultivation area, it is not entirely easy to select the best value Spanish wines.
Today, Spain is considered by many to be the world's most interesting wine country, where already internationally renowned winemakers face competition from new innovative producers who manage to create wines which in just a few years have placed high on the top lists of famous professional critics. In Spain there is talk of a revolution and we as consumers can only enjoy the new heated battles about who makes the best wine.
We have been working for seven years with full focus on the Spanish wine market, combing through the most popular regions for the real finds. With thousands of miles driven, hundreds of bodegas visited and lots of fantastic wines tried, we can say with all certainty that when we now present the best value ones, the filtering has been tough, perhaps the most thorough ever for all Nordic buyers in Spain.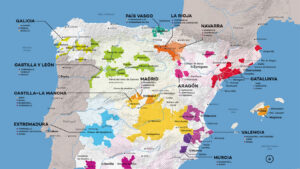 We brush off the dust from the Spanish countryside and proudly leave the final verdict to you as a wine lover. We give you a unique opportunity to choose your own favourites among the best of the best from what today is probably the number one wine country in the world if we look at the price and quality ratio.
It must be said that many of the wines on our list are also high on the international and national critics' own top lists, so these are some very popular wines and therefore sell out swiftly, year after year.
The problem with the world's best value and therefore in-demand wines is not the actual purchase cost, it is the availability, so when you see one of these real gems, don't hesitate to buy, they are guaranteed to be worth every penny!
Top value Spanish wines:
César Príncipe 2019 Crianza
Lasendal Celler de Capcanes
"Toneles del Patio" La Sorpresa Solera
Casa Castillo El Molar 2020
Marqués de Riscal 2017 Reserva
Almirez 2019
Vetus 2018
Malpaso 2019
Juan Gil Etiqueta Plata/Silver Label 2019
LZ 2020 Telmo Rodriquez
Gago 2018
Pruno 2019
Lanzaga 2018
Tondonia Reserva 2009
Azpilicueta Crianza 2019
Les Terrasses Alvaro Palacio
Muga Rioja Reserva 2018
Izadi Reserva
Camins de Priorat
Izadi Selection 2018