Wild salmon from the Bay of Bothnia are one of nature's healthiest, most nutrient-dense "superfoods".
The nordic Scandinavian region has a very old tradition when it comes to the harvest from sea, rivers and lakes. Fresh water from the nordic rivers creates a brackish sea water in the Bothnian bay, which gives local fishermen a possibility to harvest wild salmon of superior quality.
More than 90 percent of the wild salmon is produced in the Gulf of Bothnia, where several large rivers flow. This is also where the salmon begins their migration to the southern Baltic Sea, to grow larger. After a couple of years, most of the salmon return to their native rivers to spawn and reproduce.
Baltic wild salmon live their lives as nature intended. A happier, healthier, natural living fish, these salmon have a delicious and robust flavour and lean yet creamy flesh. Delicious, with omega-3 fatty acids, vitamin D, and other prized nutrients, wild salmon represents a high-quality lean meat.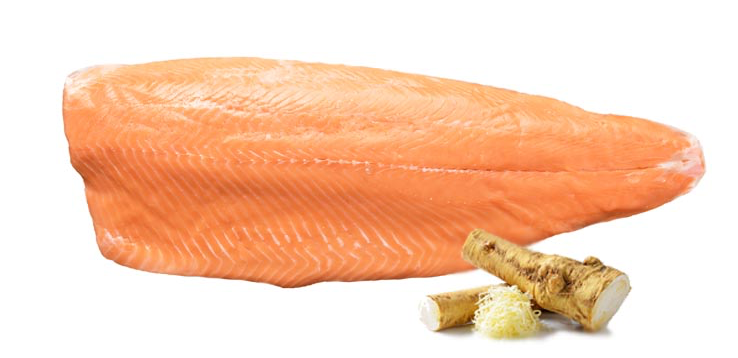 Salmon have been fished along the coast of the Gulf of Bothnia since the Middle Ages and for centuries this has been a significant industry for the area. During the war years, large quantities of salmon were caught because fishing in the Baltic Sea was then non-existent.
Nowadays, the EU has restricted salmon fishing in the Gulf of Bothnia. This may only take place during certain times and is limited by an annual quota. The severe restrictions on sea fishing in the southern Baltic Sea have meant that the supply of salmon in the Gulf of Bothnia has increased significantly, which means that fishing is improving for the coastal fishermen. The large rivers have met the researchers' requirements for migrating salmon and reproduction, which is why this part of the salmon fishery is conducted in a sustainable way.
The wild salmon from the Bothnian Bay is known as 'Baltic blonde salmon' because of its very pale pink colour that it gets from a steady natural diet of small light-coloured fish and which is its hallmark of quality. Because it was allowed  to develop its taste in its natural environment, the flesh is creamy and delicious as well as highly nutritious.