This wild salmon is caught in the Bothnian Bay in the northern part of the Baltic Sea. It is known as 'Baltic blonde' because of its very pale pink colour that it gets from a steady natural diet of small light-coloured fish and which is its hallmark of quality with its unique taste and fondant texture. Because it was allowed  to develop its taste and texture in a natural environment, the salmon is lean and full of flavour as well as highly nutritious.
We have taken the classic salmon tartare with capers, lemon, chives and shallots to a totally different level by using the exquisite and incomparable cold smoked wild salmon. Fresh and delicious, this is your perfect starter or aperitif and can be prepared well in advance.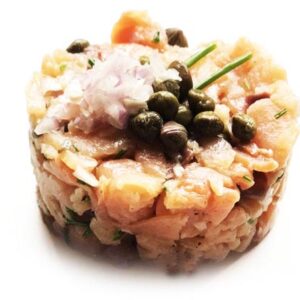 Salmon Tartare
Wild salmon tartare with capers, chives and shallots
Ingredients
Ingredients for the tartare
150

g

wild salmon, finely diced

1

tbsp

capers

1

tsp

olive oil

1

tsp

chopped chives 

1

tsp

chopped shallots 

1

tsp

lemon juice

1/2

tsp

white pepper

1

tsp

salt
Instructions
Mix salmon in medium bowl with olive oil, lemon juice, chopped chives, white pepper and salt.

Refrigerate for at least an hour.

When ready to serve, use a ring mold to form the individual tartares. Top each one with the chopped shallots and capers, add a side of toasted rustic bread.