Madrid's exciting and tasty food is a major attraction for visitors to Spain's capital, for many varied reasons. We want to give you a short history of the evolution of the city's current 'cuisine'.
In the 11th century Spain was known as Al-Andalus, also Muslim Spain or Islamic Iberia, and was  Muslim territory. Until then the typical cuisine in Madrid was much the same as the rest of Al Andalus, but this changed when King Alfonso VI of Castile seized Toledo, a city in central Spain, known as the 'Imperial City' where Charles I held court.
Local cuisine was varied and full of flavour, using ingredients like milk, honey, dates, semolina and couscous from North Africa, as well as others that were a direct legacy of the region's Iberian and Roman past.
Until now the Moors had reigned for centuries and to this day they have had the biggest influence on Spanish gastronomy with the introduction of rice, fruits and spices such as saffron, cinnamon, and nutmeg.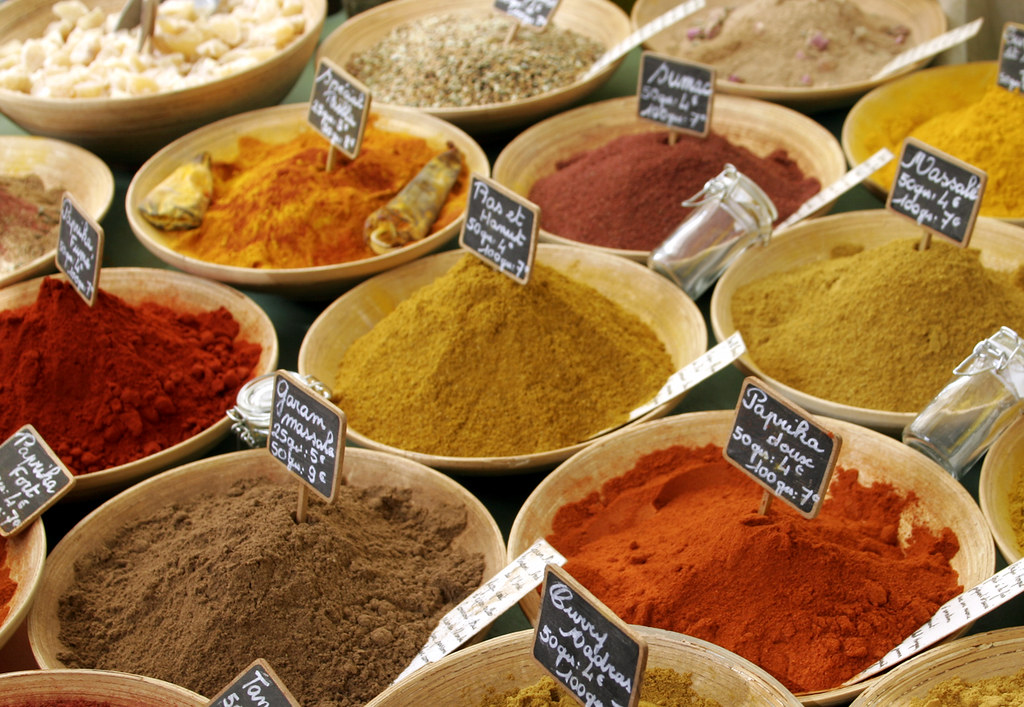 The way in which they combined meals; fruit and nuts meat and fish, also had a big impact. Even the classic Spanish tomato based cold soup gazpacho comes straight from the Moorish culture.
Medieval Spain became the scene of almost constant warfare between Muslims and Christians and with this gradual changes seeped into the traditional kitchen. But it was not until the discovery of the Americas by Christopher Columbus in his 1492 voyage that more important and still current elements were added to the history of Spanish food with tomatoes, vanilla, chocolate, beans, potatoes and grains arriving from overseas.
Then, in 1561, King Philip II moved the capital of the Kingdom of Spain to Madrid, attracting a major population influx from people from all parts of the Spanish Empire. As trade flourished across the Atlantic between Spain and the Americas, the country enjoyed a cultural golden age in the 16th and 17th centuries.
The nobility enjoyed an increasingly lavish lifestyle whilst the growing and diverse population of Madrid also re-shaped local gastronomy, dividing it into two independent branches: popular (humble) and aristocratic cuisine. This remained so for the next 4 centuries.
By the 19th century these inequalities fortunately began to even out and there emerged fondas or inns and taverns as well as the first restaurants; like Lhardy, opened in 1839 initially as a bakery and whose famous broth has been served from silver samovars since 1885. Lhardy still exists and today has a classy tapas bar, deli and takeaway service on the ground floor and a culinary restaurant on the first floor.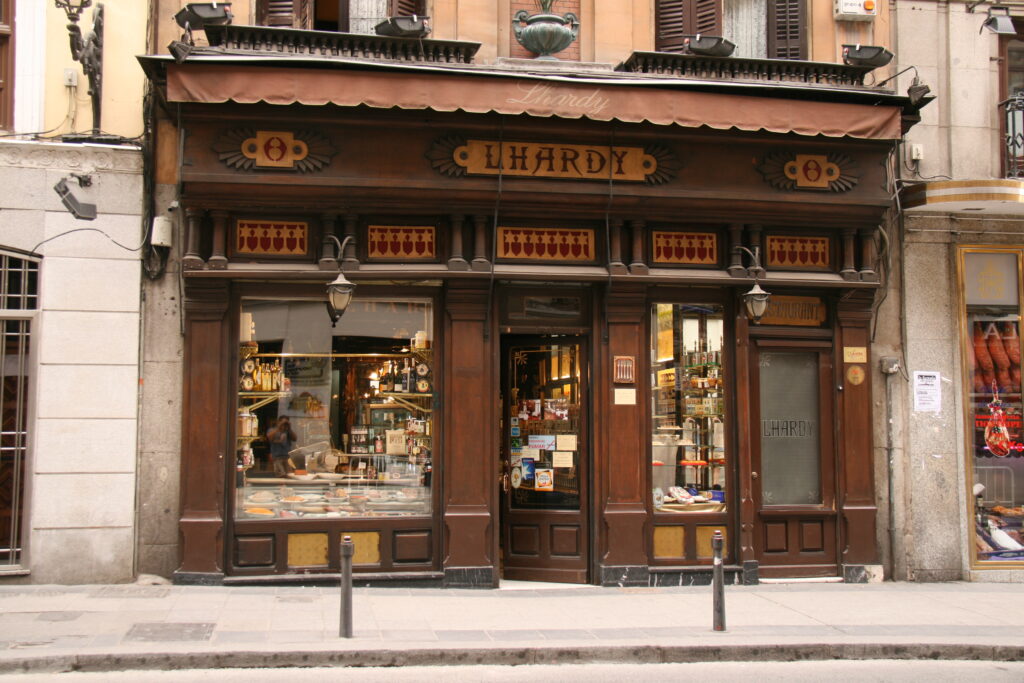 Typical Madrid food of this period included cocido de tres vuelcos (chickpea stew), soldaditos de Pavía (fried cod), besugo a la madrileña (red bream Madrid-style), potaje de vigilia (cod stew) and bartolillos (cream-filled pastries) of which many – though often enhanced with new flavours and reinvented by creative chefs- are still served in one way or another in the Spanish capital.
Nowadays, Madrid's many restaurants offer traditional Spanish as well as international cuisine to impressively high standards. No wonder then, that as a culinary destination, Madrid is incredibly popular by foreign visitors.
Much of Madrid's more snack-like foods are deep-fried in vegetable oil, such as churros (sticks of crispy dough to be dipped in melted chocolate), tortilla (Spanish omelette from eggs, potato slivers and caramelised onions), and bocadillos de calamares (fried squid in a bread roll), which can be smelled cooking no matter the time of day.
Tapas are a way of life for 'Madrileños', as is evident in the many tapas bars around the city, whether simple small venues, or fancy large establishments. Spanish celebrity chef and author Ines Ortega explains the concept of tapas: "Once upon a time in Spain, a small, free tapa was served with drinks in bars, often a piece of sliced cold meat, such as cured ham or chorizo, or a piece of cheese. According to culinary legend, these tapas were used to cover wine glasses to keep the aroma in and to keep the flies and insects out (the word tapa originally meant 'cover'). Nothing goes better with a glass of wine or a cold beer."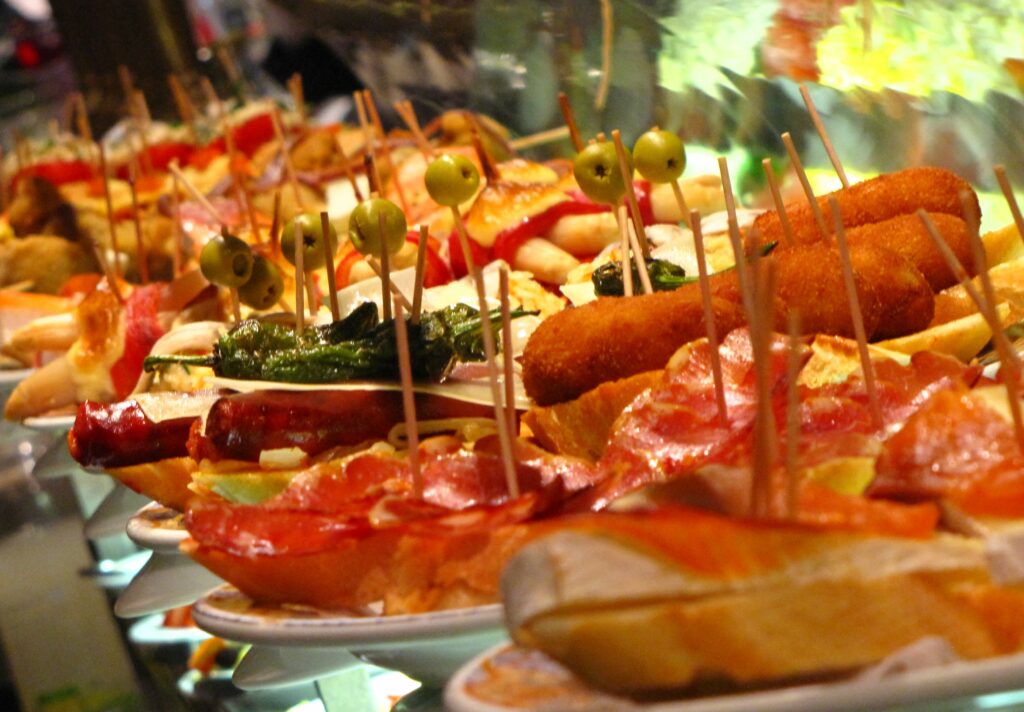 Tapas have also evolved through Spanish history by incorporating new ingredients and influences and go back a long way although no one is sure when and where they originated. Some say the tapas tradition began when king Alfonso X of Castile recovered from an illness by drinking wine with small dishes between meals. After regaining his health, the king ordered that taverns would not be allowed to serve wine to customers unless it was accompanied by this small snack.
Today tapas vary from the simple slice of Iberico ham and olives to more complex combinations such as Bacalao, salted cod loin sliced very thinly, usually served with bread and tomatoes; Gambas, prawns sauteed in peppercorn sauce, with garlic or chopped chili peppers; Mejillones rellenos, spicy stuffed mussels.
One thing that hasn't changed much over the years is that dinner is usually served around 10pm or even later, so when you are visiting Madrid, be sure to tuck in to those tapas in the afternoon to get a small taste of Spain and this will tie you over to dinner when you can enjoy the full flavour of the city's varied and tasty cuisine. Enjoy!